The clocks have gone back and the temperature has taken a tumble. Thankfully, Christmas cheer will soon come knocking on the door, armed with our Sipsmith Sloe Gin and a mountain of mince pies to detract from the winter chill. Let your thoughts wander to stockings and Christmas cocktail parties, to presents piled high beneath a tree festooned with twinkly lights and trinkets, and maybe even our Gin Christmas Tree Decorations? Anything is possible. At Sipsmith, we don't compromise on our gin, so why would we compromise on Christmas? This year, the gifts are taking centre stage: specially distilled small-batch festive gins, such as Sugar Plum Liqueur or Smoked Chestnut, will be bottled up; our Orange & Cacao gift boxes are ready to go; spectacular Sipsmith stockings will be hung with pride; and our new book SIP: 100 Gin Cocktails with Only 3 Ingredients will be perfectly wrapped and placed beneath the glittering boughs of the tree. Read on to find out how you can bring home a slice of the Sipsmith magic this Christmas.

Treat the gin lovers in your life to our cocktail recipe book – the perfect stocking surprise
This year, we are proud to present the ultimate gift for all the gin lovers in your life: our hot-off-the-press new cocktail book, SIP: 100 Gin Cocktails with Only 3 Ingredients. This beautiful hardback can also be personalised with a unique 'Sip with…' cover to celebrate your favourite at-home-mixologist.  
The Sipsmith team will guide you through 224 pages of uncompromisingly delicious recipes, each satisfyingly simple and with only three ingredients. To make things even easier for the lucky gin lover in your life, why not go for the SIP Book and Gin Bottle Gifting Bundle, complete with a bottle of Sipsmith London Dry Gin so they can get cracking on the Christmas cocktails right away. Or, read on to hear about our SIP cocktail stockings.
Sipsmith's spectacular stockings are the perfect treat to wake up to on Christmas morning
Our hugely popular Sipsmith stockings return again this year, bigger and better and jam-packed with even more mixological magic, including the option to include a personalised version of our new book, SIP and a selection our wonderful festive gins, including Sugar Plum Liqueur, Smoked Chestnut Gin or the enduringly festive Mince Pie Gin.
With the Build Your Own Stocking, you can combine a 20cl bottle of Sipsmith London Dry Gin with up to six additional gifts, to ensure your ginthusiast has everything they need to shake, or stir up some serious Christmas cocktails. 
Next up is the SIP Cocktail Stocking, which includes a copy of SIP, a cocktail making kit and a bottle of London Dry Gin.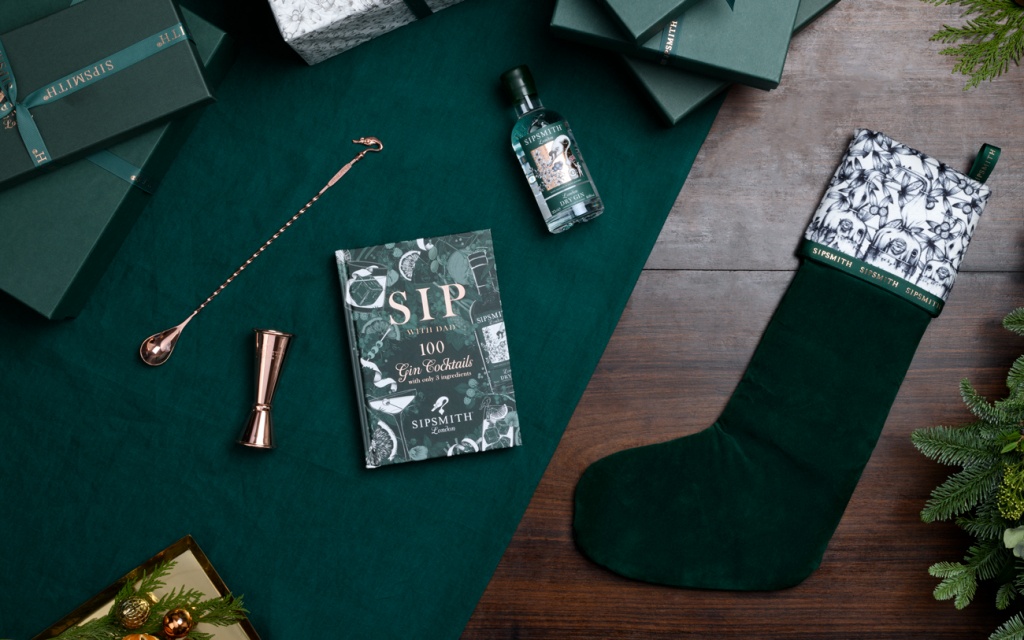 Or, if you want to push the boat out a little further, what about our Luxury Cocktail Stocking, which not only includes a bottle of our London Dry Gin, but also our sensational Orange & Cacao Gin, along with even more mixological kit and a Sipsmith Highball glass.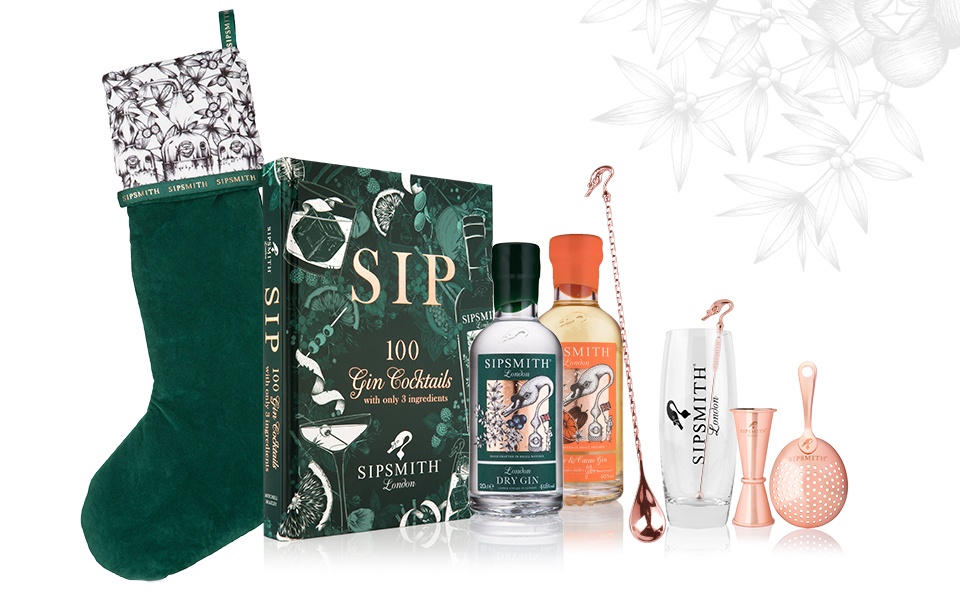 Both of these festive winners can also be ordered with gift wrap and sent straight to the gin lover of your choice.
 This cocoa combination will go down a treat with the chocolate lovers in your life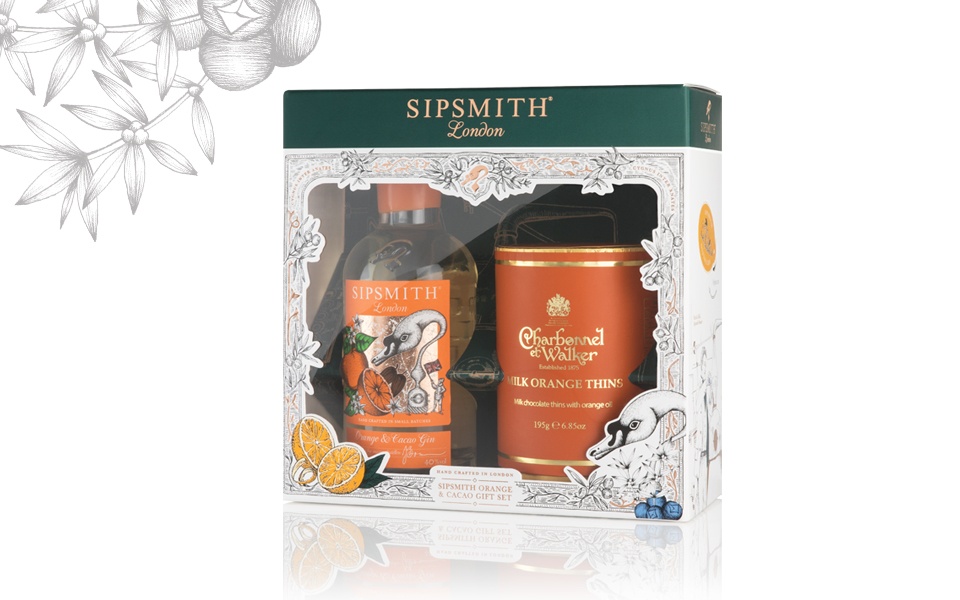 Our Orange & Cacao Gin is a thing of wonder – bright, warming, zesty and (just a tip) especially good in a smooth hot chocolate. In our gift set, this unique combination comes beautifully boxed up with the perfect partner: fantastically Charbonnel et Walker Milk Chocolate Orange Thins. This show-stealing combination is guaranteed to deliver the ultimate festive after-dinner finale.
4. Sipsmith Festive Gins, from £15
Gift our marvellous and unique small batch festive gins for something a little different (available online as part of our Build Your Own Gin Stocking)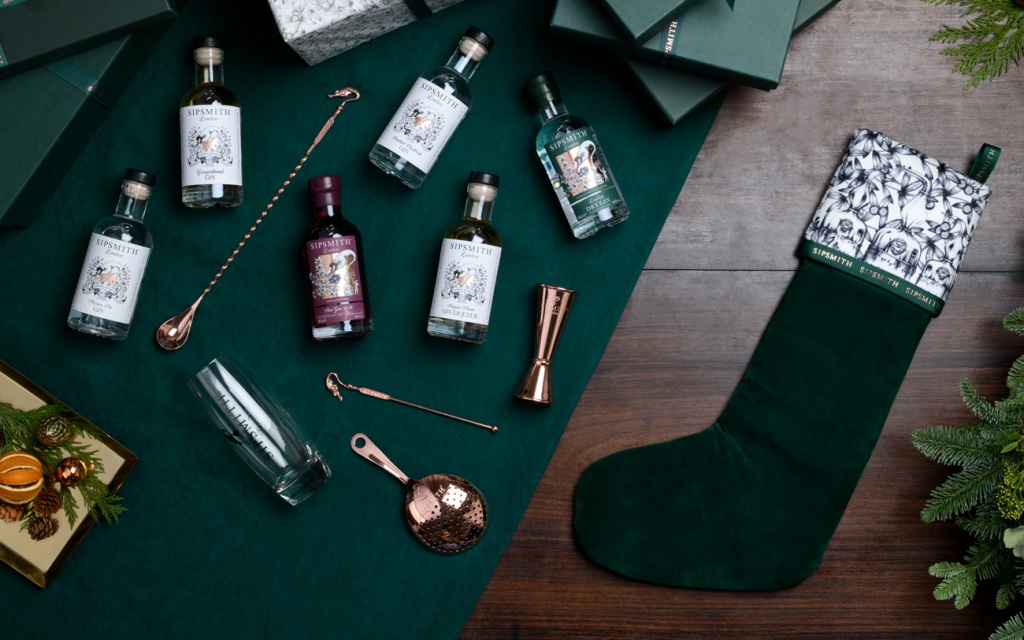 What's more festive than a family outing to the Nutcracker, especially the Dance of the Sugar Plum Fairy? Apt then, that one of our recent Sipping Society gins, the Sugar Plum Gin Liqueur, is back by popular demand (this one is also available from Fortnum & Mason). And how about trying out our festive Smoked Chestnut Gin – redolent of that Christmas classic, fire-roasted chestnuts? 
Of course, it wouldn't be Christmas without a tall, proud fir tree standing in the corner, draped with lights. For an experience as charming as carrying your tree home over your shoulder, sample our fresh Christmas Tree Gin (also at Fortnum & Mason). Or, perhaps Gingerbread Gin, or even Mince Pie Gin are more your style? 
Liven up your Christmas tree with our delightful selection of gin-filled decorations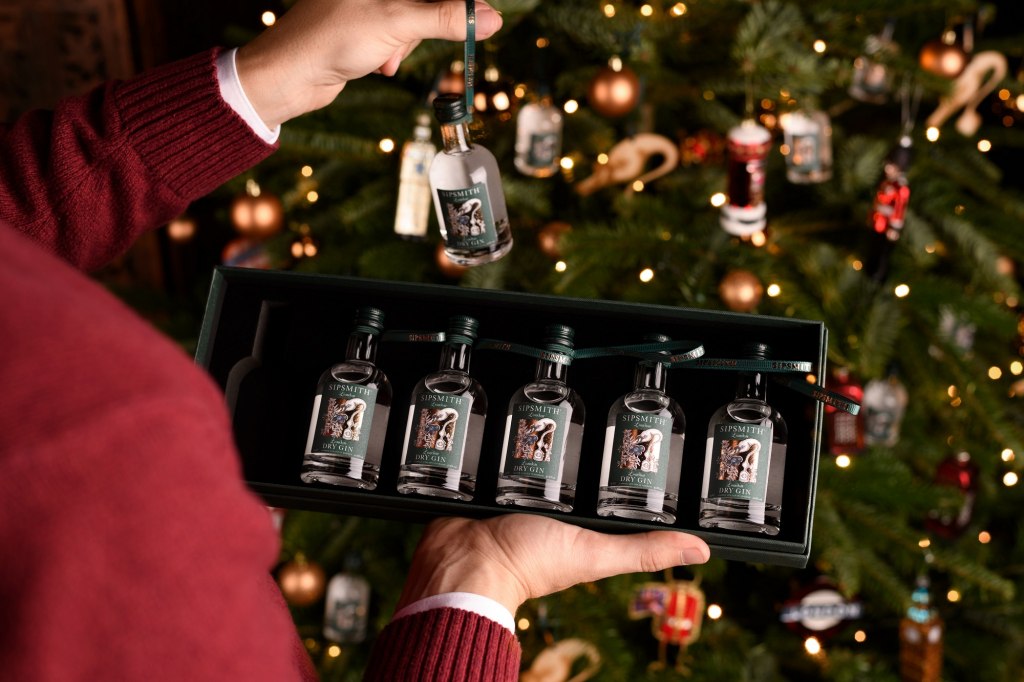 Fancy stirring up a sipping sensation this Christmas? Eschew baubles for bottles this year to really get the Christmas festivities going right from the off. A fantastic pre-Christmas gift for the gin-fans in your life, our Christmas Tree Decoration Sets include six miniature bottles of the uncompromisingly good handcrafted London Dry and Sloe gins. Or, if you are looking for some more unusual flavours, you can pop down to our Gin Shop at Peter Jones and craft your own pick 'n mix set from a broader range of gins, including the fabulous Orange & Cacao and Lemon Drizzle.
6. Gingerbread Gin Syrup Set, £40
Gift our Gingerbread Gin Syrup Set for a Christmas Cocktail steeped in history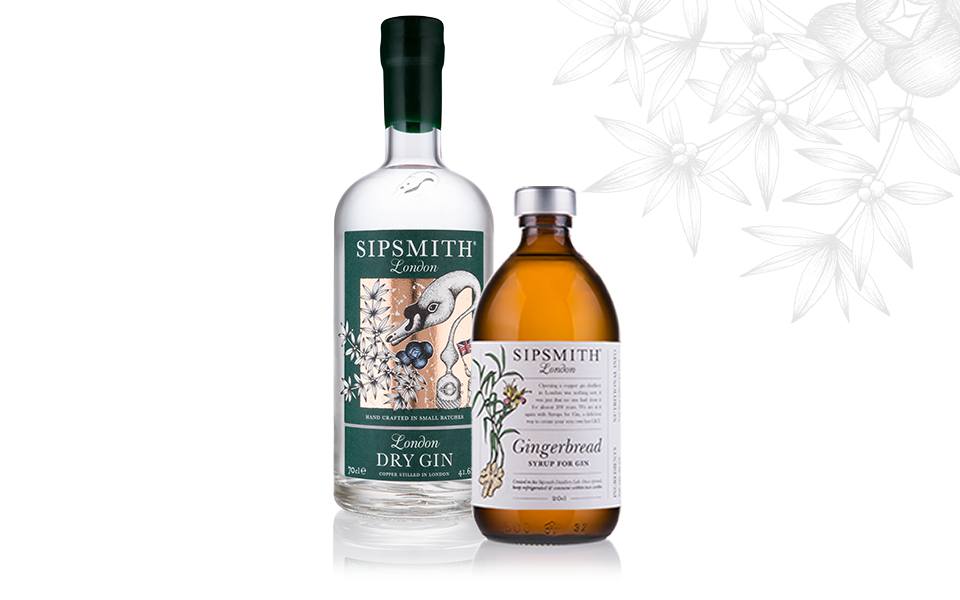 Food and drink matching is now a massive trend, but where did it all begin? With the hot gins and ginger biscuits favoured by 18th and 19th century market traders, working long, cold hours. This tried-and-tested combination is now available to gift this Christmas, alongside our Gingerbread Syrup Set, so you can make your very own ginger gin cocktails, including the celebratory Ginger Royale, the Gingerbread Sour, or the historical hot ginny tipple, the Hot Gin & Gingerbread.
Still don't know what to get for the gin lover in your life, how about a gin experience?
Gift your gin lover the opportunity to visit our three copper ladies, Verity, Prudence and Patience, at the Sipsmith Distillery. Discover the history of gin-making, the sippable spirit's place in London's history and enjoy a tutored tasting on your tour of the first small batch distillery to open in London since 1820.
For real ginthusiasts, the ultimate gift has to be the exclusive Sipping Society membership
Our distillers are always experimenting with new concoctions using our smallest still, Cygnet – every other month, members of our exclusive Sipping Society are treated to a taste of our most exciting new developments. Recent concoctions have included Sriracha and Mint Gin Liqueur, Pink Grapefruit Gin and Gooseberry and Elderflower Gin Liqueur. With a membership, your gin-lover will have two of our experimental liquids    delivered to their door every other month. Quite the treat.
Many of these delightful gifts are available from the Sipsmith shop, but to get your hands on an extended range of limited edition miniatures, you will need to head down to the Sipsmith Gin Shop at Peter Jones, where you can also pick up a personalised copy of SIP. And, if it's our small-batch Christmas gins you're after, take a trip to Fortnum & Mason to stock up on our Sugar Plum Gin Liqueur, and Christmas Tree Gin. Happen to find yourself in Munich? Why not pop into our Gin Shop in the Dallmayr department store.