At Sipsmith, we have always been fuelled by people, purpose and occasionally by gin. In 2009, the Sipsmith founders Fairfax, Sam and Jared set out on a mission to bring gin back to its birthplace, London: to make it the way it used to be made, as it should be made. In turn, they created a legacy for what has become a global renaissance. The Sipsmith swan, the brand's distinctive icon now seen around the world, started as an homage to the bespoke "swan's neck" on the gin still, which gives Sipsmith gin its distinctive flavour and smoothness.
Since then, Sipsmith has grown by leaps and bounds, we have acquired new sites, new stills, and recruited new sippers around the world. In 2017 we joined forces with the Beam-Suntory family, a company which values heritage, craftsmanship and people as highly as we do, creating incredible opportunities for our people and brand.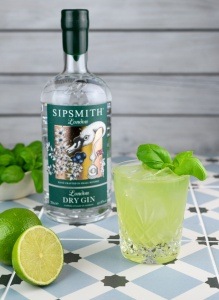 In May 2021, we proudly became a B Corporation™ certified business and in turn articulated our long-term sustainability strategy of "Crafting a Better Future", setting in motion a sense of purpose beyond profit in all that we do.
Meaningful change requires a great deal of hard paddling under the surface. We believe it's our team here that drives our great culture, that makes our business what it is (on top of our world class gin). Our company values are the foundation of everything we do, and we work hard to ensure that everyone in the business loves what they do.
We like to think that we have created an incredible place to work: where you can be creative, autonomous, work with purpose and have fun at the same time. We'd love for you to come and join us.
Sipsmith is committed to building a culturally diverse, equitable and inclusive organisation and encourage applicants from a wide range of backgrounds to apply for our opportunities.
| | |
| --- | --- |
| Title: | Brand Manager |
| Reports to: | Head of UK Marketing |
| Location: | We work flexibly. This role does not need you to work regularly from our home, The Distillery, 83 Cranbrook Road, London W4 2LJ |
| Salary: | Competitive, with bonus + benefits |
As Sipsmith Brand Manager you will be tasked with driving brand power and business growth through distinctive campaigns and innovation launches. You will be a critical team member, working with the Sales team to provide demand generating activations across in store, online and within the on trade, recruiting sippers wider and faster across the UK.
The role will require someone with a proven track record of delivery, and ability to analyse performance data, turning consumer insights into action.
What you'll do
Must show strong understanding of commercial brand management, translating brand strategy and annual plans into best in class launch plans for innovation & key consumer activations
Data interpretation: reporting of brand performance and competitor analysis, developing consumer insights & recommendations with measurable actions
Inspire & manage relationship with in-house cross-functional teams to develop measurable growth plans that drive equity and improve brand health funnel
Collaborate with Global & International marketing team to ensure all creative assets produced are in line with activation plans
Marketing effectiveness: ownership on setting clear business and marketing KPIs, with live tracking, action planning, and post launch audits to share best practice across the Sipsmith world, and facilitate continuous optimisation
Support Senior Brand Manager on creation of strategic brand plans, reviewing key growth levers, past performance, and future opportunities / risks to drive business growth ambition
Lead the translation of the brand strategy into compelling sales presentations, supporting the sales team with landing channel plans with external customers
Work hand in hand with the shopper marketing manager and digital brand manager to deliver impactful, integrated execution in store, online and in the on trade
Work closely with Global innovation lead, building case studies for UK launches and ensuring future consumer needs are being met
Lead the development and execution of innovation launch plans into On & Off Trade, and eComm channels
What You'll Need
Be a brand marketing expert, with extensive experience, ideally within the BWS industry
Budget management capability: able to lead investment recommendations with clear channel strategy to hit overall business objectives
Commercially aware yet brand-centric, innovative, and creative with a passion for excellent execution
Deep understanding of consumer needs and purchase touch points
Experience working with market data, using insights to inform strategy and execution ideas
Ability to build quality relationships with key internal stakeholders and external customers, inspiring them with programs that will deliver effective growth
Strong influencing skills
Able to manage multiple projects across tight timelines
Curiosity, externally oriented, and passionate to lead & execute category leading ideas
Happy to get 'hands dirty' and get involved in all that is going on at Sipsmith
Plate spinning brilliance
How to apply
Please send your CV to [email protected] with the subject title 'Brand Manager' and a cover letter explaining your experience and why you are a good fit for Sipsmith, along with a completed Diversity & Inclusion monitoring form.
Closing date for applications: 11th January 2022