Sipsmith was started in 2009 by our founders Fairfax, Sam and Jared with the mission to open the first copper distillery in London in almost 200 years and bring London Dry Gin back to its home; made the way it used to be, the way we believe it should be. Since then we've grown tremendously, acquiring new stills, recruiting new sippers and building on our great team.
Four years ago, we joined forces with Beam Suntory, a company which values heritage, craftsmanship and people as much as we do and so the opportunities for our team and brand are ever more exciting. Sipsmith has gone from strength to strength during this time. We like to think that we have created an incredible place to work, where you can be creative, autonomous and have fun at the same time.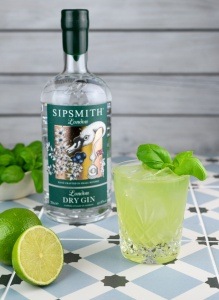 We believe it's our team here that drives our great culture, that makes our business what it is (on top of our world class gin), so we work hard to ensure that everyone in the business loves what they do. We are looking for someone for whom this resonates.
Sipsmith is committed to building a culturally diverse, equitable and inclusive organisation and encourage applicants from a wide range of backgrounds to apply for our opportunities.
| | |
| --- | --- |
| Title: | Customer Service & Distillery Tour Executive |
| Reports to: | Brand Activation Manager |
| Location: | The Distillery, 83 Cranbrook Road, London, W4 2LJ |
| Salary: | Competitive, with bonus + benefits |
As our Customer Service & Distillery Tour Executive, you will play a key role in leading all our customer service with customers from all of our communication channels. This is a key role in managing Sipsmith's reputation ensuring that we deliver a 5 star experience at all times from our Customer Service channels & Distillery Tour Experiences.
Personable, organised and willing to go the extra mile, you will be the face and voice of the Distillery as the ultimate Sipsmithian Host. You'll be supporting us by crafting deeper relationships with our Sippers, guests, staff and neighbours, sharing our brand values, passion and character with visitors from the moment they arrive to the moment they leave.
We will support you with development and training, as well as immersing you in to everything Sipsmith; our gin, our Distillery and a brilliant opportunity to build your career in FMCG.
What you'll do
Customer Service
Respond to all customer enquiries through all of our consumer portals (Online & e-Commerce, Social, General Enquiries, Tours) via email and telephone within our 24-hour response service time
Ensure that our consumer journey on all of our platforms delivers a 5-star experience and continuously work on improving them
Provide an excellent 5-star consumer experience at every touchpoint ensuring that all customers leave feeling you have gone the extra mile, encouraging them to be a Sipsmith sipper for life
Be a true ambassador for the brand and ooze your customer service skills across the business
Process e-Commerce & Sipping Society (monthly subscription service) returns, manage all correspondence with the fulfilment company, and sort re-deliveries
Distillery Experiences
Owner and guardian of the Sipsmith Distillery Tour Experience – one of our most important brand assets beyond the gins themselves
Coordinate stock & asset management required to deliver a flawless consumer tour experience
Organise and inspire the Distillery Team to deliver a 5-star consumer experience and support new members of staff in training to become fantastic Sipsmithian hosts
Manage the online tour system and work with the provider when issues may occur
Book consumers onto tours via emails and telephone and post out all vouchers required
Work and own relationships between third-party tour operators to ensure they are delivering a great consumer experience on our behalf whilst ensuring that their sales are hitting our targets
Support the on & off trade sales teams with Distillery Tours during the day and ensuring they operate smoothly during operating hours
Get stuck into UK activity: Represent Sipsmith at Distillery Tours, Sampling etc.
Direct to Consumer e-Commerce
Stock Management: Manage stock levels using WooCommerce and MintSoft and take necessary action to ensure nothing goes out of stock
Gifting: Support the Direct To Consumer (DTC) lead on the gifting strategy, inputting customer service insights and then work directly with suppliers to source & create the products
Inventory: Manage DTC stock inventory and support DTC lead with plans to sell stock
COGs and stock info: Create and manage a catalogue of all stock information
Sustainability: Support DTC lead on looking to continuously improve the sustainability of packaging and other areas of DTC
Printed assets: Manage replenishment and brief in amends to update of printed assets
Coupon codes: Raise monthly and ad hoc coupon codes, support on staff stock via DTC and track costs to be billed each month
Fulfilment company relationship: Manage the relationship with our fulfilment agency including liaising on warehouse training, couriers, costs, packaging, stock, quality checks and more
Website front-end: Work with our Digital Exec to manage the creation of product photography, add products to the shop page and update the website inline with any promotions, campaign activations etc.
Website back end: Manage website functionality to execute DTC strategy provided by DTC lead and work with our Digital Exec and website agency to fix any issues and to make continuous improvements.
What You'll Need
Impeccable customer service skills, with a flair for relationships and guest satisfaction
Supremely organised and able to manage time effectively with a huge amount of initiative
A positive, optimistic and can-do, problem-solving attitude
Positively proactive in dealing with visitors, customers and contractors on an individual basis
A personable team player who is ready to get stuck in and is always up for a challenge, but is equally happy working by themselves
Happy to get 'hands dirty' and get involved in all that is going on at Sipsmith
Plate spinning brilliance
How to apply
Please send your CV to [email protected] with the subject title 'Customer Service Executive' and a cover letter explaining your experience and how you would become the ultimate Sipsmithian host, along with a completed Diversity & Inclusion monitoring form.
Closing date for applications: Sunday 15th August