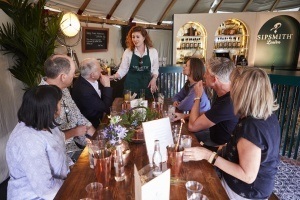 Sipsmith was started in 2009 by our founders Fairfax, Sam and Jared with the mission to open the first copper distillery in London in almost 200 years and bring London Dry Gin back to its home; made the way it used to be, the way it should be. Since then we've grown tremendously, acquiring new stills, recruiting new drinkers and building on our great team. We've recently joined forces with Beam Suntory, a company which values heritage, craftsmanship and people as much as we do and so the opportunities for our team and brand are ever more exciting. We like to think that we have created an incredible place to work, where you can be creative, autonomous and have fun at the same time. We believe it's our team here that drives our great culture, that makes our business what it is (on top of our world class gin), so we work hard to ensure that everyone in the business loves what they do. We are looking for someone for whom this resonates.
Title: Marketing & Events Placement 2020/21
Term: 16-month fixed term placement
Report to:  Senior Brand Experiences Manager
Based at: The Distillery, Chiswick
Salary: Competitive with benefits
A once in a lifetime opportunity: a 16 month graduate fixed term contract or year-in-industry placement in a great team, working for the best gin brand in the world. Sharing our mission with sippers everywhere, you'll be overseeing Sipsmith's award-winning events and leading a team of ambassadors as we take the brand around the UK.
Based at the Sipsmith Distillery, you'll leave with a glittering CV that includes genuine leadership and management in a truly entrepreneurial environment – not to mention some mean martini mixing skills.
Not for the faint hearted, we are looking for someone who will thrive in a fast-paced environment and work with fun, flair and passion to represent and grow our brand.
Key Responsibilities include:
– Grow love for the Sipsmith brand through your ambassadorial excellence: including distillery tours, tasting evenings, sampling and sharing your gin connoisseurship with our guests.
– Event and Experience Planning, starting with the foundations of event logistics, finishing with stirring and serving, you'll own all things organisation.
– On-Site Execution of Events requires not only attention to detail but real-world problem solving – you'll be in charge on the day.
– People Management and Leadership means leading and motivating a team of ambassadors.
What you'll need:
– Natural ability to lead and manage a team
– Can-do, positive, hard-working attitude
– Initiative and creativity
– Plate-spinning brilliance
– Good I.T. skills (Excel, Word and PowerPoint)
– Sparkling clean driving licence
– Happy to get 'hands dirty' and get involved in all that is going on at Sipsmith
How to Apply
Send your CV along with something that captures why you're perfect for this events role, to [email protected] with the subject line: "I'm up for the Best Field Marketing Year ever".
This could be a video, a picture, a message in a bottle… just tell us why you're the best person for the job, in the format that best suits you. Please ensure it takes us no more than 2 minutes to digest.
Deadline for applications: Now Closed