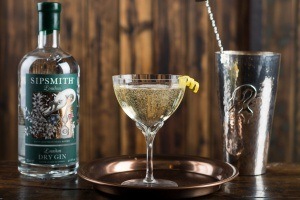 Sipsmith was started in 2009 by our founders Fairfax, Sam and Jared with the mission to open the first copper distillery in London in almost 200 years and bring London Dry Gin back to its home; made the way it used to be and we think should be. Since then we've grown tremendously, acquiring new stills, recruiting new drinkers and building on our great team as well moving premises to a new site in Chiswick, West London. Moreover, we've recently joined forces with Beam Suntory, a company which values heritage, craftsmanship and people as much as we do and the opportunities for our team and brand are now even more exciting. In addition, at Sipsmith we like to think we have created a great place to work where you can be creative, autonomous and have lots of fun at the same time.  We believe that it's our team here that drives our great culture that makes our business what it is (on top of our world class gin), so we work very hard to ensure that everyone in the business loves what they do and feels like part of the family.  We are looking for someone for whom this resonates with and will be a great addition to the bus from the word 'go'.
Title:                Off-Trade Sales Exec
Report to:         Emma Kulin, Senior National Account Manager
Based at:          Sipsmith Distillery, 83 Cranbrook Road, London W4 2LJ
Salary:              Competitive, with bonus + benefits
Profile:             This is a great opportunity to join Sipsmith at an exciting time and to help develop this key channel for the business. The Off-Trade Sales Executive role will support the Senior National Account Manager and the rest of the Off-Trade team in all aspects of the Off-trade business (prestige, grocery, wholesale and convenience). This role is perfect for someone looking to develop and learn all about the Off-Trade and you will be tasked with developing and building relationships at store and at regional level, supporting the wider team with their day to day activities and to ultimately help drive our ROS as a team.
Knowledge, Skills and Experience:
– Degree or 1-2 years' experience within the retail sector (ideally in alcohol or food)
– Natural ability to build relationships
– Can-do, positive, hardworking attitude
– Plate-spinning brilliance
– Happy to speak in front of a crowd
– Good I.T. skills (Excel, Word and PowerPoint are a must)
– Strong mathematical ability
– Creative thinking
– Clean drivers' licence – crisp and sparkly clean!
Key Responsibilities include:
General Support
A key part of this role is assisting in the development and planning of the Off-Trade as a whole. You will work across all aspects of the off trade; prestige, grocery, wholesale and convenience.
Sampling Campaign Management
A key part of the Sipsmith strategy involves face to face sampling in over 50 of our key customer's stores.  You will be expected to devise, develop and execute a sampling strategy, whereby at key points of the year will include all members of the company.  You will work with our events team, SBA's and BA's to help support and train individuals throughout the year.
Staff Training and Education
You will be required to talk confidently about Sipsmith and the category in front of large groups of current and potential Sipsmith customers and their teams.
Competitor Insights
An important part of this role requires you to monitor competitor behaviour in the retail market across all retail off trade channels. This will involves several days a month in the field doing looking at compliance.
Retail Account Management
Over time, you will manage one or more of our key accounts.
This will include the everyday running of an account, managing promotions and incentives, building annual plans, buyer meetings and spending time with the account.
You will work 1 day per week visiting stores and building our store and regional relationships with them.
Other Responsibilities:
– Running Sipsmith Distillery Tours and helping out at other customer facing opportunities.
– Supporting the Events and Sales team at Trade and Consumer shows
– Support the Ops & Logistics teams in the delivery of Sipsmith products to our customers when required.
– Act as an ambassador for Sipsmith in all areas of customer contact
Our ideal candidate:
Are you creative and have a passion for Gin and the Drinks Industry? Are you gently persistent and resilient? Most importantly do people enjoy a chat and Gin & Tonic with you?
We are looking for someone with tons of energy, a can-do positive attitude, high standards and a passion for all things Sipsmith.
The Off-Trade Sales Executive role requires initiative, commitment, hard work and general all round brilliance.  It is an unparalleled opportunity to join the Company at an exciting time and make the contribution we are looking for.
Organisation is also a key part of the role and so the applicant must consider themselves to have a highly structured attitude to work with demonstrable experience of how they organise their time, work load and the tasks at hand.
A flexible approach to work is essential as you will be required to put in time some evenings and weekends but there are plenty of perks along the way that come with it.
Professional, personable, presentable and fun; the bottom line is you will be a face for the first copper distillery in London for nearly 200 years, Sipsmith.
How to apply:
Please send your CV to [email protected]  with the subject title 'Off Trade Sales Exec' and a cover letter explaining your experience and why you would be a good fit for Sipsmith.
Closing date for applications: CLOSED