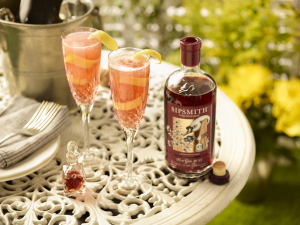 Sipsmith was started in 2009 by our founders Fairfax, Sam, and Jared with the mission to open the first copper distillery in London in almost 200 years and bring London Dry Gin back to its home — made the way it used to be and we think should be. Since then we've grown tremendously, acquiring new stills, recruiting new drinkers and building on our great team, as well moving premises to a new site in Chiswick, West London. Moreover, we've recently joined forces with Beam Suntory, a company which values heritage, craftsmanship and people as much as we do, and the opportunities for our team and brand are now even more exciting. In addition, at Sipsmith we like to think we have created a great place to work where you can be creative, autonomous and have lots of fun at the same time.  We believe that it's our team here that drives our great culture that makes our business what it is (on top of our world class gin), so we work very hard to ensure that everyone in the business loves what they do and feels like part of the family.  We are looking for someone with whom this resonates with and will be a great addition to the bus from the word 'go'.
Title: Senior Production Planner
Reports to: Supply Chain Manager
Based at: Sipsmith Distillery, 83 Cranbrook Road, London W4 2LJ
Salary: Competitive, with bonus + benefits
Key Responsibilities
Production Planning/Management
– Own and run the MRP file; planning monthly production of all SKUs
– Update any variance to forecast based on sales results and monthly Production Planning meetings with team and project leaders
– Own the production planning relationship with our suppliers – work with them to maintain production/get up cards alongside maintaining the Sipsmith BOM
– Facilitate all movement of stock between our suppliers and our bonded warehouse
– Manage or delegate NPD production and MRP
 Purchasing
– Complete all purchasing necessary for monthly production
– Accurately and efficiently record all orders and call offs in the MRP file as well as Sage and promptly match POs to invoices
– Monitor stock levels of all dry goods and assist supply chain coordinators in managing any obsolescence and changes to the BOM
– Manage spend effectively, always ensuring that the best price is achieved, never compromising on quality
 Forecasting
– Manage supplier forecasts – understanding lead times and order processes as well as MOQs and COGs standards
– Using the production forecast file, keep suppliers updated with production volumes throughout the year
 Stock Control
– Manage stock levels using the MRP and supplier stock reports (ensuring supplier reports are accurate & highlighting any issues with them)
– Work with supply chain coordinators to record wastage and obtain relevant reports from our suppliers
– Assist the rest of the supply chain team with finished goods stock control at our bonded warehouse
– Ensure all stock levels and movements are in order at month end and are reported accurately
 Direct Report Management
– Track KPI and work plan progression
– Work closely on VAP requirements
– Advise and assist on the Sipping Society where needed
– Delegate NPD work as appropriate
– Identify opportunities for development
Skills and Experience
– 1-3 years' experience in a planning role or similar
– Meticulous attention to detail
– Planning and analytical skills
– Office proficient with high level Excel skills
– Experience in project leadership
– Passionate about and dedicated to understanding production and manufacturing processes involved with gin & spirits
– Calm under pressure
– Excellent communication skills
– Highly motivated, proactive, and able to motivate others
– Excellent problem-solving skills and ability to make quick, effective decisions
– Solution oriented
How to Apply: Please send your CV to [email protected] with the subject title 'Senior Production Planner' and a cover letter explaining your experience and why you would be a good fit for Sipsmith.
Closing date for applications: This is now closed.