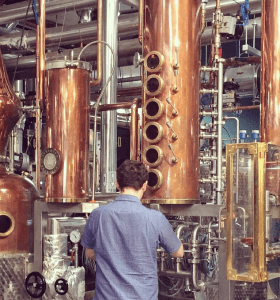 Sipsmith was started in 2009 by our founders Fairfax, Sam, and Jared with the mission to open the first copper distillery in London in almost 200 years and bring London Dry Gin back to its home: made the way it used to be and should be. Since then we've grown tremendously, acquiring new stills, recruiting new drinkers and building on our great team as well moving premises to a new site in Chiswick, West London. Moreover, we've recently joined forces with Beam Suntory, a company which values heritage, craftsmanship and people as much as we do and the opportunities for our team and brand are now even more exciting.
We are looking for an Innovations Specialist to join our Distilling Team at Sipsmith. Reporting to the Production Manager, you'll be all things NPD to the Sipsmith business, focusing strongly on liquid innovation. The ideal candidate will have a strong background in food or liquid development, using their imagination and flair to create new liquids for our business to develop and grow. We would like all candidates to be able to show the team at Sipsmith a demonstrable track record of how they have developed products from concept through the entire NPD process, eventually rolling them out to consumers.
Title: Innovations Specialist
Reports to:    Distillery Manager
Based at:       Sipsmith Distillery, 83 Cranbrook Road, London W4 2LJ
Salary:          Competitive, with bonus + benefits
Key Responsibilities:
Developing new products to a Sipsmith standard, working in tandem with all relevant stakeholders
Carrying out stability and regulatory testing on all liquids
Recording quality results and technical data for all new products
Running and maintaining our copper stills alongside our experienced distilling team
Ensuring health and safety rules and procedures are adhered to at all times on site
Essential Skills:
Excellent computer and numeracy skills, Excel etc.
Strong project management and communication skills
Excellent with people, a team player at all times
Ability to manage workstreams and deliver to tight deadlines
Organised, with rigorous attention to detail
Experience:
A BSc in a food science discipline is desired (an MSc would be plus)
A working background in food science, ideally Brewing and Distilling
Experience working to BRC/ISO accredited standards and carrying out testing on products
Knowledge of packaging technology (specifically bottles and cans) would be desirable
Fork lift truck licence desired, but not essential
How to apply:   
Please send a CV to [email protected], and a cover letter explaining why you'd be a good fit for Sipsmith and describing a time that you made something exceptional.
Closing Date: Now closed.