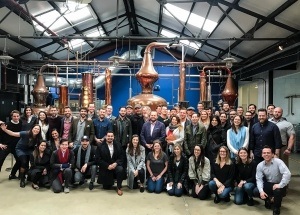 We are looking for an inspiring International Brand Manager to join our dynamic and hardworking Marketing team.
Sipsmith was started in 2009 by our founders Fairfax and Sam with the mission to open the first copper distillery in London in almost 200 years and bring London Dry Gin back to its home; gin made the way it used to be and the way it should be. Since then we've grown tremendously fast, acquiring new stills, recruiting new drinkers, moving premises to Chiswick and building on our great team.
Moreover, we've recently joined forces with Beam Suntory to help us take Sipsmith to all four corners of the globe. Beam Suntory is a company that values heritage, craftsmanship and people as much as we do, opening up exciting new opportunities for the team and the business.
In addition, at Sipsmith we like to work hard to create a great place to work where everyone can be creative, autonomous and have lots of fun. It's our team here who drive our great culture and every character at the Distillery makes our business what it is (on top of our world class gin). We work very hard to ensure that everyone in the business loves what they do and feels like part of the family. We are looking for someone for whom this resonates with and who is excited to be a great addition to the Sipsmith family from the word 'go'.
Title: International Brand Manager
Report to: Shelley Macintyre, Head of Global Marketing
Based at: The Distillery, Chiswick
Salary: Competitive, with bonus + benefits
Travel: 25%, globally. Based in Chiswick at the Distillery.
Candidate Profile:
This is one of the most exciting marketing roles within the industry (in our humble opinion), to be part of a high growth, super premium gin brand, developing strategies and plans that will build the Sipsmith brand across the Globe. This is a unique opportunity to be part of our next growth chapter, to expand our Global reach with our new international partner, Beam Suntory.
The Sipsmith International Brand Manager will have a minimum of 5+ years of marketing experience, be a natural born leader and equally a team player. This person will create and execute consumer-centric content led brand plans. We are looking for candidates who have cut their teeth in an entrepreneurial and brand-led business, or have international brand experience and are looking to move to a high growth start-up spirited brand. We are looking for a sparky, energetic marketer with a creative flair for developing and emerging brands. Equally important, this candidate will have a bias for action and know that "if it's going to be, it's down to me".
Operational knowledge of consumer experiences, PR, digital marketing and any trade marketing activities are important.
The marketing team works in the truest sense of the term "team", working together to create integrated plans and always being alert to support one another when workload may spike in one area. Volunteering to support the team during busy event seasons, outside of office hours, is important, in addition to your particular assignments.

Key Responsibilities include:
Collaborating with markets to create annual brand plans, deliver content required and run frequent routines to support their local market needs with the best interests of the brand

Working in partnership with the Global Head of Business Development to develop and deliver on-trade activations and consumer experiences across the world.

Write briefs, appoint agencies & execute against plans

Assist in creation of global toolkits and roll-out to markets

Brand Guardianship – auditing consistency of execution and inspiring the highest of standards

Run global calls – set up and lead a forum for countries to share in success and inspire one another to better plans

Lead integration projects such as global POS procurement and gifting

Lead international activation projects from the Distillery

Lead on UK activation projects where applicable

From time to time, you may be required to support activations away from the distillery out of standard office hours – during busy seasons, the entire company partake in samplings and events.
Candidate Characteristics include:
Attitudinal: fun, wants to muck in, humble, friendly, self-starter.
Exhibits a curiosity and passion for consumers.
A ginthusiast!
How to apply:
Please send your CV to [email protected] with the subject title 'Sipsmith International Brand Manager' and a cover letter, no longer than one page, explaining a little about your relevant experience and why you would be a good fit for this role and for Sipsmith.
Closing date for applications: Friday 21st April.