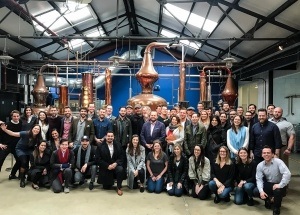 Sipsmith was started in 2009 by our founders Fairfax and Sam with the mission to open the first copper distillery in London in almost 200 years and bring London Dry Gin back to its home; made the way it used to be and we think should be. Since then we've grown tremendously, acquiring new stills, recruiting new drinkers and building on our great team as well moving premises to a new site in Chiswick, West London. Moreover, we've recently joined forces with Beam Suntory, a company which values heritage, craftsmanship and people as much as we do and the opportunities for our team and brand are now even more exciting.
In addition, at Sipsmith we like to think we have created a great place to work where you can be creative, autonomous and have lots of fun at the same time.  We believe that it's our team here that drives our great culture that makes our business what it is (on top of our world class gin), so we work very hard to ensure that everyone in the business loves what they do and feels like part of the family.  We are looking for someone for whom this resonates with and will be a great addition to the bus from the word 'go'.
Title:               Junior Minister of Culture (H.R. Executive)
Report to:       Georgie Woods, Minister of Culture
Based at:         The Distillery, Chiswick
Salary:             Competitive, with bonus + benefits
Key Responsibilities include:
 Policies and Procedures
Ensure our company policies and procedures are relevant, up-to-date and compliant with legislation, drafting and implementing new policies as necessary;
HR System & Reporting
Maintain (and develop) HR systems, ensuring employee data is current and managed in compliance with the DPA.
Recruitment
Assist the Minister of Culture (MoC) in managing the integrity of all recruitment across the organisation, gaining support from individual managers as required

Maintain agency contracts and agreed deadlines and target for effective recruitment and selection

Manage the ongoing effectiveness and efficiency of the recruitment process

Ensure Sipsmith policies and procedures regarding security and confidentiality are adhered to.

Support managers in 'Swanboarding' processes

Ensure 'Swanboarding' is well received and completed
Employee Relations
Maintain appropriate employee relations policies and procedures.

Assist the MoC in providing effective employee relations advice to managers and staff, relating to all areas of the employee lifecycle; (reviews, work plans, pay, bonus, benefits, KPI structure)

Support in ensuring all Employee Relations risks are proactively flagged to the Founders.
 Reward
Carry out benchmarking and salary review exercises as required in order to inform policy;

Support the Minister of Culture in preparing and administering the annual salary review, including accurate and timely delivery of all associated correspondence;

Support the MOC in ensuring the timely confirmation of all starter, leaver and amendment information for payroll on a monthly basis;

Ensure value for money and market reviews when required;

Assist the Minister of Culture in instructing payroll each month.
Benefits
Promote the pension (as required), private health care, and other employee benefits to all staff, ensuring that they are aware of the full range of entitlements;

Administer the schemes, liaising with providers, processing new joiners and leavers, and ensuring accurate information is transmitted.
Learning and Development
Support the Minister of Culture in ensuring the effective on-boarding of all recruits, including relevant and effective induction and probation;

Support Managers in the annual review process and undertake annual training needs analysis in order to plan and deliver relevant development needs, ensuring organisational capability to deliver business plans;

Source, implement and deliver learning and development solutions in consultation with managers and staff.
General
Undertake existing and new HR projects, as necessary;

Guide and support all managers on all aspects of HR;

Provide an approachable point of contact for staff;

Ensure an up to date knowledge of employment legislation and trends.

Assist in the smooth running of the office and administrative systems in general.
 Our ideal candidate:
1-2 years experience within HR

Organised, structured and logical

Can-do, positive, hardworking attitude

Plate spinning brilliance

Great IT skills (Excel, Powerpoint and Word)

Has a passion for people, business and all things gin

Oozes integrity
How to apply:
Please send your CV to [email protected] with the subject title 'Junior Minister of Culture' and a cover letter explaining your experience and why you would be a good fit for Sipsmith.
Closing date for applications: Friday 19th May