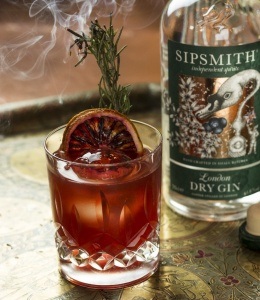 Sipsmith was started in 2009 by our founders Fairfax and Sam with the mission to open the first copper distillery in London in almost 200 years and bring London Dry Gin back to its home; made the way it used to be and we think should be. Since then we've grown tremendously, acquiring new stills, recruiting new drinkers and building on our great team as well moving premises to a new site in Chiswick, West London. Moreover, we've recently joined forces with Beam Suntory, a company which values heritage, craftsmanship and people as much as we do and the opportunities for our team and brand are now even more exciting.
We are looking for a talented individual to develop our presence and relationships with some of our key national customers by appointing a full time NAM within the managed channel. This person will report directly into the Head of On Trade and will be responsible for delivering our strategy to grow both volume & value of Sipsmith brands ahead of the category with customers such as Greene King, Stonegate & Enterprise Inns (plus others), whilst ensuring that these key customers receive the very best service & support from the Sipsmith Team.
This person will need to be a strategic thinker, long term planner and an inspirational leader for our field sales team based in London. It is also important that the individual is comfortable analysing sales out data to seek out and prioritise top commercial opportunities, and can clearly demonstrate and articulate these opportunities internally & also to their respective customers.
If you thrive on a challenge, relish being part of an energetic and fast growing small company, and have significant trade experience then we'd love to hear from you!
Title: National Account Manager (Managed Channel)
Report to: Head of On Trade
Based in: Distillery, Chiswick
Salary: Competitive, with bonus + benefits
Overview
You will be tasked with delivering our commercial budget on the following accounts, by developing and building upon our existing customer relationships
– Greene King
– Stonegate
– Enterprise Inns
– Punch Taverns
– Whitbread
– Marstons
– Accor
– McMullens
A key pillar of the role will be to build and deliver joint business plans with each of your respective customers, to sustainably grow Sipsmith in line with the On Trade 3-year plan. These JBPs will be focussed around key metrics concerning distribution, rate of sale, activation plans & commercials.
You will also be responsible for leading and managing two sales executives based in the London area. Under your leadership these execs will be calling upon the individual accounts within the customer estate with the aim of boosting rate of sale by maximising the availability, visibility and quality of Sipsmith brands. They will also have remit to call on independent free trade outlets, so you will need to work closely with them to guide, train & coach on sales techniques and processes.
This is a fantastic role with a great deal of opportunity for someone with an ambitious, entrepreneurial attitude, who wants to be part of a fast-growing company.
Desired Skills and Experience-
– 4+ years' experience within FMCG, ideally drinks
– Prior experience at KAM/NAM level
– Has demonstrated consistent ledger growth with key managed customers
– Has previously worked in a field sales role
– Experience in management or an appetite to take this on
– Can-do, positive, hardworking attitude
– Happy to speak in front of a crowd
– Plate-spinning brilliance
– Natural ability to sell and build relationships
– Results orientated individual with excellent commercial awareness
– Good I.T. skills (Excel, Word and PowerPoint)
– Social Media awareness
– Clean driver's licence
Key Responsibilities:
Create fantastic relationships with our customers, which translates into value growth for both parties
Build fantastic & lasting working relationships with our key managed national partners to deliver growth of all Sipsmith brands through well-constructed and fully aligned joint business plans. You will need to implement a contact strategy that meaningfully addresses important stakeholders at customer head office level and with their respective regional teams and sites. Key to your success will be the ability to create and demonstrate great value to the customer to maximise sales for Sipsmith and our partners.
Bring visibility on performance for your commercial ledger & your team
You will need to prepare regular reports & updates on commercial performance of your accounts, and bring visibility to both growth opportunities & potential risks that will impact performance vs. the budget. You will also need to be closely focussed on the performance of your team, through analysis of regular salesforce reports and by spending time coaching them out in the trade.
Dream big & inspire others in the team
As a senior member of the On-Trade structure, you will be involved in the support and d development of other members of the team to build an all-star talent pipeline for the rest of the business. You will be expected to bring & articulate big ideas on how to improve the performance of the whole On Trade team, not just within the scope of managed nationals.
Enable our customers to sell
Implement rate of sale (ROS) drivers, incentives, support packages to keep our key accounts up to date with all Sipsmith developments, including the introduction of new products.
CRM management and customer engagement
Ensure that the Company's CRM software is regularly updated with customer information in line with the Company's expectation.
Staff training and education
You will be required to talk confidently about Sipsmith and the wider category in front of large groups of current and potential Sipsmith customers and their teams both at the distillery and at their respective accounts.
Sampling
The role also includes the need to organise and conduct regular sampling sessions in both the On and occasionally Off Trade venues.
Ad Hoc Sipsmith team support
Like all members of the Sipsmith team, you will be asked on occasion to support other areas of the business as and when required, including deliveries and collections, especially when directly related to the Sales Strategy, such as delivery of Point of Sale or stock and apparatus for sales events. Supporting the Marketing and Events team in the planning prior to and the execution of specific events (E.G BBC Good Food Show) is also fundamental to the role.
Our ideal candidate:
 This role requires initiative, commitment, hard work, flexibility, creativity and general all-round brilliance as well as a good sense of fun!  It is an unparalleled opportunity to join our company at an exciting time and actively contribute to moving the business forward. We are looking for someone with tons of energy, high standards and passion for all things Sipsmith!
The right candidate will be organised, entrepreneurial and confident and will relish the challenge of juggling several tasks at the same time.  As responsibilities are varied it is critical that the candidate can stay on top of the workload, work effectively alone as well as part of a close-knit team and bring bundles of initiative with them.
Likewise, the candidate will be results-orientated with an ambitious attitude and be able to work tirelessly and efficiently to ensure targets are hit, with business profit as the priority.  Sipsmith is a genuinely fun company to work for; it is a fast-paced and certainly lively, and the successful candidate will have a tidy and structured approach to life, and exceptional communication skills to make the most of the role.
A good handle on marketing, social media is important as are computer skills in particular Microsoft Office, an ability to work with our CRM system – Sales Force.
A flexible approach to work is essential as you will be required to put in time in the evenings and weekends and just like the applicant, the driver's license needs to be crisp and sparkly clean.
Professional, personable, presentable and fun; the bottom line is you will be a face for  Sipsmith, the first copper distillery in London for nearly 200 years.
 How to apply:
Please send your CV to [email protected] with the subject title 'National Account Manager' and a cover letter explaining your experience and why you would be a good fit for Sipsmith.