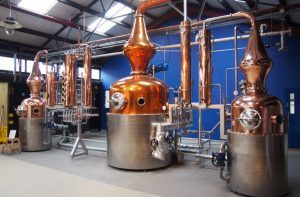 Sipsmith was started in 2009 by our founders Fairfax, Sam and Jared with the mission to open the first copper distillery in London in almost 200 years and bring London Dry Gin back to its home; made the way it used to be, the way it should be. Since then we've grown tremendously, acquiring new stills, recruiting new drinkers and building on our great team. We've recently joined forces with Beam Suntory, a company which values heritage, craftsmanship and people as much as we do and so the opportunities for our team and brand are ever more exciting. We like to think that we have created an incredible place to work, where you can be creative, autonomous and have fun at the same time. We believe it's our team here that drives our great culture, that makes our business what it is (on top of our world class gin), so we work hard to ensure that everyone in the business loves what they do. We are looking for someone for whom this resonates.
Title:               Senior National Account Manager, Nationals & Groups
Reports to:      Head of On Trade
Location:       The Distillery, 83 Cranbrook Road, London, W4 2LJ
Salary:             Competitive, with bonus + benefits
You will support the Head of On Trade in growing the Nationals & Groups segment and developing this segment's 1-3 year strategy. This role will be tasked with delivering agreed objectives on Volume, NSV, GP, Distribution and Brand Activations.
This is a fantastic and varied opportunity to play a pivotal role, leading a large team and working across a range of influential customers & accounts to grow Sipsmith sales and reach.
What you'll do
– Delivery of budgeted Volume, £NSV, £GP and distribution targets with the defined customer(s).
– Prepare, implement and monitor strategic plans with objectives for key customers.
– Accountable for the creation of proactive Joint Business Plan (JBP) with key customers in order to ensure sustainable value growth.
– Responsible for formulating and controlling key business processes:
 Weekly & monthly performance updates

 Lead the channel demand forecasting

Annual bottom up planning to build budget next FY
– Responsible for leading, developing and coaching a team. Ensuring clear annual development plans and weekly 1:1s for all direct reports.
– Identify, define and execute growth projects enabling timely and well-targeted changes that anticipate on the developing market.
– Ensure close collaboration with Marketing to bring brand plans to life in the market place.
– Working closely with other functions such as Finance, Culture and Operations to ensure the best possible delivery against agreed KPI's and targets.
– Provide wider commercial insight to the business in order to contribute to the medium-term plan.
What you'll need
– A minimum of 5 years sales/commercial experience, including multichannel experience in Managed, Brewers and L&T sectors.
– A minimum of 2 years people management experience
– A strong ability to forecast accurately and attention to detail
– Demonstrable ability to use data to create commercial arguments
– Entrepreneurship and an eye for new opportunities
– Highly developed influencing and negotiating ability
– Well developed written & verbal communication, presentation skills
– A passion for Craftmanship
– An educated pallet for great Gin
– Passion for the drinks industry
– Happy to get 'hands dirty' and get involved in all that is going on at Sipsmith
– Plate spinning brilliance
Please send your CV to [email protected] with the subject title 'SNAM: Groups & Nationals' and a cover letter explaining your experience and why you are a good fit for this role and Sipsmith.
Closing date for applications: Sunday 9 February 2020.
Sipsmith is committed to building a culturally diverse, equitable and inclusive organisation and encourage applicants from a wide range of backgrounds to apply for our opportunities.