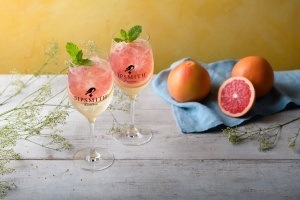 Sipsmith was started in 2009 by our founders Fairfax, Sam, and Jared with a simple mission: to open the first copper pot gin distillery in London for almost 200 years. In doing so, they set out with the vision of creating a global gin brand icon that would be around for another 200 years more. To realise their dream, they needed to pioneer a change in the law, which brought London Dry Gin and small batch distilling back to its home, London, and subsequently kicked off the UK's gin renaissance. Since 2009 we've grown tremendously, acquiring new stills and moving premises from Hammersmith to Chiswick, West London. In January 2017 we joined forces with Beam Suntory, a company which values heritage and craftsmanship as much as we do, and now sit alongside global brands such as Maker's Mark, Jim Beam, Laphroaig and Courvoisier.
We pride ourselves in welcoming friends & families with open arms to our Chiswick home to share our pioneering story – and to sip the world's best gin!
We are looking for someone to join the Brand Experiences and Customer Services Team, serving as the face of the Distillery, and sharing our brand values, passion and character with visitors from the moment they arrive, to the moment they leave the distillery. This role is for an exceedingly personable and organised individual who goes the extra mile to increase and maintain the goodwill of the brand among guests, staff, and neighbours.
Title:                     Sipsmith Front of House
Reports to:          Brand Experiences and Host Manager
Based at:              The Distillery, 83 Cranbrook Road, London, W4 3EF
Salary:                   Competitive, with bonus + benefits
Profile
– A generally delightful person to be around – presentable, positive & energetic
– Impeccable customer service skills, with a flair for relationships and guest satisfaction
– Supremely organised and able to manage time effectively
– Positively proactive in dealing with visitors, customers and contractors on an individual basis
– A highly personable team player who is ready to get stuck in and is always up for a challenge, but is equally happy working by themselves
– Able to problem-solve and multi-task across daily work streams
Responsibilities  
– Welcome all visitors as the first point of contact for Sipsmith, leaving a favorable and lasting first impression
– Ensure guests/staff sign into the site and alert the relevant team member of their arrival
– Look after waiting visitors (individuals and large tour groups) in a Sipsmithian fashion (making teas/coffees with a smile, etc.)
– Manage the vehicles and delivery log
– Co-ordinate all deliveries, pick-ups, and couriers through the correct Sipsmith team member, handling all relevant paperwork
– Collaborating with the Minister of Ginterior to deliver a 5-star experience at the distillery by maintaining a friendly, clean and safe environment
– Work alongside the Customer Experience Team in delivering excellent customer service as an ambassador of the brand
– Manage the Sipsmith switchboard (phone system) and forward relevant calls to the respective members of the Sipsmith team
– Book guests onto Distillery Tours over the phone
– Process e-Commerce & Sipping Societyreturns, manage all correspondence with the fulfilment company, and sort re-deliveries
– Maintain all site assets required for the Reception & garage area (toiletries, boxes, refreshments, etc.)
– Keep the area around the Reception clean and tidy, looking after the plants and A-board
– Provide cover when the Customer Service Executive is away
– Ensure compliance with Health & Safety across the site, from team members and visitors
How to Apply: Please send your CV and a cover letter explaining why you would make a characterful and excellent addition to the Sipsmith team to [email protected].
Closing Date: Now Closed