Delicious rhubarb gin is shaping up to be the summer's trendiest tipple – and it's simpler than you might think to make it yourself.
Bursting through the soil each spring and summer, ruby-pink rhubarb features in a range of our favourite desserts – from tarts to trifles – and it's even been known to make a guest appearance in the eternal crowd pleaser that is a meringue-packed Eton Mess.
Certainly, a rhubarb sponge is a great way to make use of the season's bounty, but this year, we'd recommend learning how to make rhubarb gin before experimenting with it in a range of gin cocktail recipes.
If you've mastered your own sloe gin you'll find it's even easier to make rhubarb gin, and that this spring-summer staple adds both a beautiful flavour and a hint of colour to our London Dry Gin, which is an eminently good partner due to its juniper-rich flavour profile.
RHUBARB AND STRAWBERRY GIN LIQUEUR
Courtesy of our beloved Master Distiller Jared Brown, this delicious infusion makes excellent use of this home-grown ingredient.
500g rhubarb
500ml water
200g sugar
5-6 strawberries
1 bottle Sipsmith London Dry Gin
Start by combining the first four ingredients – the rhubarb, water, sugar and strawberries – in a saucepan over a low heat. Cover the pan and allow the ingredients to simmer for around 30 minutes or until the rhubarb is soft. Set aside and allow the infusion to cool.
Once ready, strain through a cheesecloth and measure the resulting liquid. Add an equal measure of Sipsmith London Dry Gin and stir to combine in any number of refreshing gin cocktails, such as our London Calling Spritz, which even features a rhubarb garnish.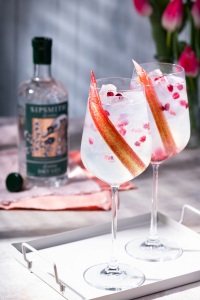 RHUBARB AND VANILLA GIN LIQUEUR
Follow this alternative technique from Jared Brown to learn how to make rhubarb gin that's perfumed with fragrant vanilla.
300g rhubarb, chopped into 3cm pieces
2 vanilla pods, split lengthwise
100g sugar
1 bottle Sipsmith London Dry Gin
Preheat your oven to 180ºC and, on a lined baking tray, add the rhubarb and vanilla beans, and sprinkle over the sugar. Roast for approximately 30 minutes or until the rhubarb is softened and fragrant. Remove from the oven and allow the mixture to cool to room temperature.
In a large Kilner jar, add your bottle of gin and the roasted rhubarb and vanilla beans. Leave the liquid to infuse for three days before straining and enjoying. Note that the leftover rhubarb is a lovely topping for ice cream, and that your roasted rhubarb can be frozen should you want to make future batches of rhubarb and vanilla gin.
Now it's time to discover how our uncompromisingly handcrafted London Dry Gin is also perfectly complemented by a range of flavourful homemade gin syrups. Make use of seasonal fruits and add spices and herbs for an additional twist, from juicy peaches to fragrant rosemary that can be used to make a sparkling Rosemary Gin Fizz.
As for your homemade rhubarb gin, it makes for a great addition to a number of gin cocktail recipes, but we think it's an especially delicious treat in a classic G&T or Gimlet, or served in a flute with some bubbly.