A distillery tour, a tutored gin tasting, and a ginful four-course supper: here's what to expect when you come along for our deliciously indulgent Sipper Club.
We certainly don't mean to boast—but if you ask us, London gin events are rarely as decadent, as spirited, and as entertaining as our Sipsmith Sipper Club.
Held twice a month, the evening begins at our Chiswick HQ with a welcome drink (in the winter months, there's nothing like a steaming Hot G&T to get the blood pumping). As you sip, your tour guide will introduce you to all things Sipsmith. Learn about our founders, and discover why we were the first copper-pot distillery to set up shop in London in almost 200 years.
Our guide will also regale you with entertaining stories from gin's long history. Hear about its highs, its lows (the London Gin Craze wasn't as fun as its name might suggest), plus the present-day ginaissance we're now lucky enough to enjoy.
From in front of the red velvet ropes, visitors will next get acquainted with our ladies: the beautiful, hand-crafted copper stills who are responsible for making our gin as good as it can be. Your guide will run you through the essentials of how gin is made—and you may just see a member of our distilling team tending to Patience, Prudence, Constance, baby Cygnet, or the latest addition to our family of stills: the beautiful, gleaming Verity.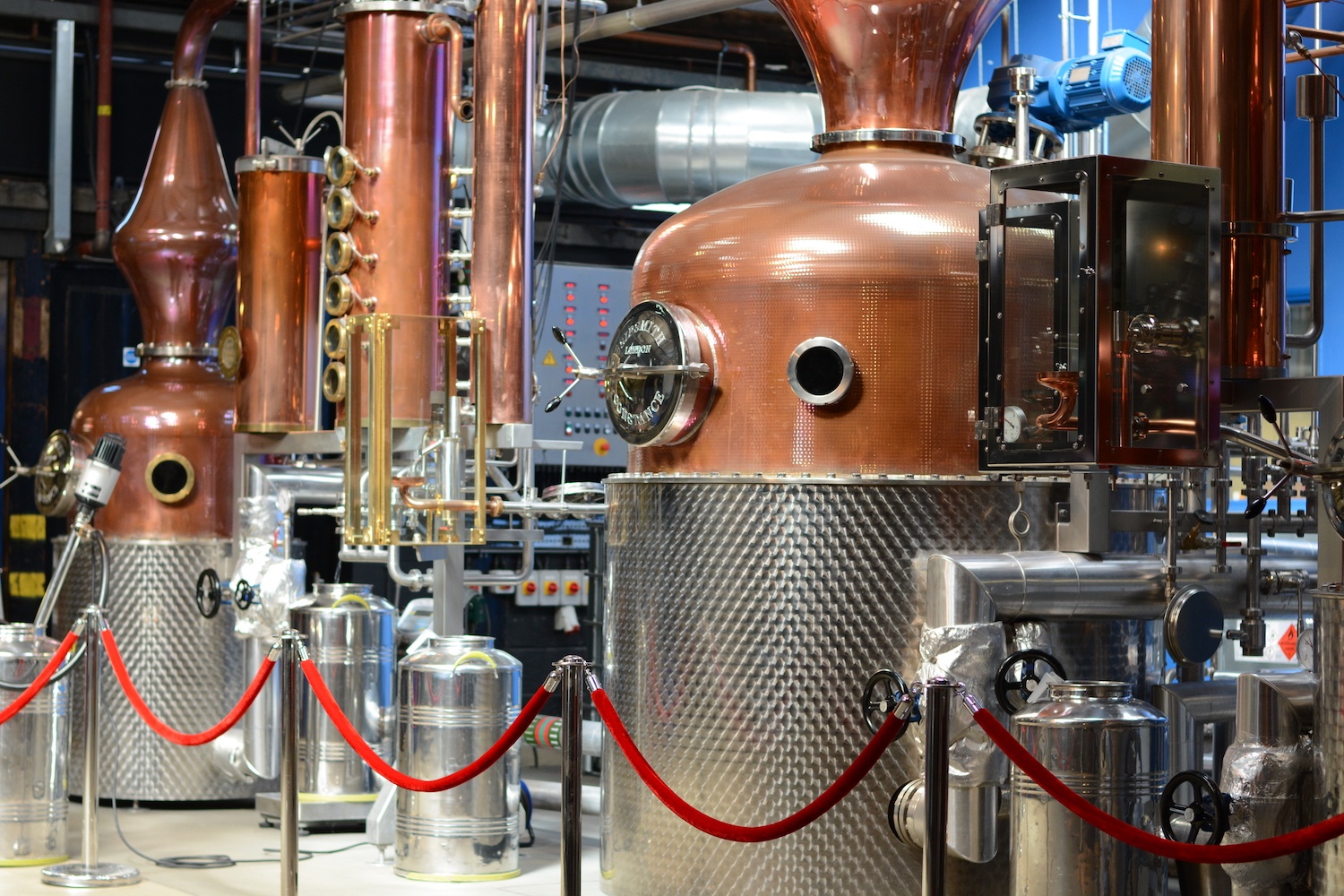 During our Sipper Club, you'll have the chance to explore our distillery, meet our beautiful stills, and learn how gin is made.
Naturally, it isn't a proper distillery tour without a tutored tasting. Once you've seen where our gin is made, you'll sample several gins from our portfolio, beginning with the classic London Dry Gin. Lucky sippers will even have the chance to sip small-batch, limited-edition distillations, which we make for our delightful Sipsmith Sipping Society.
From there, it's just a quick stroll around the corner to Charlotte's Bistro—one of the leading lights of the Chiswick dining scene. Its ambiance is cosy, its hospitality neighbourly, and its food representative of the best of British seasonal cookery. Think: gin-cured salmon with lemon puree and pickled cucumber, wild mushroom risotto that's perfumed with truffle, and roasted lamb breast studded with bacon lardons and crowned with hispi cabbage.
Even before you're seated, you'll be handed a frosty Sipsmith G&T: made properly, filled to the brim with cold ice and dosed with a splash of Fever-Tree tonic. During the four-course dinner, you'll also have the opportunity to sample from the menu of cocktails that Charlotte's has crafted especially for the occasion.
"As a business, we've always believed in letting our bartenders shine as much as our chefs," says Alex Wrethman, the owner of Charlotte's Group. "It's always a great start to the evening when guests can enjoy a cocktail made with the same carefully sourced seasonal ingredients and craft that you'll find on the food menu."
Begin with a refreshing Berries & Brew, made with our London Dry Gin, Earl Grey tea, crème de cassis, cranberry juice, and lemon, or wind down the evening with a Darker Shade of Pine, which marries Sipsmith V.J.O.P. with Pedro Ximénez and Kamm & Sons.
A concluding course of sloe gin and cheese is a fittingly indulgent way to wind down the evening.
To finish things off, you'll enjoy a delectable British cheese plate accompanied by a nip of Sipsmith Sloe Gin: the two do go ever so well together.
The best part? At the evening's end, you'll be given a Sipsmith gift bag with all the necessary ingredients to make yourself a thirst-quenching Gin & Tonic (sans the ice). We reckon it's a fitting, celebratory conclusion to our one-of-a-kind London gin tour.
Christmas is coming up—and tickets to Sipper Club make the perfect gift for the gin enthusiasts in your life. Find more information about this fantastic London gin event, book tickets, or purchase a gift voucher here: https://sipsmith.com/tours/.
Feature images © Claire Bullen