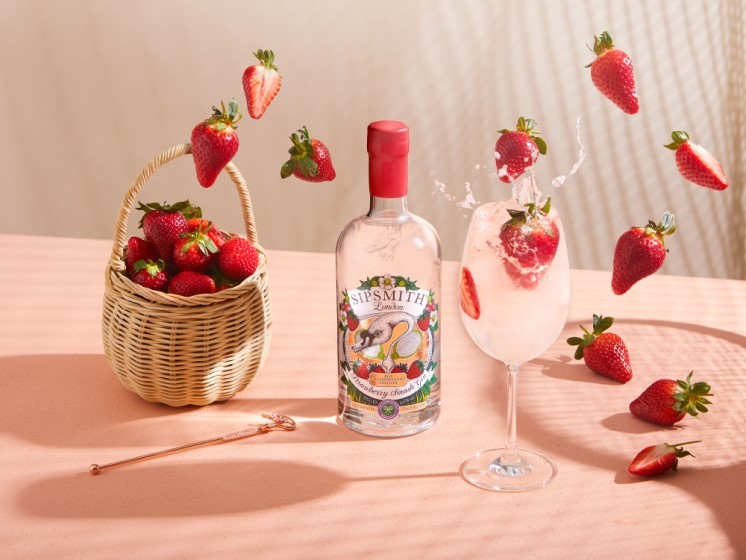 Strawberry Smash Spritz Bundle
Our Strawberry Smash Spritz bundle is perfect for al fresco sipping whilst watching the Wimbledon action at home. Our Limited Edition Strawberry Smash Gin adds a berry twist to the classic Spritz, which you can serve up beautifully in your branded Sipsmith glasses.
£45.00
The Nose
Fresh strawberry notes, followed by light citrus and hints of mint.
The Palate
Sweet, juicy strawberries lead, balanced by refreshing mint and citrus.
The Finish
Delicate fruitiness and dry juniper mingles to a smooth mint finish.
More Product Information
Game. Sip. Match!
We've pulled together everything you could need to enjoy the perfect Sipsmith Strawberry Smash Spritz – proudly served at The Championships – in the comfort of your own home.
Our Strawberry Smash Gin 2022 Championships Edition, is inspired by our partnership with Wimbledon. This unique London Dry Gin is distilled with last year's strawberry harvest from Hugh Lowe Farms in Kent, the exclusive grower of Wimbledon strawberries. With a smashing fruity twist and crafted with a hint of English mint for perfectly balanced flavour, enjoy in a Strawberry Smash Spritz with a winning garnish: a twist of lime peel and freshly sliced strawberry. Quite Right.
This bundle includes 1x 70cl bottle of Strawberry Smash Gin, 2x Fever-Tree Soda Waters, 2x Sipsmith Spritz Glasses and 2x copper swan stirrers.
Try this delicious Strawberry Smash Spritz recipe to give you the real taste of the Championships.
You'll need:
50ml Sipsmith Strawberry Smash Gin
25ml fresh lemon juice
50ml soda water
Prosecco, to top
Freshly sliced strawberry, to garnish
Twist of lemon or lime peel, to garnish
​Then, simply add the gin, fresh lemon juice and soda water to a large wine glass filled with ice. Top with prosecco and garnish with a freshly sliced strawberry and a twist of lemon or lime peel.
Shop our gins
Sensationally sippable for every occasion.