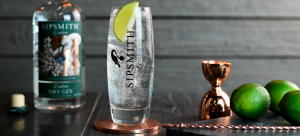 We're incredibly proud to distill every bottle of Sipsmith Gin here in Chiswick. We thought there was no better way to celebrate summer than to share a G&T with our neighbours.
If you're reading this then you've most likely already met one of the Sipsmith team on Chiswick High Road. Take your voucher to one of our beloved locals below to enjoy a G&T on us!
– A cosy corner pub hidden behind Chiswick Park station, we've heard they make a mean Sipsmith Negroni.
– Perched on the edge of Turnham Green, we're often caught enjoying a delicious brunch at the Crown & Anchor.
– Step inside and you'll find yourself enjoying a Sipsmith G&T with the many inhabitants frozen in time there, including Boris the Badger.
– Spacious, traditional local offering the warmest of welcomes to the residents of Chiswick.
– The closest pub to the distillery, the Roebuck offers a welcome hydration spot where colleagues and friends can enjoy a classic G&T.
– Serving a modern menu with a Spanish influence, why not pop in and enjoy a Sipsmith Lemon Drizzle with some Spanish tapas.
– With its summer terrace out front, The Lamb is a fantastic spot to enjoy a G&T after a hard day's perusing the wares on Chiswick High Street.
– A historic Chiswick pub, it is said that William Hogarth enjoyed a G&T or two here.
– A hidden gem tucked away between Chiswick and Acton, our Head of UK Marketing can be found enjoying a sumptuous Sipsmith London Cup.