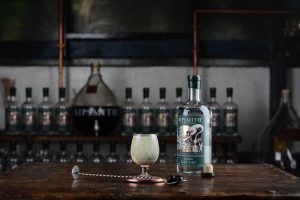 Strong, complex — and a pleasing shade of green — the Last Word is a memorable, winter-friendly serve.
The Last Word was almost the classic that wasn't. Though its history goes back to the pre-Prohibition era, it fell out of favour for so long that it was nearly lost forever to the sands of time. That is, until one Seattle-based bartender fortuitously re-discovered the drink in 2004. Since then, the Last Word has regained classic status — and we couldn't be luckier.
That's because the Last Word is one special serve (and not only due to its distinctive hue). A blend of gin, Chartreuse (a liqueur produced by Carthusian monks in France, and rumoured to contain over 130 herbs and plants), maraschino liqueur and lime juice, it's a little sweet, a little sour, unabashedly boozy and remarkably, satisfyingly complex. Often billed as a palate cleanser, it's ideal for aperitifs but works well as a winter warmer, too.
Consider it a happy accident for sippers everywhere that bartender Murray Stenson of Seattle's Zig Zag Café rediscovered The Last Word in 2004.
The Last Word got its fabled start all the way back in 1915, when it was invented at the Detroit Athletic Club's bar. At the time, it was sold for a whopping 35 cents, making it the menu's most expensive (and presumably coveted) cocktail. Its popularity supposedly spread beyond the venue by Frank Fogarty, an award-winning vaudeville performer who was known as 'the Dublin minstrel.' Soon, it became something of a local favourite.
While the Last Word's high point was undoubtedly the 1910s, the serve managed to survive Prohibition, and was even listed in a 1951 cocktail compendium penned by Ted Saucier, called Bottoms Up. But after that, the Last Word began its slow descent into obscurity. By the turn of the 21st century, it was all but forgotten.
Consider it a happy accident for sippers everywhere, then, that bartender Murray Stenson of Seattle's Zig Zag Café rediscovered the drink in 2004. He'd come upon an old edition of Bottoms Up and, in search of new drinks to add to Zig Zag's menu, stumbled upon the recipe.
The Last Word made for a remarkably popular menu edition, and soon spread to The Pegu Club in New York, helmed by legendary bartender Audrey Saunders. She praised the drink for its pungency, balance, and bite, and described it as one of the best serves on her menu. With testimony like that, it's little wonder the Last Word took off around the world.
Tempted to give this re-found classic a try? Though many Last Word recipes call for a 1:1:1:1 ratio of the four primary ingredients, we've opted to tweak the balance (in favour of gin, naturally). Shake yours up, strain, and garnish with a Luxardo cherry for a festive finale.
Recipe: The Last Word