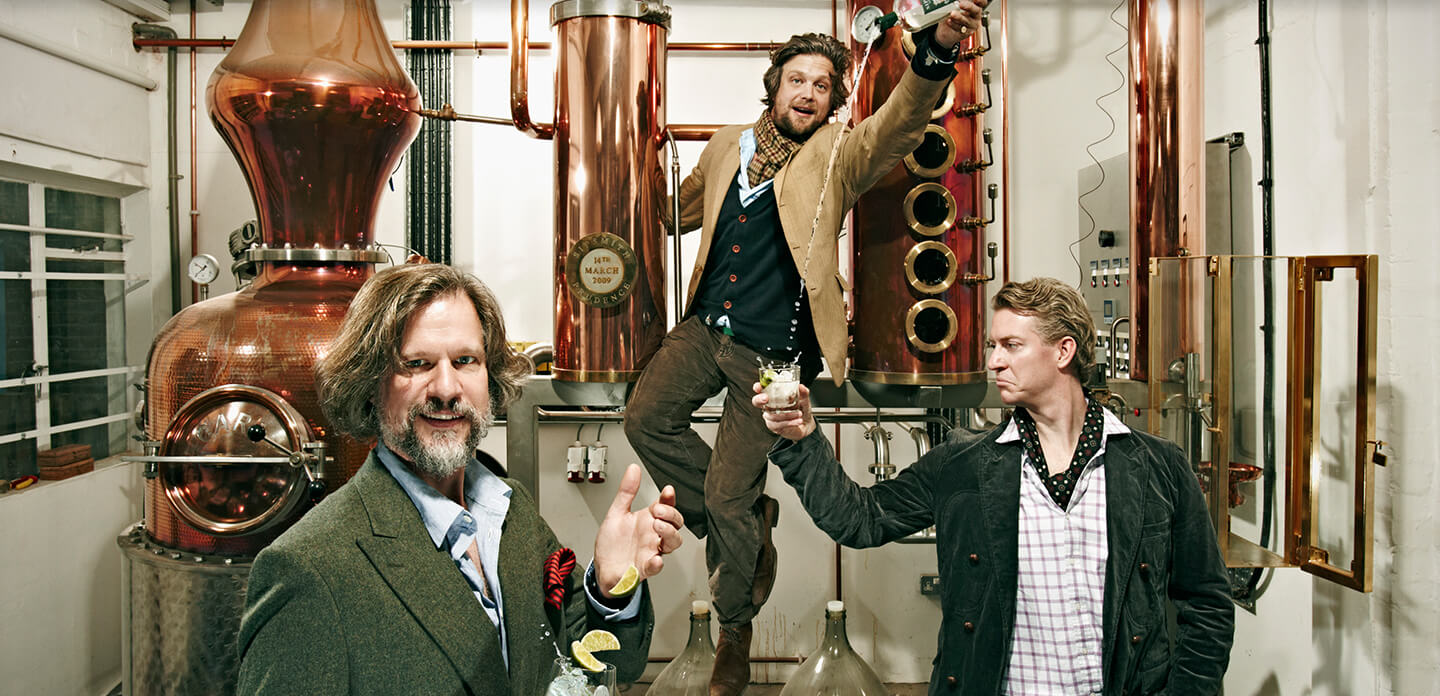 Fairfax
After years drinking as an amateur, Fairfax turned passionately professional with the launch of Sipsmith. He thoroughly enjoys his work.
Jared
Drinks historian. Underwear model. Book publisher. Bon Viveur. Cotswold gardener. Gin lover. Creative genius. Master Distiller.
Sam
What do you do if you love going out, love meeting people, love gin and live in London? You could start a distillery. Sam did.
Alessandro
Brand Design Manager
Unsuccessful football player, successful gin drinker and designer extraordinaire.
Ash
Production Planner
Planning the production of bottles and Sipping Society with a smile.
Ashley
Ministry Executive
Founders' assistant, member of Team Culture, and swan stockist.
Bill
Brand Ambassador
Repping Sipsmith in the cocktail scene one martini at a time!
Braham
People Manager
Finding Swans to join our gincredible journey, from the Distillery to beyond!
Callum
Business Analyst
Monitoring ongoing performance, turning numbers to insights, putting the Gin after Mar.
Camilla
Finance Manager
Drives continuous GIN-provement to our systems, controls & compliance.
Charlene
UK North Brand Ambassador
Sharing and sipping all things gin in the mighty North.
Chesca
Global Partnerships & PR
Curator of pairings and keeper of stories.
Chloe
Intl. LoGINstics Co-ordinator
Keeping the gin flowing to all of our global sippers.
Chris
Key Account Manager
Spreading the 'Sipping' with the best bar groups in the North.
Ciarán
Innovations Manager
Scottish Swan. Shaker of drinks and eater of pies. Loves a funky shirt and a bad joke.
Dini
Guardian of the Brand
Creator of gifts, curator of all things off-trade brand management.
Ellie
Distiller
The 4th lady of the team. A Geology graduate student who thinks gin rocks.
Ellis
Snr National Account Manager
All things Wholesale for on and off-trade.
Emily
On-Trade Sales Executive
Ginfusing North-East London with Sipsmith.
Emma
Finance Assistant
Looks after the cash flow to let the gin flow.
Emma
Head of Off-Trade
All things off-trade.
Evan
Financial Controller
Counter of juniper berries and Chief Lemon Investigator.
Evy
Key Account Manager
The tallest man in London and big V.J.O.P. advocate.
Freddie
National Account Manager
Works with Emma managing our Off Trade Grocers.
Georgie
Minister of Culture
Looks after all things people. Martini Maestro and also Maggie's mum.
Hans
Assistant Distiller
Distilling our world-class gin.
Hollie
Digital Swan
Never short of Welshcakes and TikToks to share.
James
Distiller
Loves making Gin, music and strong cups of tea.
Jimbo
Head of Content, Design & Digital
Former holder of two world records.
Joe
Key Account Manager
Working with the finest UK distributors making sure Sipsmith is available for all.
Joe
Assistant Distiller
Distilling our outrageously good gin.
JP
US Brand Ambassador
Gintroducing Sipsmith across the sunny Southeast of the US. Wants to be called Gin-P.
Keli
US Brand Ambassador
Educating the American masses all about gin one Sipsmith martini at a time.
Laura
Junior Designer
Adding creative GINius to the Sipsmith design team.
Livy
Senior Brand Manager
UK brand and digital extraordinaire. Has an impressive gin collection.
Lizzie
Management Accountant
Keeper and closer of the books at Sipsmith.
Louisa
Brand Experience Manager
Delivering unique gin-sipping activations to gin lovers everywhere.
Lucy
On-Trade Sales Exec
Bringing the world's best gin to a pub, bar or restaurant group near you. Queen of the 'gram.
Maeve
UK LoGINstics Co-ordinator
Keeping the gin flowing all over the UK.
Maggie
Distillery Dog
Available for stroking, eating leftovers and napping under Georgie's desk.
Mags
Designer
Making things look beautiful with a G&T in hand.
Max
Minister of the Ginterior
Looking after our gincredible facilities; making our distillery a lovely place to work and play.
Olga
Brand Executive
Helping with all things Sipsmith in the UK Brand Team.
Olly
Brand Activation Manager
Delivering Activation across the Nation, loves a deck and a turtleneck.
Peyton
Ginternational Marketer
Spreading Sipsmith love across all four corners of the globe. Also answers to the name 'Pete'.
Reece
Distillery Manager
Proud Cornishman, looking after the day to day distilling with our three copper ladies.
Rich
Prestige National Account Manager
Cocktail geek & jazzy sock collector. Single-handedly keeps Irn Bru sales up in London.
Richard
Finance Director
Distilling the numbers and balancing the books.
Sandy
Key Account Manager
Putting the London in Sipsmith London.
Shelley
Queen of Hearts
Marketing Guru; sharing the Sipsmith love, one sipper at a time.
Tom
King in the North
Spreading the good sippers word in the North, On-Trade Gin Machine.
Valentine
Supply Chain Manager
Ensuring our gin supply never runs dry.