With a playfully suggestive name — and an esteemed pedigree — the Hanky Panky is one classic that's worth commemorating.
Why order a Hanky Panky? As San Francisco bartender Kevin Diedrich says, "this cocktail is something Martini drinkers and Manhattan drinkers will all agree on."
With the gin base of a Martini and the sweet vermouth of the Manhattan, it's a sturdy, bracing, restorative kind of drink. But it's also got something special hidden up its sleeve.
That'd be Fernet Branca: the heavy, bitter Italian amaro that's a powerful punch of a liqueur (and, while beloved of bartenders, is an acquired taste for many sippers). In moderation, however, Fernet lends a stunning complexity to this grown-up cocktail. Just two dashes impart an herbaceous, aromatic whisper. Try it once, and it's bound to become a favourite.
The History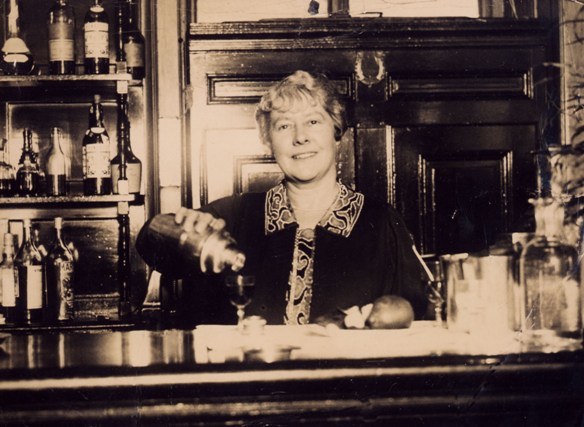 Credit for the creation of the Hanky Panky goes to former American Bar Head Bartender Ada Coleman.
The Hanky Panky was born at the American Bar at the Savoy — but it wasn't the creation of Savoy Cocktail Book author (and all-around bartending great) Harry Craddock. Credit instead goes to his predecessor Ada Coleman, who was among the first female bartenders in London when she headed up the American Bar.
As the story goes, the cocktail was dreamed up when actor Charles Hawtrey strolled into the bar one evening. "[He] was one of the best judges of cocktails that I knew," Ada is quoted as saying. The American Bar was Hawtrey's favourite haunt after a long day, and he used to come in and ask for a drink with some punch. "It was for him that I spent hours experimenting until I had invented a new cocktail," she said.
What about the name? Hawtrey was also the inspiration, according to Coleman. "The next time he came in, I told him I had a new drink for him. He sipped it, and, draining the glass, he said, 'By Jove! That is the real hanky-panky!'" (It's worth noting that, back in those days, "hanky panky" meant "trickery" or "magic", rather than anything more eyebrow-raising.)
Today, the Hanky Panky is Coleman's best-remembered recipe, and is still served at the American Bar (though they stir the serve now instead of shaking it, as Coleman did).
The Serve
With just three ingredients — all of which deserve a place on your bar trolley — the Hanky Panky is beautifully simple to make at home.
With just three ingredients — all of which deserve a place on your bar trolley — the Hanky Panky is beautifully simple to make at home. Coleman's original recipe approaches perfection, except for one minor amendment: though an orange twist is the traditional garnish of choice, we like ours with a single Luxardo cherry plopped in the glass instead.
Can't make up your mind? If you ask us, it never hurts to give both versions a try.
Recipe: The Hanky Panky