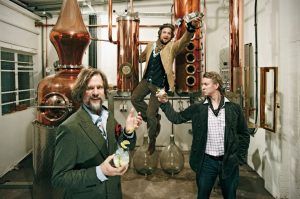 Fairfax and I are exceptionally excited to share the latest news from our Distillery – we are joining forces with Beam Suntory to expand our presence internationally. This partnership marks a new chapter in Sipsmith's growth story.
It was almost 8-years ago when we opened London's first copper pot gin distillery for nearly 200-years, returning the art of traditional small batch distillation to London, the city where gin first made its name. This marked the start of what some call a gin renaissance in the UK.
With the support of so many friends, family, the commitment of our team and the support of our fans, we have since built Sipsmith into the much loved and vibrant award winning London Dry Gin that so many people enjoy today. For that we are so very thankful.
I can't believe we've gone from personally hand delivering our gin to customers on the back of my scooter, to being on the cusp of reaching all four corners of the world with our award winning London Dry Gin. Beam Suntory's international distribution network will help to reach countries we could only dream of before.
You have our word that we will remain very much integral to the leadership of Sipsmith and our unwavering commitment to adhere to our ethos of traditional small batch gin distillation. In fact, nothing will change here at our London Distillery – although we might be a little busier – we will produce our gin in exactly the same way, to the highest level of quality. Our team remains the same, our gin remains the same. The only point of change will be that Sipsmith will be available all over the world. Something that we think is very wonderful indeed.
I am happy to personally answer any questions you may have – please direct your questions via the contact us page.
If you're from the press, please contact [email protected] for a press release.