Introducing Sipsmith FreeGlider; our new alcohol free spirit, crafted to take alcohol-free sipping to new heights.
INTRODUCING SIPSMITH FREEGLIDER
It is relatively easy to make gin, however making great gin requires skill, patience and determination. The same applies for alcohol-free spirits. We go to extraordinary lengths to craft the finest possible liquids, and Sipsmith FreeGlider was no exception. We spent the past two years experimenting with 189 prototypes and over 100 ingredients to create the ultimate alcohol free spirit; one that doesn't compromise on quality nor flavour.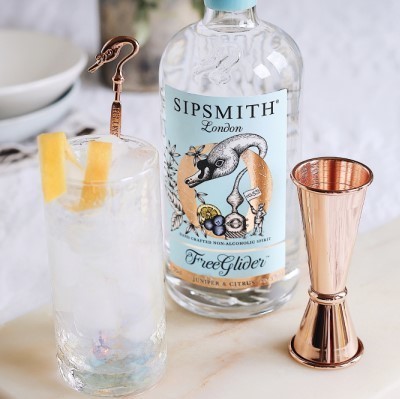 FREEGLIDER & TONIC
Delightfully refreshing, a FreeGlider & Tonic is the ultimate serve to elevate an evening of sipping in moderation. Craft yours at home with:
50ml FreeGlider
100ml premium Indian tonic water
Twist of grapefruit, to garnish
Simply combine the FreeGlider and tonic in an ice-filled highball glass. To mix, lift the ice once or twice with a drinks stirrer or long-handled spoon. Garnish with a grapefruit twist; sip and enjoy.
Experience Sipsmith like never before with new alcohol free FreeGlider
Discover a whole world of alcohol-free sipping with our sensational FreeGlider cocktails, from a Basil Smash, to a FreeGlider & Tonic, to a Clover Club.