Discover a whole new world of Sipsmith with FreeGlider; taking alcohol-free sipping to new heights. Find our favourite alcohol-free cocktails below, guaranteed to elevate any moment of moderation.
INTRODUCING SIPSMITH FREEGLIDER
It is relatively easy to make gin, however making great gin requires skill, patience and determination. The same applies for alcohol-free spirits. We go to extraordinary lengths to craft the finest possible liquids, and Sipsmith FreeGlider was no exception. We spent the past two years experimenting with 189 prototypes and over 100 ingredients to create the ultimate alcohol free spirit; one that doesn't compromise on quality nor flavour. Discover our finest FreeGlider cocktails below…
FREEGLIDER & TONIC
Delightfully refreshing, a FreeGlider & Tonic is the perfect serve to elevate an evening of sipping in moderation. Craft yours at home with:
50ml FreeGlider
100ml premium Indian tonic water
Twist of grapefruit, to garnish
Simply combine the FreeGlider and tonic in an ice-filled highball glass. To mix, lift the ice once or twice with a bar spoon or other long-handled spoon. Garnish with a grapefruit twist; sip and enjoy.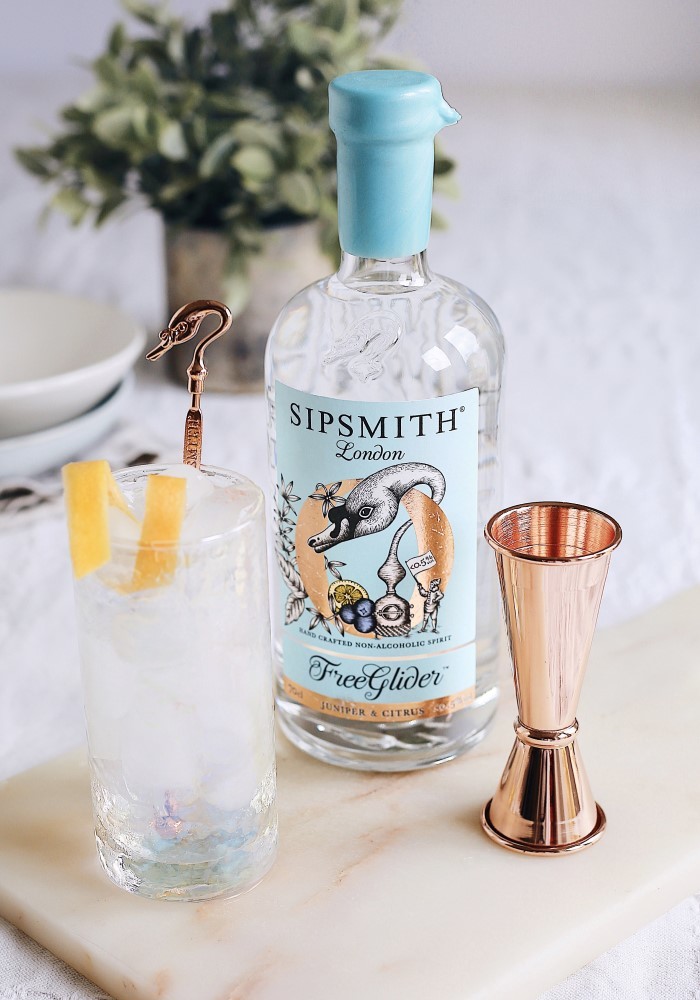 FREEGLIDER BASIL SMASH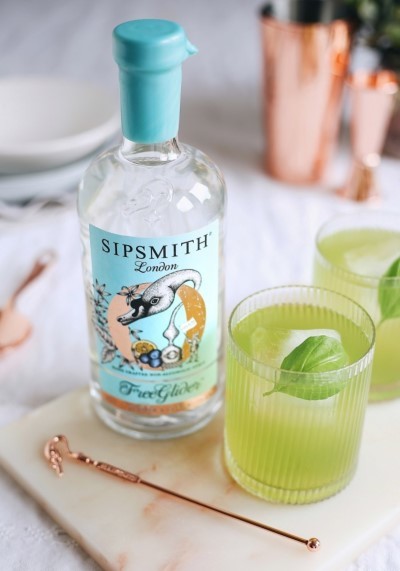 For a refreshingly herbaceous twist on your alcohol-free sipping, try FreeGlider in a Basil Smash. For the ultimate sip, use home-grown basil for the freshest serve. To make your alcohol-free cocktail at home, you'll need:
50ml FreeGlider
15ml lemon juice
10ml sugar syrup
6-12 basil leaves
Basil sprig, to garnish
Firstly, muddle basil leaves in a cocktail shaker. Then, fill the shaker with ice and add remaining ingredients. Shake well. Strain or double-strain into an ice-filled rocks glass. Garnish with a basil leaf.
FREEGLIDER CLOVER CLUB
Whether you're designated driver, are drinking in moderation or don't drink, we believe you should never have to compromise on your serve. If you usually opt for a fruity cocktail, allow us to introduce our FreeGlider Clover Club; your new go-to for alcohol-free sipping. To craft your own at home, you'll need:
50ml FreeGlider
20ml lemon juice
15ml sugar syrup
6 fresh raspberries
1 egg white or 25ml egg white substitute
Fresh raspberry, to garnish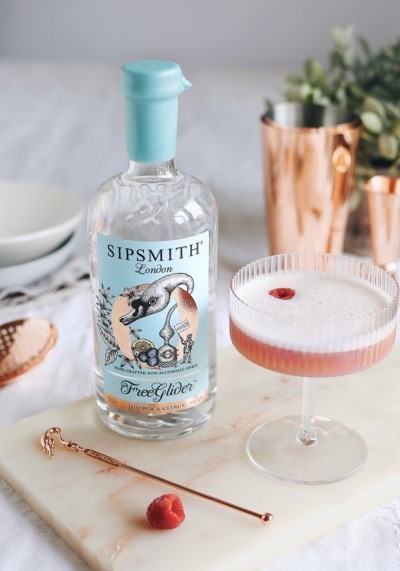 Combine all ingredients – except garnish – in an ice-filled cocktail shaker. Shake well until creamy, then strain into a chilled cocktail glass and garnish with a fresh raspberry. Sip and enjoy!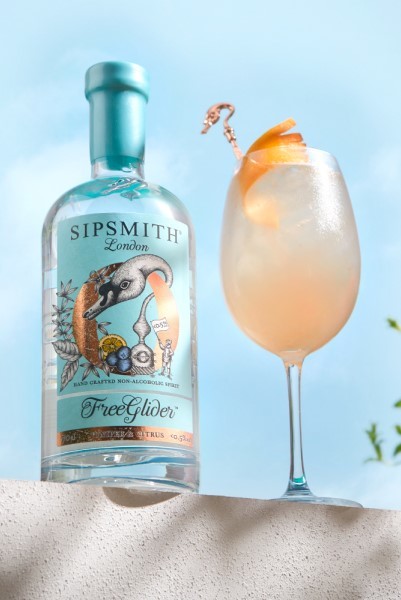 Summer's most refreshing tipple, the FreeGlider Summer Spritz. Garnished with grapefruit and rosemary to bring out the botanicals in the liquid, this serve is best sipped on a warm summer's evening. Take your spritz to the new heights with freshly squeezed grapefruit juice. You'll need:
50ml FreeGlider
50ml pink grapefruit juice
15ml lemon juice
100ml lemonade
15ml sugar syrup
Wedge of fresh grapefruit, to garnish
Ever-so-simple to make at home, simply combine all ingredients in a large wine glass or Copa de Balon and garnish with a wedge of grapefruit for the ultimate summer serve.
DISCOVER SIPSMITH FREEGLIDER
Experience Sipsmith like never before with FreeGlider; because we believe you should never have to compromise on your tipple when you choose not to drink. Discover more about FreeGlider here, or shop below.