From our extraordinary bars at Wimbledon, to champion pubs in the surrounding area, and events throughout the country serving perfectly mixed doubles, here's your guide to championship sipping.
Discover the best places to sip our award-winning gins, including our Limited Edition Strawberry Smash Gin, crafted with real Wimbledon strawberries, during the Wimbledon fortnight and beyond.
AT THE CHAMPIONSHIPS, WIMBLEDON
One of the lucky ticketholders for this year's Championships? Pop by The Pergola Bar, The Village Bar or our copper G&T trikes around the Wimbledon Grounds for a Spritz or ready-to-sip G&T; perfect for courtside sipping.
Queuing on the day? Look out for our Swancierge team for the chance to win a host of prizes, courtesy of Mr Swan.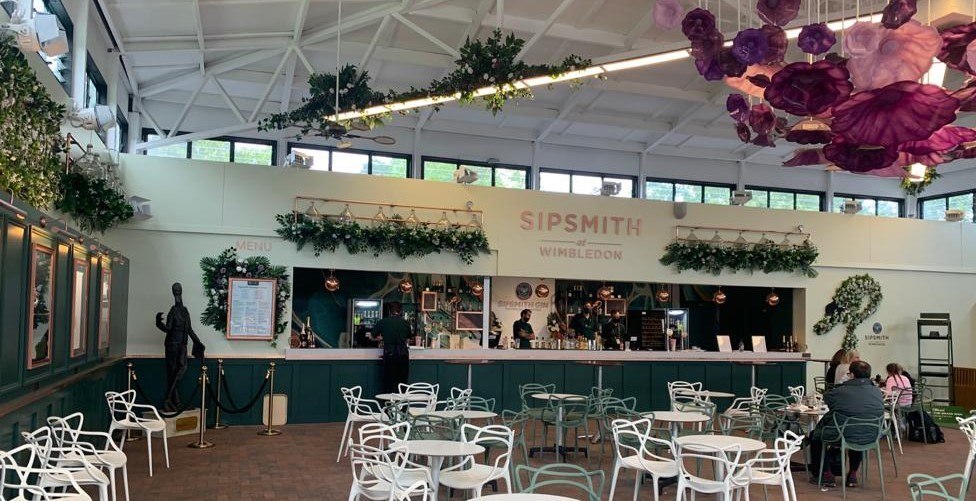 WIMBLEDON VILLAGE
To celebrate The Championships, we have transformed the following Young's pubs to create the ultimate Sipsmith sipping experience. From viewing screens, to sipping terraces and specialty cocktail menus, head to the following Swanhouses if you're in the Wimbledon area during The Championships. Book ahead if you can, and enjoy a signature Strawberry Smash Spritz, our champion serve this year.
PRINCE OF WALES – Situated right outside Wimbledon train station, why not drop in for a Strawberry Smash Spritz and lounge in a Sipsmith deck chair on your way to or from The Championships. Don't have a ticket? Watch on their screens – they'll be showing every game.
CENTRAL LONDON
THE NEST AT TREEHOUSE HOTEL – Visit The Swan's Nest, our rooftop bar takeover at this Central London location, just a short walk from Oxford Circus. Choose from a selection of specialty Sipsmith cocktails each with a Wimbledon.
MR FOGG'S GIN PARLOUR – We're excitingly the gin of the month at this iconic Covent Garden bar. Look out for our Strawberry Smash Gin signature serves.
THE LENSBURY – Situated in South West London on the banks of the Thames, their Sipsmith Garden is tucked away providing an idyllic spot to enjoy a refreshing summer cocktail (or two!)
CALLOOH CALLAY CHELSEA – Enjoy a sensational Sipsmith cocktail in the heart of Chelsea whilst you challenge a friend to a spot of table tennis on our Sispmith table – the loser buys the drinks from our Wimbledon Menu!
IN THE NORTH
Manchester
SCHOFIELD'S BAR – Throughout Wimbledon you can enjoy a specialty Sipsmith cocktail at this world-class bar.
ESCAPE TO FREIGHT ISLAND – At this chilled, open-air food hall you'll find a special Sipsmith menu, plus our iconic copper trike serving drinks until the end of The Championships.
ARCANE – At this basement lounge with slick Victorian décor, you can enjoy a host of Sipsmith cocktails, including our limited-edition Strawberry Smash Gin.
Liverpool
BERRY & RYE – Enjoy a choice of three Sipsmith hand crafted cocktails at this cosy specialty cocktail bar.
Edinburgh
TIGERLILY – The whole venue will be celebrating our wonderful Wimbledon partnership. Umpire chairs, selfie walls and a full menu of delicious Sipsmith tipples co-created with the fabulous Tigerlily team
IN THE MIDLANDS
Birmingham
CHAPTER EDGBASTON – Chapter is an exciting new independent kitchen & bar in the heart of Edgbaston Village in Birmingham. Enjoy a Sipsmith Spritz from their Wimbledon Menu.
HERBERT'S YARD, LONGBRIDGE – enjoy a G&T from our speciality Wimbledon menu at this street food venue right in the centre of Longbridge
Staffordshire
HOAR CROSS HALL– one of the largest state-of-the-art spas in Europe, sip a Sipsmith Wimbledon Spritz outdoors on their terrace.