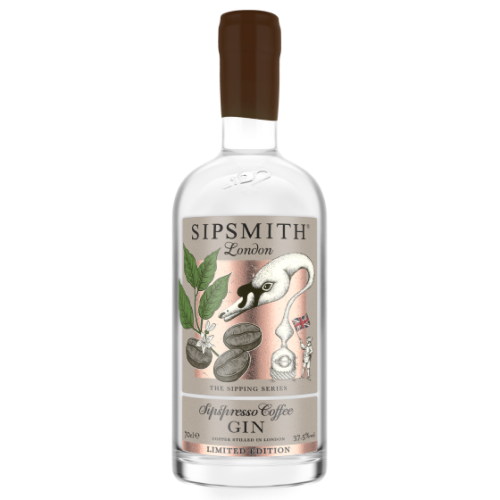 Our distillers continue to push the boundaries of their creativity with the launch of the third limited-edition gin in our Sipping Series.
What is the Sipping Series? A series of limited edition gins originating from our experimental gin membership, the Sipping Society. Each gin is hand crafted in small batches by our talented team of distillers, using only the finest seasonal botanicals.
Sipspresso Coffee Gin, the third release of our limited edition Sipping Series, is a wonderfully rich and smooth spiced twist on our London Dry Gin.
The perfect blend of the finest Brazilian and Rwandan coffee beans, distilled alongside cinnamon and fresh vanilla for a true, full-bodied flavour.
Our delectable Sipspresso Coffee Gin is available for a limited time only on our online Gin Shop, in Tesco and Amazon.
HOW TO SIP SIPSPRESSO COFFEE GIN
This coffee-forward gin is delicious enjoyed in a bold G&T and topped with orange zest. Find our coffee G&T recipe here. Or, for an extra-indulgent serve, craft into a Sipspresso Martini, the ultimate ginny twist on the classic Espresso Martini, garnished with fresh coffee beans and a dusting of cocoa powder. Discover our favourite indulgent coffee cocktails here.
THE FINEST COFFEE
Like all of our hand crafted gins, we select the finest botanicals and ingredients, and Sipspresso is no exception. We chose Pact Coffee's Fruit and Nut Espresso for its sensational blend of the finest Brazilian and Rwandan coffee beans, along with their ethos to bring amazing coffee to the UK, while making life better at source for coffee farmers. You can find out more about Pact Coffee, sign up to their coffee subscription, and read more about their mission to revolutionise the coffee industry, here.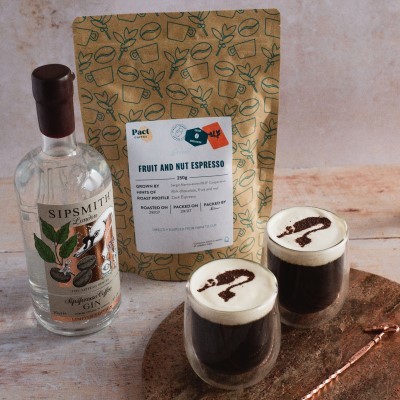 DISCOVER MORE GINNOVATIONS
If the idea of exclusive access to extraordinary sips tantalises your taste buds, you might be interested in our gin membership, the Sipping Society. As a member, you'll join hundreds of like-minded experimental gin lovers, receiving two exclusive ginovations delivered to your door every other month, to be sampled, shaken and stirred in the comfort of your own home.
A membership also makes the perfect gin gift, to remind the gin lover in your life that you are thinking of them.
Our Limited Edition Sipspresso Coffee Gin is available to buy online from our Gin Shop, Amazon or Tesco for a limited time only.