Splendid, iconic and brimming with Martinis and ginny concoctions alike – Sipsmith is ready to delight and intrigue Covent Garden visitors this season! Armed with the quintessential London Dry Gin, a passion for London and a flair for Martinis, all aboard the Sipsmith Martini Express!

Whether you are looking to master the art of a martini, gift splendidly this Christmas or for a thirst quenching tipple amongst Christmas shopping – our Sipsmith Martini Express truly has it all.
By Day
Amongst the hustle and bustle of festive shoppers, why not take a moment to lighten the load and warm your hands with some Sipsmith winter warmers. Our Sipsmith swans will be serving up our sensationally sippable G&T's (and Free&T's), or for the more adventurous our Hot Mulled Sloe, or Hot Lemon Drizzle Martini's for all gin enthusiasts to enjoy.
Our Martini Express experience isn't just about drinks, let us help you finish up your festive shopping with the perfect gin gift. Aboard the bus, you will find a selection of Sipsmith's hand crafted gins – from our classic London Dry, ginny Christmas baubles or limited edition Sipping Society liquids, there is something for every sipper. Treat your loved ones to the gift of knowledge and mixology, ensuring they can craft the perfect gin cocktails from the comfort of their own homes this Christmas.
By Night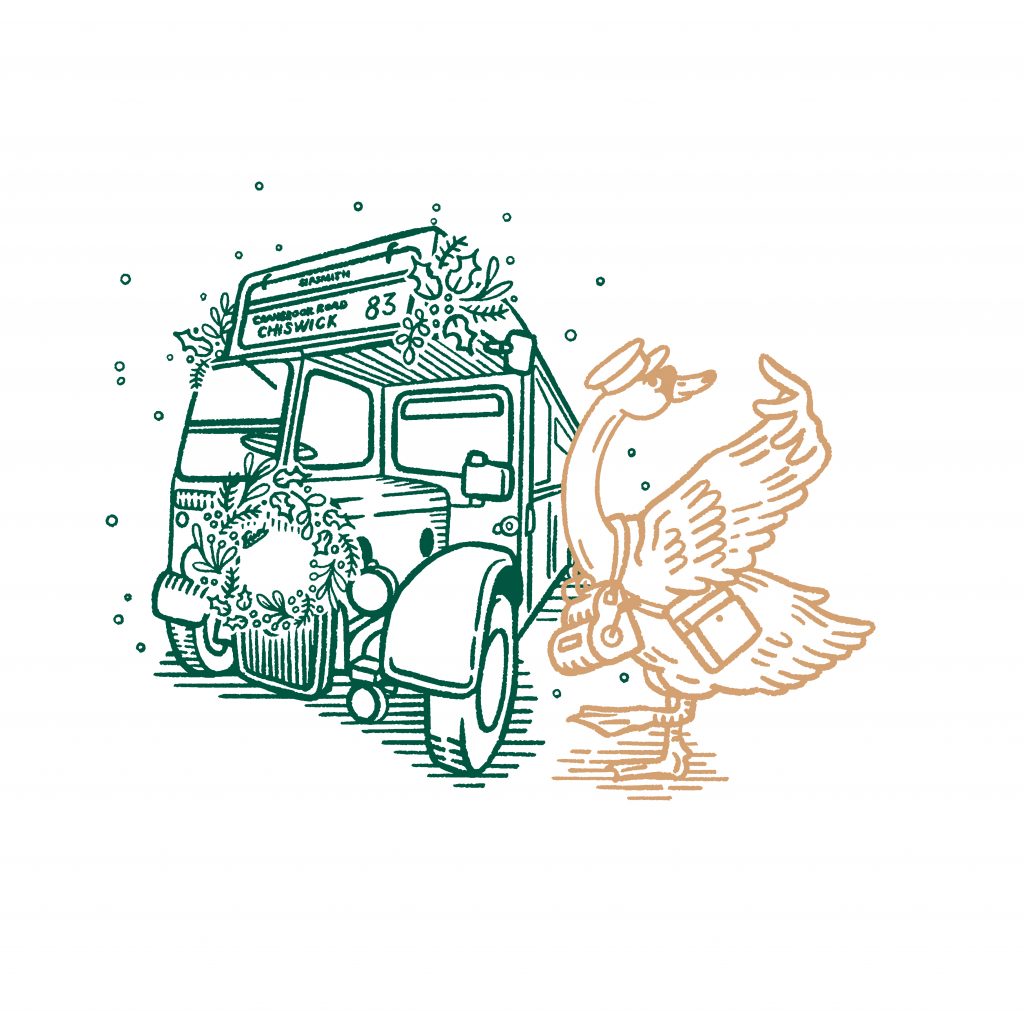 We offer the warmest of welcomes aboard The Sipsmith Martini Express. Our beautifully restored 1950's Bristol Bus has been transformed into the ultimate mobile Martini hideaway. Adorned with delicate copper detailing, festive decor and of course gin to boot, we are delighted to welcome an intimate group of martini enthusiasts to experience a Christmas celebration like no other. All aboard for the ultimate masterclass.
Before we welcome you on board, we would be delighted to to get to know you a little better. Your online quiz will help us to craft you a personalised martini, to be stirred to perfection upon your arrival. Once all our passengers have successfully boarded, we will guide you through the secrets of Covent Garden, it's rich history and it's distinct links to the nations favourite spirit.
Our expert mixologists will teach you the secrets to perfecting the ultimate martini. From selecting the right glassware, to stirring and throwing (never shaking!) techniques; you'll be the envy of all your friends, and the ultimate festive host with your newfound mixology skills this Christmas.
We'll end our journey with a reflection on the history of gin, how it came to be the nations favourite spirit and how Sipsmith played a vital role in ensuring that handcrafted, small batch gin returned to its rightful London home.
Book your spot today, and make this Christmas sensationally sippable.
Book one of our Martini Masterclasses here.
And your Sipsmith Martini Express experience does not have to stop there. We've collaborated with our friends at Covent Garden to bring you your final nightcap of the evening so that you can enjoy every drop of the night.
Opening Times:
The Martini Express will be live in Covent Garden from 7th November – 3rd December, with our sensationally sippable tipples available to buy between 12pm – 10pm.
Our Martini Masterclasses operate on Tuesday, Wednesday, Thursday & Sundays – at 6pm or 9pm. Please arrive no earlier than 15 minutes before the masterclass starts. Please note, our Masterclasses are unavailable on the 7th, 8th and 9th November due to a private event, we would still love for you to join us for some ginny tipples.
Address
Covent Garden, Westminster, London, WC2E 9DD.
Just in case you need it, the what 3 words location is tone.laws.upon. (we wish it was gin.martini.tipples!)
Getting to us:
The Sipsmith Christmas Martini Express is located right next to the London Transport Museum.
The nearest parking locations available are;
Urban Parking – booking your parking ahead of time is recommended.
We look forward to sipping with you – gin, gin!