Those of us in the gin trade regularly talk of 'botanicals'. It's no surprise really, since it's the precise combination of these ingredients that separates and distinguishes one brand of gin from another, that the exact quantities remain a closely guarded secret.
But for those looking to learn more, we're diving into some of the most common London Dry Gin botanicals.
Gin enthusiasts can often be heard chatting away about botanicals, but what do they really do? Are they so important that they warrant such attention? Well, we think they are – and here's why…
What are they?
Simply put, 'botanicals' are the natural ingredients that give each gin its individual flavour; its taste and its aroma. The only one that absolutely (legally) has to be present for the spirit to be called gin is juniper, but botanicals can take the form of herbs, spices, seeds, peels, drupes, fruits, roots, leaves, petals, berries and bark – anything that comes from a plant goes. It's the choice of botanicals that make distilling gin so much fun, partly because each one brings something different to the table, but also because there's really no limit on how many or how few you include in the mix, nor is there any set 'style' when it comes to 'what goes with what' when it comes to flavour combinations.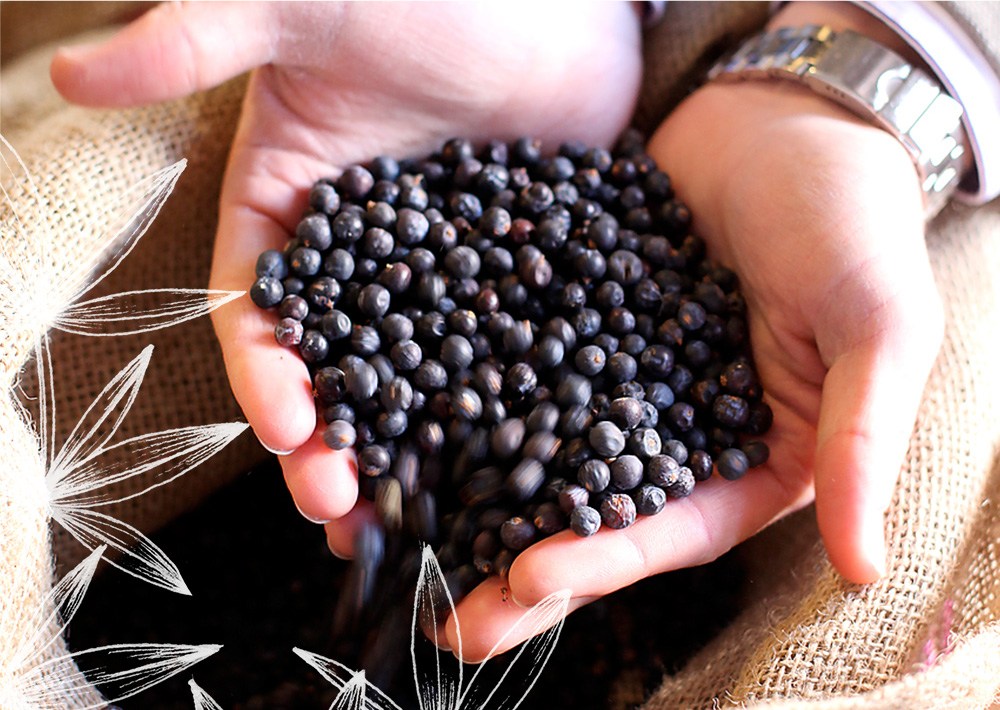 Gin enthusiasts can often be heard chatting away about botanicals, but what do they really do?
What do they bring to the gin?
In a nutshell, different botanicals bring different notes to the flavour of the spirit. Since juniper is the only pre-requisite, all brands of gin have this fundamental botanical that gives gin the pine notes that make it taste, well, like gin. From then on it's up to the individual brand to decide what else is included, so while Hendrick's use cucumber and rose petals in their mix of botanicals, Bombay Sapphire prefers cubeb berries and grains of paradise, amongst others.
We use Macedonian juniper berries, but the nine other Sipsmith London Dry Gin botanicals, when put together in the right ratios and quantities, are what really make our gin unique and what distinguishes it from any other brand.
The Sipsmith botanicals
We use Macedonian juniper berries, but the nine other Sipsmith London Dry Gin botanicals, when put together in the right ratios and quantities, are what really make our gin unique and what distinguishes it from any other brand. Our key citrus ingredients are Seville orange peel and Spanish lemon peel – the former adding tartness and marmalade overtones, the latter a subtle brightness to the citrus and a hint of lemon tart. Chinese cassia bark and Madagascan cinnamon bark add sweet spiciness to the botanical blend, while Bulgarian coriander seed and Spanish ground almond bring mellow, peppery ginger and marzipan notes. Our three roots, Belgian angelica, Spanish liquorice and Italian orris, act as binding agents that harmonise and allow the properties of the other botanicals to shine through, neutralising any bitterness. Each also brings its own characteristic to the mix: the long, dry finish of Sipsmith is provided by the angelica, its bittersweet undertone by the liquorice root, and the floral, fragrant note derives from the orris – the root of the iris flower. All of our London Dry Gin botanicals are carefully sourced, as you can see, from all over the globe – as Sipsmith Jared always says, "The best botanicals make the best gin – no way around it."