While wrapping presents for friends and family this year, give yourself the gift of a delicious Christmas cocktail.
Whether 'organised' is your middle name and you've already crossed off your Christmas gift list, or you plan to leave everything until the last minute, we've devised the ultimate Christmas wrapping guide. It's guaranteed to turn this often-dreaded activity into a joyful evening of sensational sipping, with top wrapping tips and our favourite Christmas cocktails, of course.
CRAFT A CHRISTMAS COCKTAIL
You've assembled tissue paper, sticky tape, scissors and ribbon. But you are missing one essential item. A perfectly crafted Christmas cocktail, of course! Before you start to prepare presents to place under the tree, don't forget to make yourself a gin cocktail. For an evening of sensational sipping, you'll first need to discover what kind of sipper you are here.
You might discover you are a Classic cocktail connoisseur, in which case, why not carefully craft a Negroni? Featuring just three ingredients, this beloved Italian cocktail couldn't be simpler. Zesty sippers will enjoy a decadent Zesty Orange Expresso Martini, which was designed for nights in front of a roaring fire – or twinkling fairy lights. While our Chilli & Lime Winter Spritz is the ideal way for Daring sippers to turn up the heat.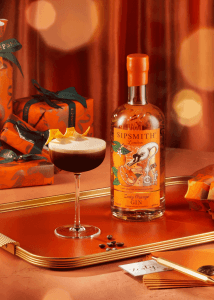 THAT'S A WRAP
Just as our Distillers take an uncompromising approach to their extraordinary gins, paper artist Sarah Matthews is dedicated to crafting perfectly wrapped presents. Refine your technique and you'll be folding perfect corners in no time with the easy-to-follow hints in this video. From a bottle of our award-winning gin to a copper jigger, you'll be a wrapping master in no time.
NEED A HELPING HAND?
Let us take the wrapping off your hands. Simply choose our gift-wrapping service option on any selected product in your cart, which is available for £3.95 per item. Perfect for delivering straight to the lucky recipient, complete with festive wrapping and a Sipsmith bow.
SIPSMITH x BISCUITEERS COMPETITION *NOW CLOSED*
To help bring a little extra joy to your evening of sipping and wrapping, we've partnered with Biscuiteers to offer you the chance to WIN* the ultimate prize for sippers with a sweet tooth. Enter below for the chance to win a Biscuiteers' Sipsmith Gift Set, a selection of our signature copper barware and a Christmas gift wrap set, to ensure your gifts look the part. Open internationally, T&Cs apply.