The elegant swan has graced our bottles for years, and some may recall him brought to life through 'Mr Swan' in our very first short film 'We Make Gin, Not Compromises'. If you've found yourself wondering why we chose a swan for our emblem, read on to find out more.
Both a nod to the majestic, swan-necked copper stills in which our gin is distilled, and a mark of the quality ethos that sets us apart, we not only celebrate the unflappable and uncompromising qualities of our signature swan, but aim to emanate them in all we do. Let us explain…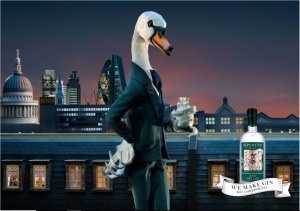 What could be a better symbol of the quality of our gin than the noble swan?
Unflappable, uncompromising, swans really are the bird to be on the pond.
It's the furious work under the water's surface that goes into making the swan seem so graceful, just like the hours of craft that go into every drop of our London Dry Gin.
CELEBRATING OUR COPPER POT STILLS
What does the swan have to do with a gin distillery? Well, quite a lot when you learn that the curving funnel at the top of our custom-made copper pot stills is named the 'swan neck'.
Allow us to introduce our stills; Prudence has been with us since the beginning when we crafted our very first batch of London Dry Gin in 2009. Since then, she's been joined by sister stills Verity and Constance and, most recently, by a smaller still in which we craft experimental gins that are delivered to our Sipping Society members. It seemed only right that we call the latest addition to the Sipsmith family Cygnet, the Latin-derived name for young swans.
PADDLING TOWARDS PERFECTION
The special connection between Sipsmith and our signature swan runs deeper than physical appearances, though. A swan might gracefully glide above the water, but it's only able to look so perfect and polished thanks to all the paddling that's going on beneath the surface. You see, just as our sensationally sippable gins make a handsome addition to any home bar, it's all down to what goes on behind the scenes: the time and dedication of our talented Distillers, who hand craft the gin that goes into each and every bottle. From hand-peeling the lemons for our Lemon Drizzle Gin, to handpicking the wild sloe berries for our Sloe Gin, it's the work under the surface that sets us – and our gin – apart.
FEATHERED ACCESSORIES
You might've noticed we're rather proud of our swan, which is why you'll be able to spot this beautiful bird everywhere – from our bottle labels to the cover of our cocktail recipe book, SIP. Mr Swan even adds a dash of feathered flair to our beautiful barware, like our Swan Drinks Stirrer and Swan Barspoon.
If you've ever truly studied a bottle of Sipsmith Gin, you might've noticed the phrase 'Cygnus Inter Anates'. Worked out what this might be? Send us a message on social media @sipsmith and you might just receive a little swanny delight.