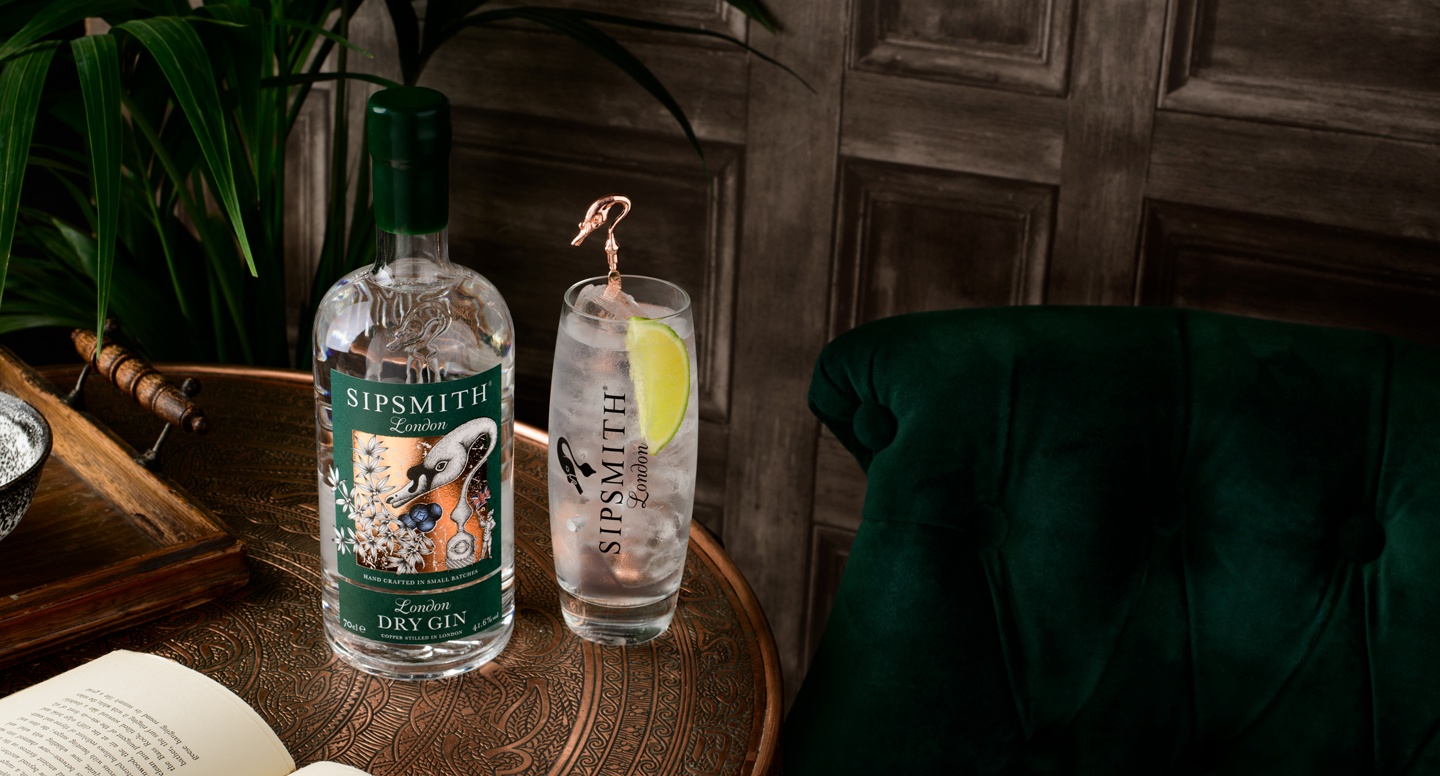 London Dry Gin
The quintessential expression of a classic, traditional London Dry Gin. Bold, complex and aromatic – smooth enough for a Martini, yet rich and balanced, perfect for a G&T.
£4.50 – £156.60
The Nose
Floral, summer meadow notes, followed by mellow rounded juniper and zesty, citrus freshness.
The Palate
Dry juniper leads, then reveals lemon tart & orange marmalade, before all the flavours harmonise.
The Finish
Dryness leads, with spicy juniper & a hint of lemon tart emerging.
Juniper Berries

The fundamental ingredient that makes Sipsmith Gin taste, well, like gin! It's the oils that we want so we macerate the berries in warm spirit overnight to burst the skins and release the essences.

Italian Orris Root

Orris root is the root of the iris flower, and delivers a delicate floral, fragrant note to our London Dry Gin whilst serving to bind the other botanicals together to deliver a harmonious flavour profile.

Belgian Angelica Root

Similar to the orris root, angelica acts as a binding agent to promote the harmony of the other botanicals. It also adds its own dry characteristic and helps to provide the wonderfully long, dry Sipsmith finish.

Bulgarian Coriander Seed

A mellow spiciness and a long finish with hints of citrus and a hint of peppery ginger, is derived from the addition of coriander seed to the Sipsmith botanical mix.

Chinese Cassia Bark

Hailing all the way from China, and from the same family as cinnamon, cassia bark adds a hints of sweet, warm spice to the Sipsmith recipe.

Spanish Ground Almond

Spanish ground almond is used to bring delicate spiciness and marzipan notes and adds depth and body to Sipsmith's London Dry Gin.

Madagascan Cinnamon Bark

Madagascan cinnamon bark adds a delicately sweet spiciness to the botanical mix, similar to (and from the same family as) cassia, it is an essential component of the rounded Sipsmith recipe.

Spanish Liquorice Root

Liquorice root adds an attractive bittersweet undertone, and equally importantly neutralises any bitterness from other botanicals to allow their properties to shine through in Sipsmith London Dry Gin.

Lemon Peel

Lemon peel adds a subtle brightness to the citrus notes, showing on the palate as a hint of lemon tart.

Seville Orange Peel

Grown along the streets of Seville and also known as 'bitter orange', this fruit has a wonderful tartness that delivers a zesty citrus note on the palate with marmalade overtones.
Gin made the way it used to be, and the way we believe it should be.
Our London Dry Gin was born out of a desire to see gin production return to the city where it earned its name. With a nod to traditional hand crafted production, our gin combines traditional copper pot distillation with a recipe that wouldn't look unfamiliar to an eighteenth century Master Distiller.
Product Information:
41.6% ABV
New-school gin will become a classic

Sunday Times Style
It's gorgeous, floral, silky, spicy, coriander-seed and juniper-laced, 41.6 per cent London Dry Gin is the dream bottle

Jane MacQuitty, The Times
It packs a punch with its resinous, juniper notes.

The FT
..a thrillingly pure flavour, a soft juniper appeal and even a note of fresh green olives.

Stella - Sunday Telegraph
Sipsmith is just what it sounds like: very, very smooth.

Condé Nast Lux Magazine
Truly a tipple for the most discerning of drinkers

Country Life
Confidently hits the palate with juniper, warms it with spice and then wrings it dry, begging you to take another sip.

Sipsmith Sam
"This is the gin drinker's gin"

WIRED
Sipsmith: where old meets new and the two hit it off really quite spectacularly.

Sipsmith Sam
Reviews
Find out what was happening in the distillery the day your batch was crafted