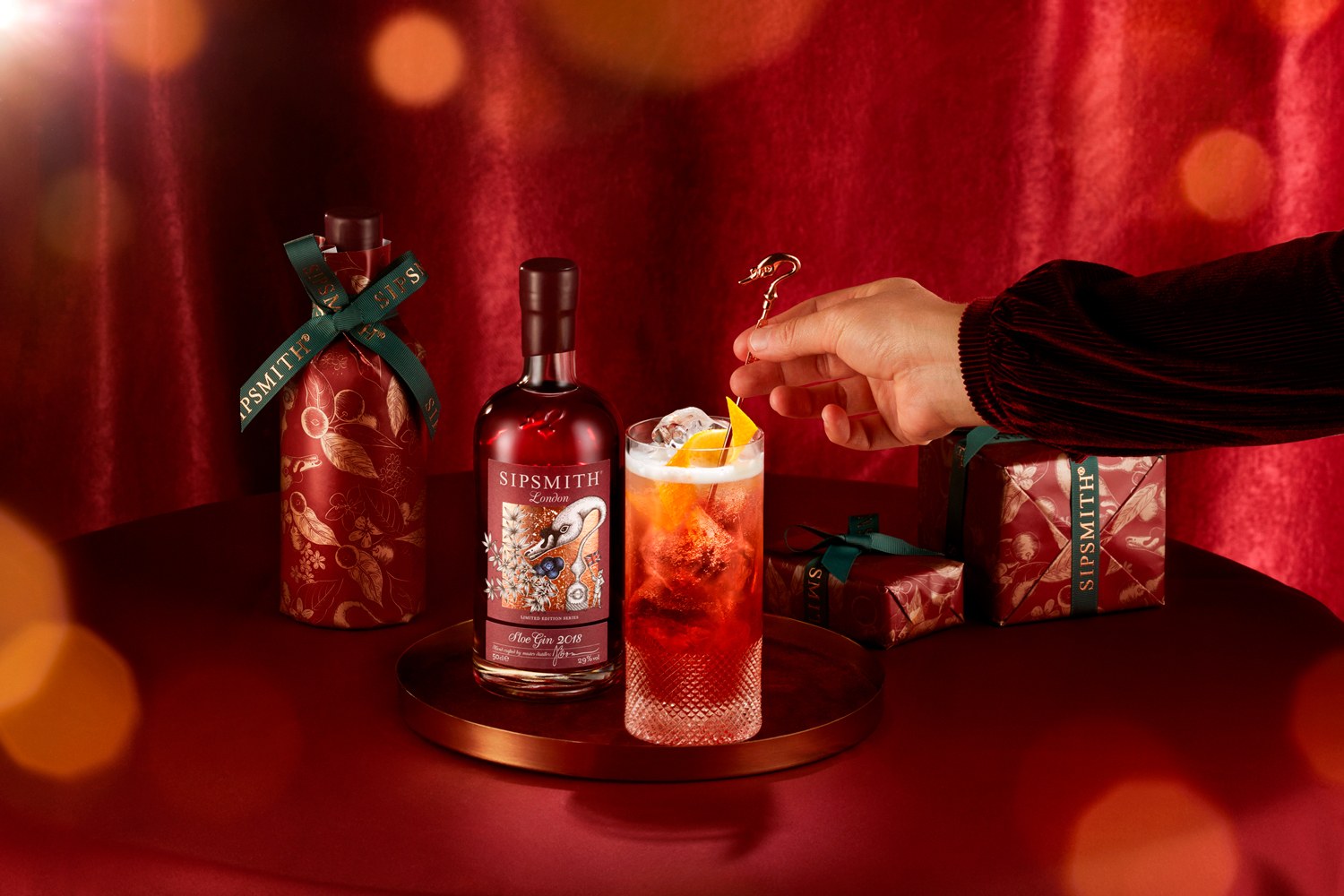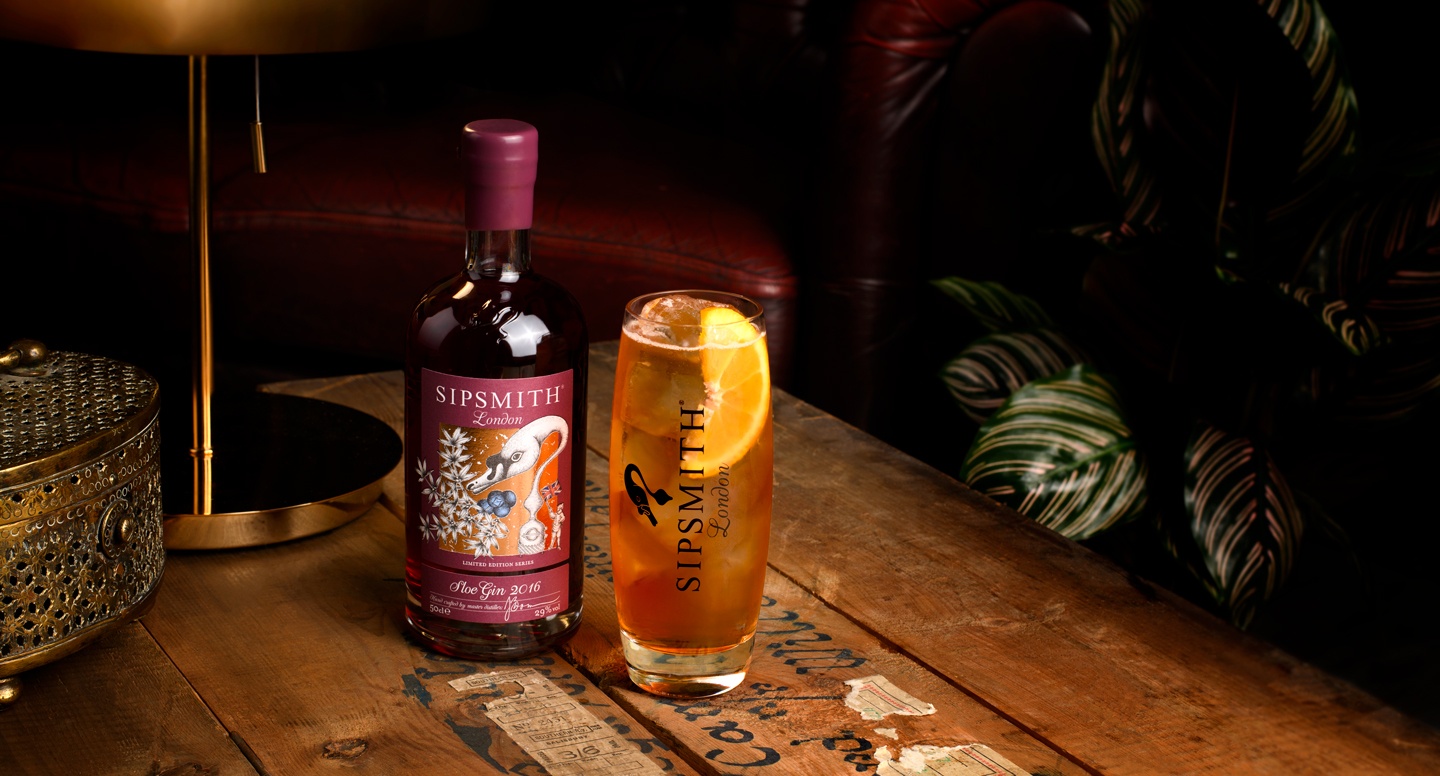 Sloe Gin
First, we distil our award-winning London Dry Gin on our copper stills. Then we leave it to rest on wild sloe berries, picked in the autumn. The result is a truly handmade sloe gin that is subtle, complex and bursting with flavour.
£4.50 – £135.00
The Nose
Gorgeous redcurrant and ripe winter fruits with stone-fruit almond.
The Palate
Cassis comes through with soft cherry hints and a rounded fruitiness.
The Finish
Velvety mouthfeel and balanced sweetness.
Sloe Berries

Our wild Sloe berries are frozen to break the skins and then rested on our London Dry Gin for three to four months, giving our Sloe Gin a jammy, marzipan flavour.

Juniper Berries

The fundamental ingredient that makes Sipsmith Gin taste, well, like gin! It's the oils that we want so we macerate the berries in warm spirit overnight to burst the skins and release the essences.

Bulgarian Coriander Seed

A mellow spiciness and a long finish with hints of citrus and a hint of peppery ginger, is derived from the addition of coriander seed to the Sipsmith botanical mix.

Spanish Ground Almond

Spanish ground almond is used to bring delicate spiciness and marzipan notes and adds depth and body to Sipsmith's London Dry Gin.

Chinese Cassia Bark

Hailing all the way from China, and from the same family as cinnamon, cassia bark adds a hints of sweet, warm spice to the Sipsmith recipe.

Madagascan Cinnamon Bark

Madagascan cinnamon bark adds a delicately sweet spiciness to the botanical mix, similar to (and from the same family as) cassia, it is an essential component of the rounded Sipsmith recipe.

Belgian Angelica Root

Similar to the orris root, angelica acts as a binding agent to promote the harmony of the other botanicals. It also adds its own dry characteristic and helps to provide the wonderfully long, dry Sipsmith finish.

Spanish Liquorice Root

Liquorice root adds an attractive bittersweet undertone, and equally importantly neutralises any bitterness from other botanicals to allow their properties to shine through in Sipsmith London Dry Gin.

Italian Orris Root

Orris root is the root of the iris flower, and delivers a delicate floral, fragrant note to our London Dry Gin whilst serving to bind the other botanicals together to deliver a harmonious flavour profile.

Lemon Peel

Lemon peel adds a subtle brightness to the citrus notes, showing on the palate as a hint of lemon tart.

Seville Orange Peel

Grown along the streets of Seville and also known as 'bitter orange', this fruit has a wonderful tartness that delivers a zesty citrus note on the palate with marmalade overtones.
Sloe Gin Vintages
The process for our Sloe Gin production begins each autumn when our sloe berries (a hedgerow fruit in the plum family) are picked and left to rest with our London Dry Gin. Year-on-year, the harvests vary due to the ever changing, unpredictable weather. Much like a good wine, every vintage that we produce has its own wonderfully unique character, with Sipsmith quality guaranteed.
Product Information:
29% ABV
The key to the perfect sloe gin is restraint with sugar and the Sipsmith boys have balanced this beauty to perfection. The berry flavours are splendidly seasonal here. The ideal hip flask booster on a wintry stroll.

Mail on Sunday
It's delicious in champagne and strikes a wonderful wintertime harmony with strong cheeses or chocolate-based desserts.

Sipsmith Jared
We thought Sipsmith couldn't top its British-brewed gin, but this Sloe version is even better.

Sunday Times Style
It's smooth, it's rich and it goes down with a festive ease.

The Independent
If you like the idea of sloe gin but not the sugary sweetness of most commercial and home-made versions, you will almost certainly like Sipsmith Sloe Gin, which has a convincing vibrant sloe flavour with high-quality dry gin behind it.

House and Garden
The sloe variety (now available in a single year vintage) has attracted a growing cult.

Evening Standard
A blend of Sipsmith London Dry Gin and Dartmoor sloe berries, it's a winner for an intoxicating warming drink this winter.

Metro
A fruity, wintry offering from London's hottest distillery.

Delicious
Reviews