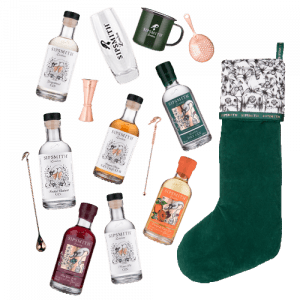 Christmas is very nearly upon us, but don't panic if you haven't yet ticked everyone off your list – our Christmas shop is here to save the day. It's packed with presents-a-plenty – from limited-edition seasonal Sipsmith stockings to copies of our wonderful new book, SIP: 100 Gin Cocktails. And most importantly, we are still taking orders, right up until very last thing on the 19th December. So, go ahead and take a look – we've got something suitable for each and every gin lover this Christmas.
For the budding mixologist
Our hot-of-the-press new book SIP: 100 Gin Cocktails, lovingly created by our master distillers, has 100 different cocktails using just three ingredients. These are simple, fuss-free cocktails and range from classics (Negroni and Martinis) to the slightly more leftfield like the Earl Grey Gin Sour. What's more, it is sure to make the rest of the festive season go off with a bang. You can order a copy online at Amazon, or if you pop into Peter Jones you can even get it personalised – last minute and bespoke, you can thank us properly later.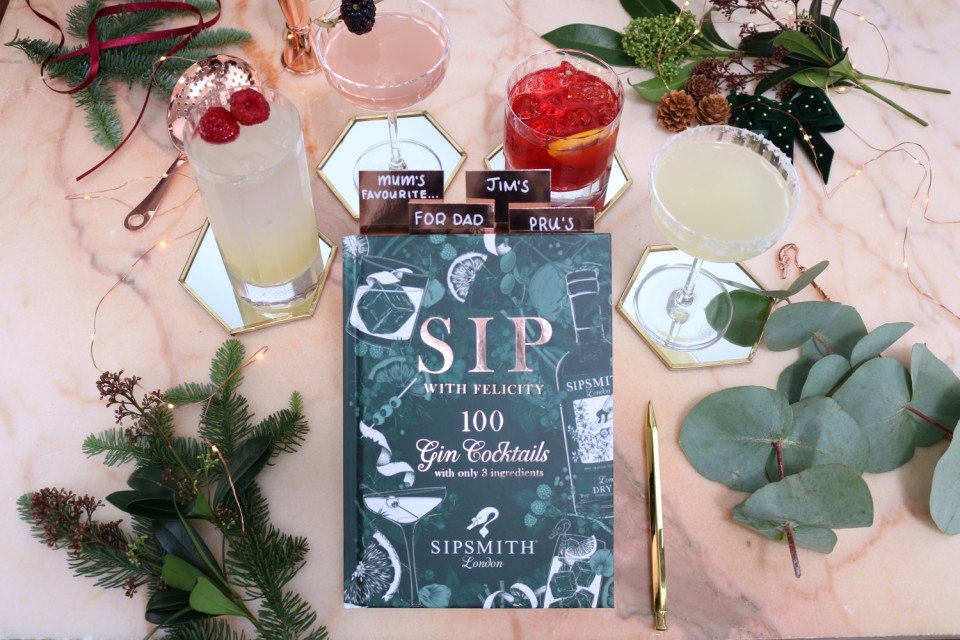 For the inquisitive type
Innovation is very high on the priority list of our skillful distillery team. In fact, a couple of years ago they just popped our cast-aside Christmas Tree in the still and created a fresh and zippy Christmas Tree Gin. This successful experiment got us thinking and ever since we've been playing with all sorts of unique flavour combinations. Why not give the true gin lover in your life the ultimate gift this Christmas. Sipping Society members will receive two 20cl bottles of our wild and wonderful gins ( previous flavours have included Sriracha and Mint Gin, and Rose Gin Liqueur) every other month for a year, and will also be invited to exclusive, Sipping-society-only events. It's a wonderful way to become part of the wonderful world of Sipsmith.
For the Christmas Lover
Some people just adore Christmas – we all know a few, I'm sure! This year we have a series of ginny Christmas Tree baubles to hang on your tree ready for the Big Day. Impress your guests with these delightfully unexpected (not to mention drinkable) decorations. These novelty miniatures, complete with sumptuously silky ribbon hooks are sure to make for a wonderful conversation starter, as well as a delicious sip. Available from Peter Jones and on our website. 
For any and all devoted gin lovers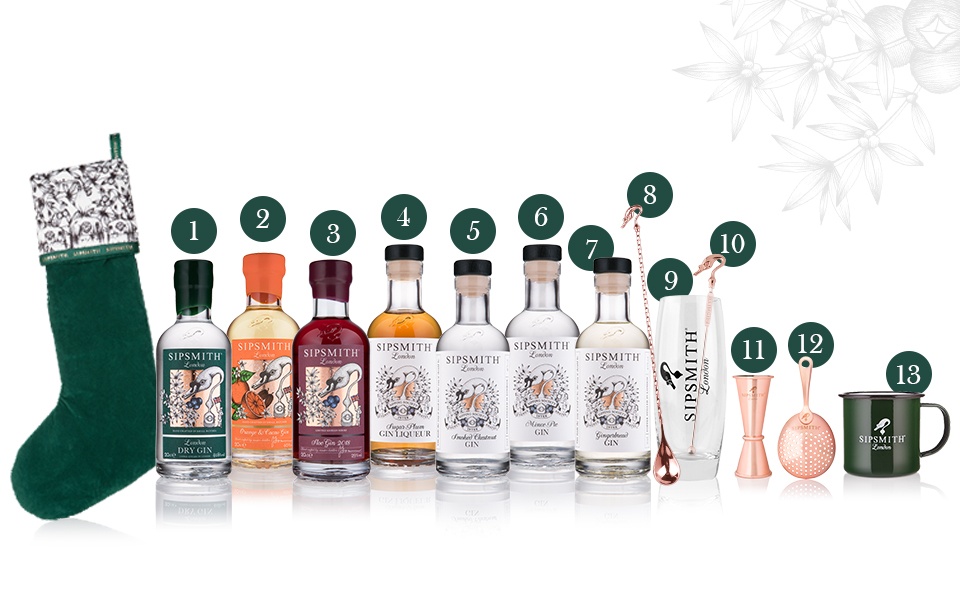 The Big Day just isn't complete with a stocking, no matter how old you are. In fact, we've given the traditional stocking a sophisticated bottle-green Sipsmith spin. This year, you can build your own gin stocking – choose from seven of our innovative gins (Mince Pie, Smoked Chestnut, Sugar Plum et al) as well as our London Dry Gin and a selection of cocktail accoutrements, glasses and mugs. 
For the naturally curious
For those who always want to know where something comes from, or where it's made, then we have the perfect solution, a Sipsmith Distillery Tour. Meet the three copper ladies, learn how our spirits are crafted, understand the history of gin and where we came from, and why we led the London gin revolution, before finally embarking on a tasting to sample the Sipsmith family of gins.
For the traditionalist
Stockings too leftfield, baubles a bit outré? Then why not simply buy them a bottle of our handcrafted London Dry Gin or VJOP beautifully packaged up in a presentation box and the perfect gift for everyone to enjoy on Boxing Day. Available from our website, or from all good supermarkets.
Happy Christmas from the Sipsmith Team!