Queen Elizabeth II is the first British monarch to celebrate a Platinum Jubilee, and we'll be rolling out the bunting and raising a glass in her honour.
We've collaborated with Emma Bridgewater to help you do the same, with an eminently sippable cocktail and beautiful glass and tableware to serve over the Jubilee weekend.
An extra-special summer
The 2022 release of our limited edition Strawberry Smash Gin has been especially crafted in celebration of another quintessentially British icon; Wimbledon. This year's bottle is bursting with ruby-coloured fruits harvested from Hugh Lowe Farms in Kent – the exclusive grower for Wimbledon.
Whilst usually enjoyed in a Spritz cocktail, for The Platinum Jubilee we have developed a crowd-pleasing ginny twist on an iced tea. Because if there's one thing we know HRH enjoys, it's a G&Tea. Find our recipe below; the perfect sharing serve to enjoy with friends, family and neighbours alike.
This recipe is designed to be made for your street party table in a carafe or jug.
Serves 4 highballs. For more or less sippers, simply increase or reduce the ingredients.
200ml Strawberry Smash Gin
350ml cold-brew Earl Grey tea
100ml lemon juice
3 tablespoons seedless strawberry jam
thinly sliced strawberries, to garnish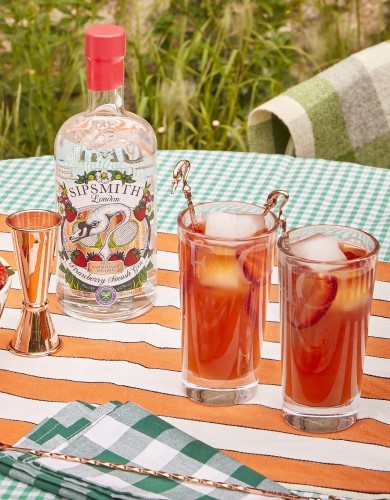 Top tips for a perfect sip: for the most flavourful brew, steep your Earl Grey tea – either leaves or bags – overnight in cold water as this will release its wonderful floral notes without the tannins. As for the strawberry jam, simply mix three tablespoons with a little hot water and stir to combine until it's a pouring consistency before adding to your carafe.
To build this serve, simply combine the ingredients over plenty of ice in a carafe or pitcher and garnish with thinly sliced strawberries before serving into highball glasses. We love Emma Bridgewater's Ice Cold Highball Glasses.
NOW CLOSED: A celebratory competition
From serving up a creative cocktail to serving up a delicious afternoon tea, our collaboration with British potter Emma Bridgewater is similarly strawberry-themed. Enter our competition for the chance to win a bottle of our Strawberry Smash Gin and some beautiful pieces from Emma Bridgewater's Strawberries Collection – a pretty-in-pink range that features everything you need to adorn your street party – or garden party – table this summer. T&Cs apply here.