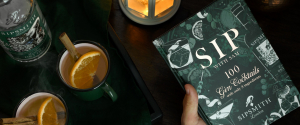 Hot off the press, and just in time for Christmas, is SIP: 100 Gin Cocktails with Only 3 Ingredients, our simple but delicious collection of gin cocktail recipes. Each of the 100 recipes can be created using a bottle of our Sipsmith London Dry Gin, and just two other ingredients. So that's fans of our gin, uncompromising hosts with the most and aspiring mixologists ticked off your Christmas list, then. Brilliant. For an uncompromisingly special gift, why not personalise a copy? With our unique personalisation service, available online and in Peter Jones – you can add the recipient's name, or even their nickname, to the cover. Or, perhaps you would prefer to gift it as part of one of our luxurious Christmas stockings? You can even build your own. SIP features plenty of your gin cocktail favourites, such as Martinis and Negronis, but thanks to our innovative Master Distiller, renowned drinks author, Jared Brown, it also contains many unique and impressive alternative serve ideas. How about a Hot Gin Twist on a chilly day, or perhaps an Earl Grey Sour?
SIP's simple guide to festive serves will calm the kitchen chaos this Christmas – there's enough going on without the added stress of complicated cocktails! Fortunately, at Sipsmith, we like to keep things simple. "Neither cocktails nor gin need to be overcomplicated," according to our master distiller, Jared Brown. "With a bottle of our uncompromisingly delicious gin, sippers simply need two other ingredients and they can make 100 different cocktails to suit all the sipping occasions one can possibly imagine." With our simple tips, you can craft some seriously impressive cocktails for your Christmas party, transforming you into you the ultimate, uncompromising host. Impress guests with a Dark Fruit Bramble, Holiday Martini, or perhaps a rosy-red Cranberry Sip? If those don't take your fancy, there are 97 other simple serves to choose from. To keep things seasonal and easy, many of the recipes in SIP involve ingredients you are likely to have to hand over the festive period, such as port, sherry, blackberry jam and cranberries.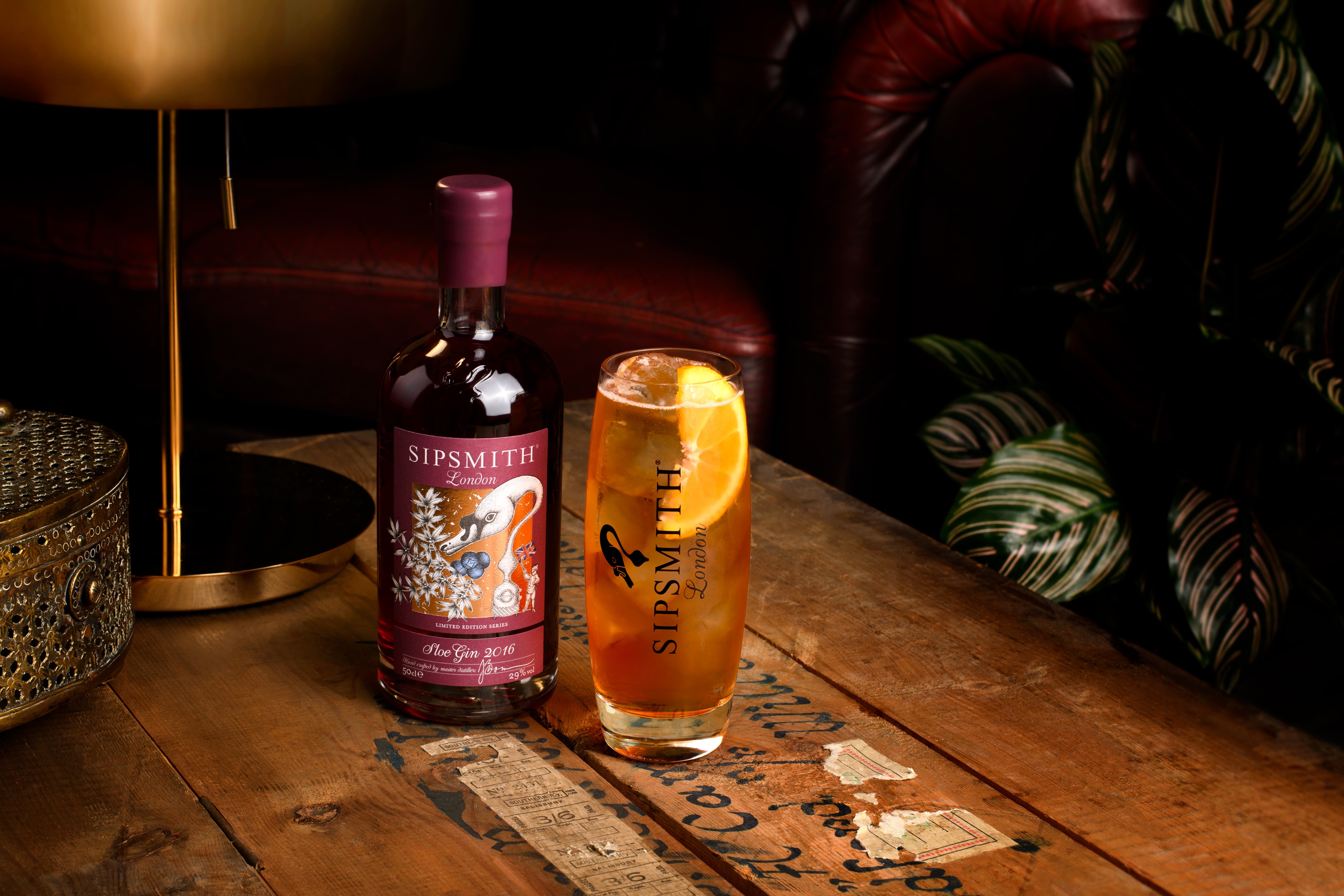 For an uncompromisingly special gift, why not personalise a copy?
Sloe Gin
Nothing says Christmas more than a ruby-hued bottle of Sipsmith Sloe Gin, brought out after lunch as a digestif, or enjoyed on a brisk Boxing Day walk. Sloe Gin is also fabulous when shaken or stirred into one of our creative gin cocktails. What about a long Winter G & T, a Sloe & Lemon citrus serve, a bittersweet Charlie Chaplin, or a festive Hot Mulled Sloe? One of these seasonal sloe serves is bound to take your festive fancy.
Hot Gin Serves
Christmas is a time of steaming mugs of aromatic tipples, but if you're tired of Gluhwein or mulled cider try impressing family with some hot gin. Back in the 18th century, steaming mugs of hot gin were served at markets known as 'Frost Fairs', held on the frozen River Thames. One of our favourites is the Hot Gin Twist – so popular that poet John Timb scribed a 149-line epic in its honour. Why not give this iconic British serve a go? All you need is sugar, water, gin, lemons, and our handy guide.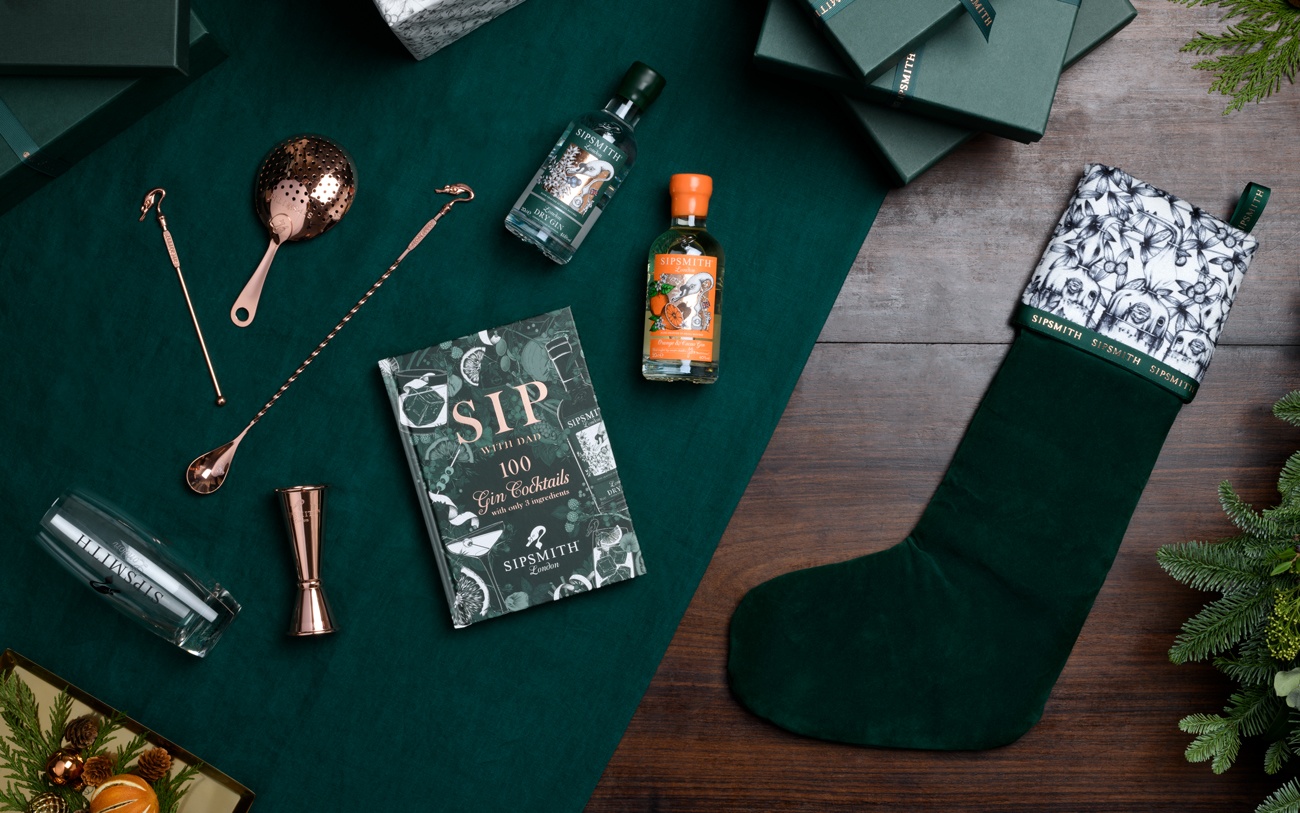 What about a long Winter G & T, a Sloe & Lemon citrus serve, a bittersweet Charlie Chaplin, or a festive Hot Mulled Sloe?
SIP Stockings
SIP is the perfect stocking filler but go one step further with a SIP Book and Gin Bottle Gifting Bundle, complete with a bottle of Sipsmith London Dry Gin. If that doesn't go far enough, we have the ultimate grown-up selection of curated Sipsmith stockings packed with mixological magic. Choose from the SIP Cocktail Stocking, which includes a copy of SIP, a cocktail making kit and a bottle of London Dry Gin; the Luxury Cocktail Stocking, with a bottle of London Dry Gin, our sensational Orange & Cacao Gin, more cocktai-creating accessories and a Sipsmith Highball glass. For something more bespoke why not go for our Build Your Own Stocking, which features up to six gifts, including SIP and a selection of our wonderful festive gins where you can choose from: Sugar Plum Liqueur, Smoked Chestnut Gin or the oh-so-festive Mince Pie Gin. With all this kit in hand, it'll be easy to bring our cocktail book creations to life!
Lose yourself in the world of Sipsmith this Christmas with our brilliant gin recipe book, and don't forget, it comes personalised too – so, add your loved one's name for an especially thoughtful gift online or from Peter Jones.