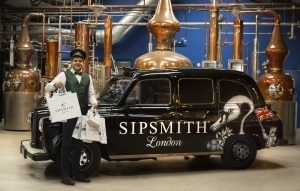 We at Sipsmith want to make sure you're sipping the best gin this London Cocktail Week so we put our ginny heads together and have dreamed up the perfect way for you to enjoy a tipple on us.
The Sipsmith Gin Cab will deliver prizes to lucky London sippers on Saturday 30th September to kick off London Cocktail Week in style, all you have to do is hail it. But in case you're concerned about searching the streets of the capital for a glimpse of the taxi, don't worry, our cab can be hailed on social media!
Prizes will include everything you need to make delicious Sipsmith cocktails. You could be stirring down a classic Martini or shaking the perfect French '75.
When?
Saturday 30th September. Deliveries from 12pm but get your orders in early!
How does it work?
To hail the Sipsmith Gin Cab and be in with a chance of winning all you have to do is post on Twitter, or comment underneath our posts on Instagram or Facebook telling us why we should visit you with an exciting prize. Remember to tag @Sipsmith and use #LondonCocktailWeek.
E.g.
'Taxi! I'm hailing the @Sipsmith Gin Cab for #LondonCocktailWeek. Please bring me a gin in Wandsworth, I'm your biggest fan! Stephanie.'
'I'm hailing the @Sipsmith Gin Cab for #LondonCocktailWeek, I'm with my mates and we've got nothing to drink! Sarah, Whitechapel'
'Hi @Sipsmith, make this the best #LondonCocktailWeek ever, please visit me in your cab! Frank, Mile End'
The Sipsmith Gin Cab team will then get in touch via private message with the lucky winners and drive straight to them with ginny prizes!
Please remember that this is a London Black Cab and so can only deliver in the capital! Be sure to follow @Sipsmith on Facebook, Instagram and Twitter for all the latest updates on the Sipsmith Gin Cab's whereabouts and exciting announcements.