Our unrelenting passion for things well made, by hand, with love and commitment is what inspired us to be a part of London Craft Week (30th September – 10th October). We have always been champions of 'smithery'; a future made by hand – we've inspired people to sip, now we want to inspire a generation of smiths. In turn, we are passionate about supporting the next generation of smiths. Meet the four makers we have commissioned to create a bespoke Sipsmith product, available to purchase on our online Gin Shop from 30th September for a limited time only.
1. SADIE CLAYTON, coppersmith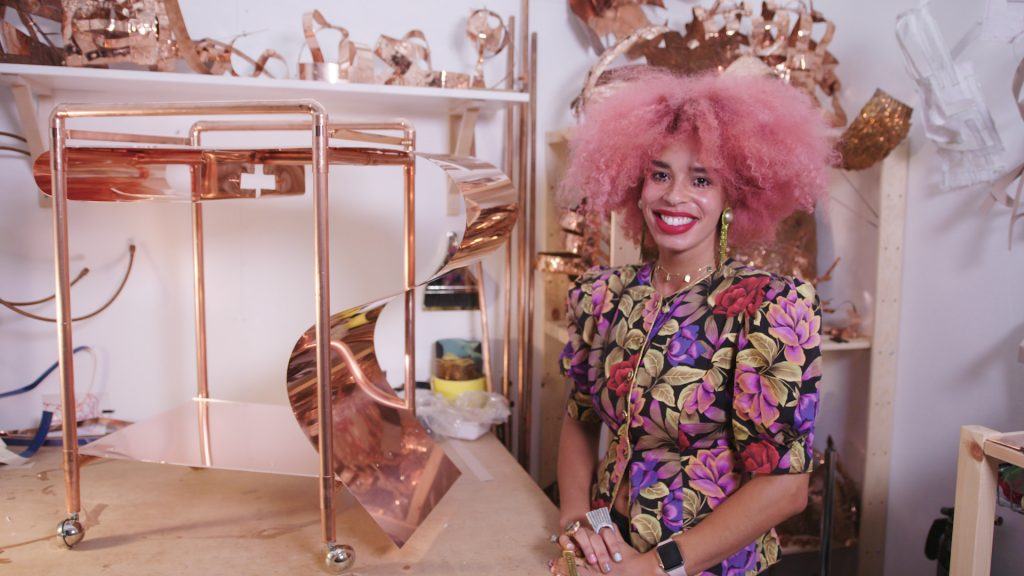 Smithery to me is a beautiful and unique object crafted by the hands of a maker.
Meet Sadie Clayton, an outstandingly talented female artist, a fusion of races and spaces, from Yorkshire, now based in London. Sadie creates sculptures that are inspired by spirituality and technology, specialising in copper metal. For our London Craft Week collaboration, she has hand crafted a stunning Sipsmith Copper Drinks Trolley, inspired by the natural curve of the Sipsmith Swans neck and encapsulating the idea of feeling warmth and wellbeing that she naturally associates with sharing a drink with friends and family. It is a beautiful, contemporary piece, which she wanted to fit into any home and give a welcoming glow. "What sets this product apart from something mass-produced", we hear you ask. The owner of this hand crafted trolley gets a burst of coppery style and positivity whilst pouring a glass ready for the perfect hand crafted sip.
2. SCOTT BENEFIELD & ANDREA SPENCER, glassblowers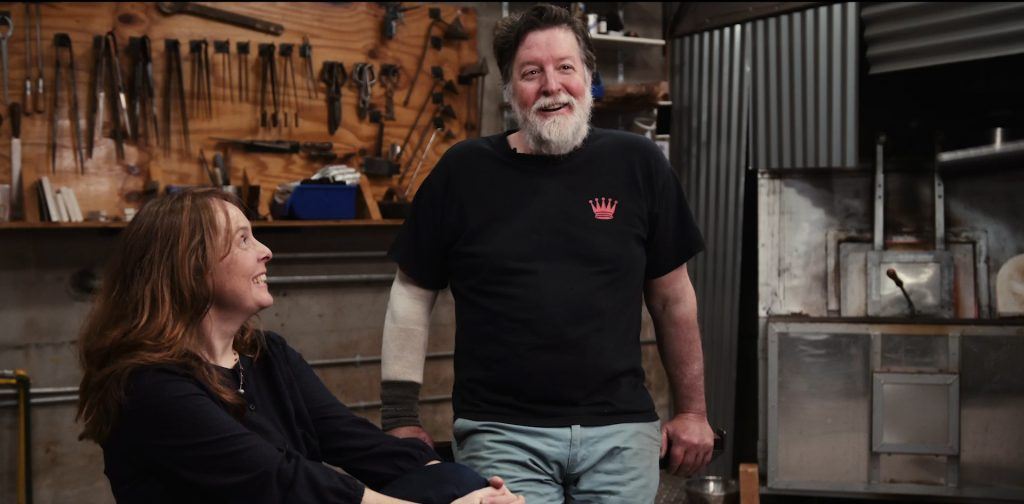 We share the Sipsmith ethos that places a high value on the handmade and promotes the advantages of small batch production.
Scott Benefield, a glassblower, and Andrea Spencer, a flame worker, make up the talented duo that is Benefield Spencer Glass. This husband-and-wife team specialise in crafting hand blown glass from their studio in an old farm property on the rugged north Antrim coast in Northern Ireland. All of their work is designed, produced and finished entirely by hand. For our London Craft Week range, they have designed a bespoke hand blown G&T tumbler to ensure you can celebrate the future of craft with every sip. This limited edition design was crafted for our online collection – adding one-of-a-kind charm and character that can only be achieved when striving for the finest quality by hand.
3. ZOË WILSON, stone carver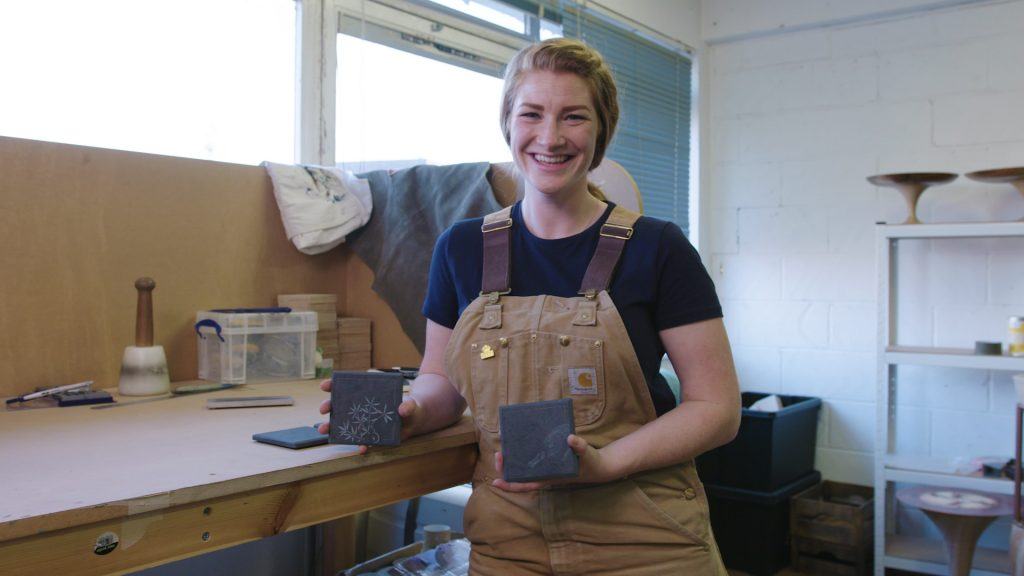 When buying from a craftsman not only are you supporting their business, but you are buying something which has been made with pride and love, which isn't something that can ever be mass produced.
Allow us to introduce Zoë Wilson, a talented stone carver based in Scotland and graduate of Historic Stone Carving from City and Guilds of London Art School. She also received a scholarship from the Queen Elizabeth Scholarship Trust (QEST), a charity that supports the future of British craft. Zoë developed a fascination for complicated geometric patterns. Luckily for us, she took the opportunity to further master her incredible skills on a beautiful set of four hand carved coasters. To craft these, she had to get a little creative with the tools she used to perfect the texture on the lime skin and swan's neck. These bespoke coasters are sure to elevate your serve and protect your surface from any G&T droplets.
4. CHARLIE LAURIE, leather craftsman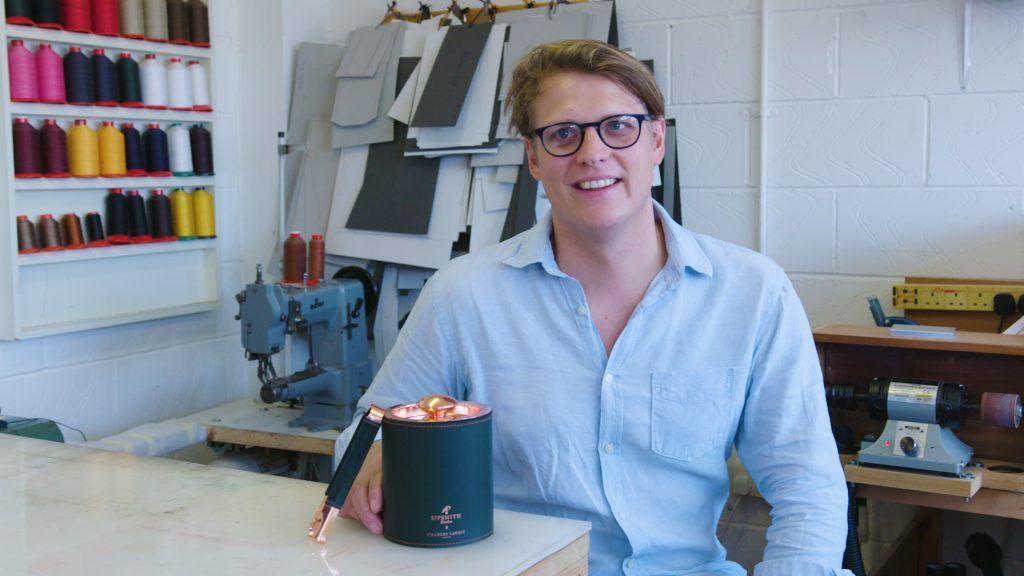 Smithery to me is being a master of a handmade craft, which in my case is leather craft.
Charlie Laurie is a leather craftsman and designer based in London. Inspired by an ancestral history of leathersmiths, Charlie developed a passion for leatherwork and graduated with a Saddlery diploma, becoming an apprentice at a high-end leather goods manufacturer in East London. Here, he learnt traditional and modern techniques from true craftsmen. In 2016, he founded the British leather goods brand Charles Laurie London. For our London Craft Week Market of Smithery, Charlie chose to design a Leather Covered Sipsmith Copper Ice Bucket and Tongs. Combining the copper element of Sipsmith with green leather and copper thread is a fitting match and representation of both brands. Charlie said, "the ethos of Sipsmith is very similar to mine; to not compromise on quality and create products which are quintessentially British."
Don't forget to sign up to meet our makers, along with other craftspeople, live on our Instagram with our Head of Ginnovation, 11am every weekday of London Craft Week.