What do you get when you take our award-winning London Dry Gin and dial up the citrus? A deliciously hand crafted Zesty Orange Gin, of course.
In our Zesty Orange Gin, fresh dried orange peel is joined by bergamot zest to impart a floral citrus and light warming spice on the nose, with touches of sweet marmalade and cinnamon on the palate. To make the most of this delicious drop, here are three gin cocktail recipes to excite your citrus curiosity.
This classic gin cocktail gets a tantalising citrus twist with our refreshing Zesty Orange Gin. Craft this citrusy serve by filling a tall glass with ice and adding 50ml Sipsmith Zesty Orange Gin and topping with 150ml chilled Indian tonic water. Use a stirrer or barspoon to gently combine before adding a fresh orange wedge to garnish.
Bright and bursting with bubbles, this recipe allows our Zesty Orange Gin's citrus notes to really shine. To make a Zesty Orange Spritz, add 25ml Sipsmith Zesty Orange Gin and 12.5ml sugar syrup to an ice-filed glass before topping up with equal measures of chilled soda water and prosecco (we add 100ml of each to really make this bubbly gin cocktail pop). Then gently combine with a stirrer or barspoon to maintain the fizz. Garnish with a twist of orange peel and sip as you soak up the last glorious days of summer.
Time to perfect your 'dry' and 'wet' cocktail-shaking technique with this slightly sweet, sophisticated orange gin cocktail. Because of the addition of egg white, the Zesty Orange White Lady requires the ingredients to first be shaken without ice (dry) before being shaken with ice (wet).
We have Harry to thank for this old-school recipe – though exactly which Harry is disputed by bartenders around the world. Some claim that Harry MacElhone was serving a similar cocktail in 1929 at Harry's New York Bar in Paris, while others believe the White Lady is the work of Harry Craddock, the author of the famed The Savoy Cocktail Book (1930).
To make yours, add 50ml Sipsmith Zesty Orange Gin, 20ml fresh lemon juice, 10ml sugar syrup and 1 egg white to a cocktail shaker and dry shake – in other words – don't add any ice at this stage. Once the ingredients have combined, add ice and wet shake. You'll end up with a creamy liquid that can then be double-strained into a chilled coupe glass. Garnish with fresh orange zest and an orange twist.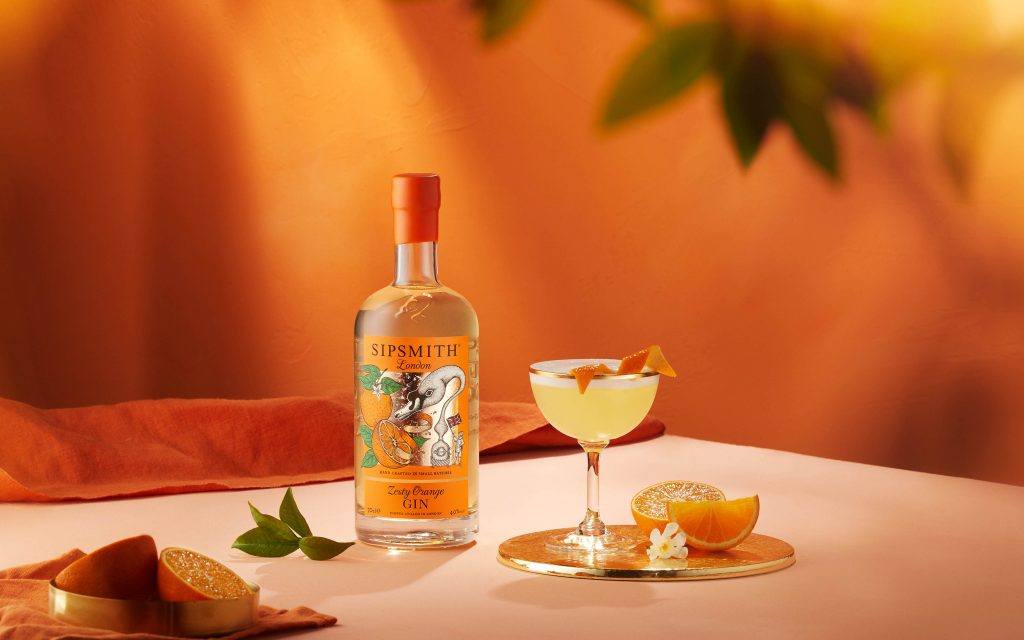 We hope you enjoy these zesty sips. Do let us know your favourite tipple by sharing your cocktail creations on social media and, as always, tag @sipsmith – we can't wait to see your citrus-inspired creativity.