Now that London has experienced its first glimpse of warm weather, it's time to start thinking about your summertime serves. These four fruity cocktail recipes should give you a touch of tropical inspiration.
Citrus fruits are the workhorses of the cocktail trade — and while we'd never jettison our beloved lemons, they're not the only fruits you should be mixing with. As Simone Caporale, formerly of the Artesian Bar, remarked in our 2017 cocktail trends post, London cocktail bars are increasingly turning to exotic fruits when shaking up their drinks. And you should too.
The following four recipes are unabashedly fruit-forward. From exotic ingredients like passionfruit and lychee to bold combinations like raspberry and lime, there's no shame in shaking up a fruity drink for yourself this season. Now: where did we leave our cocktail umbrellas?
Pomegranate and Passionfruit 'Ginpirinha'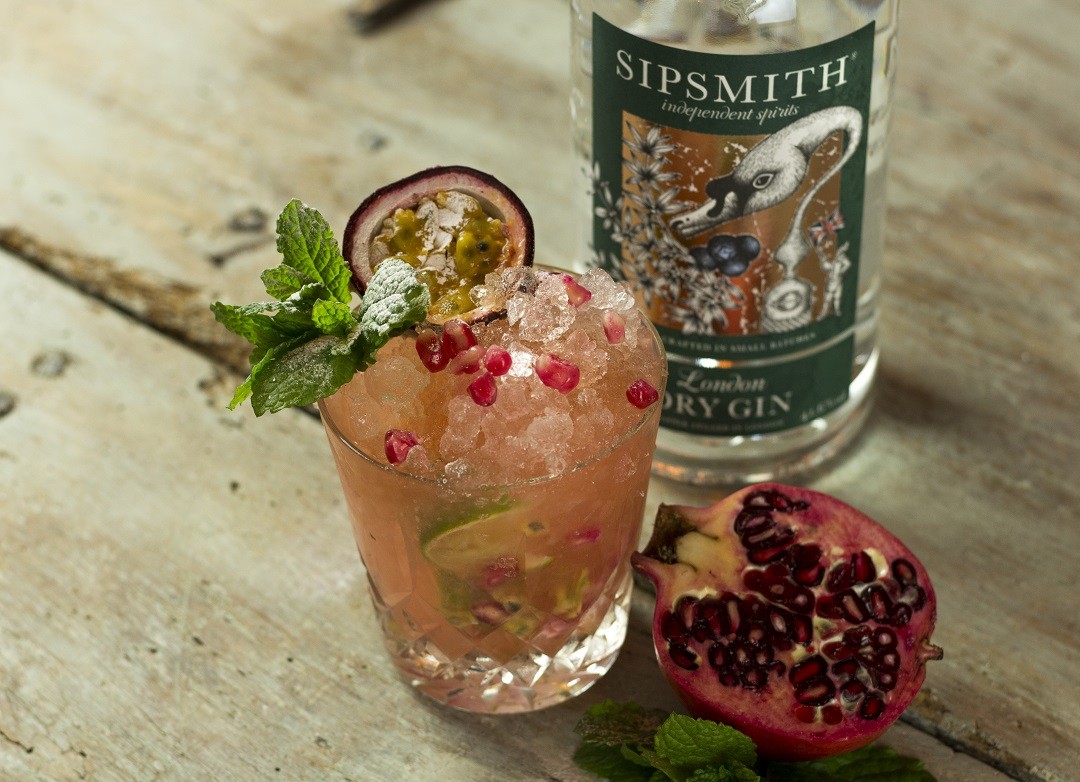 This tropical serve takes inspiration from Brazilian Caipirinhas.
You don't need a bottle of cachaça to create a serve worthy of a tropical getaway. This delicious sip was created by our resident cocktail expert Rich, who was feeling inspired by the Caipirinha in all of its fruity variations. In this version, pomegranate, passionfruit, and lime tango in perfect harmony.
1 passionfruit
½ lime, cut into four slices
¼ pomegranate
40ml Sipsmith London Dry Gin
20ml Cointreau
15ml sugar syrup
Cut the passionfruit in two. Scoop the contents of one half into a rocks glass, reserving the other. Add the pomegranate seeds and lime wedges and muddle. Next, add the gin, Cointreau and sugar syrup. Add crushed ice and churn until the ingredients are mixed throughout the glass. Garnish with a sprig of mint, pomegranate seeds and the other half of the passionfruit.
Raspberry Gin Rickey
We love a classic Gin Rickey as much as any ginthusiast — but when we want to riff on the original recipe, this raspberry version offers a beautifully summery twist. Just a word of warning: you'll want to get started infusing your raspberry gin now, as it takes a good two weeks of steeping time.
50ml raspberry-infused Sipsmith London Dry Gin*
100-150ml sparkling water
½ lime
Combine ingredients in an ice-filled highball glass, giving the lime a light squeeze into the glass before dropping it in. Stir once or twice to blend. Garnish with two or three fresh raspberries.
*To make your raspberry-infused gin, empty a bottle of Sipsmith London Dry Gin into a lidded jar. Add 250-300g fresh raspberries. Let sit for two weeks. Strain out the raspberries (you can run the mixture through an unbleached coffee filter if you want to remove any of the tiny hairs from the raspberries, though it's been ages since we got so fiddly about it). Optional: you can also add a few stalks of rhubarb to the infusion for an extra dose of tartness.
Singapore Sling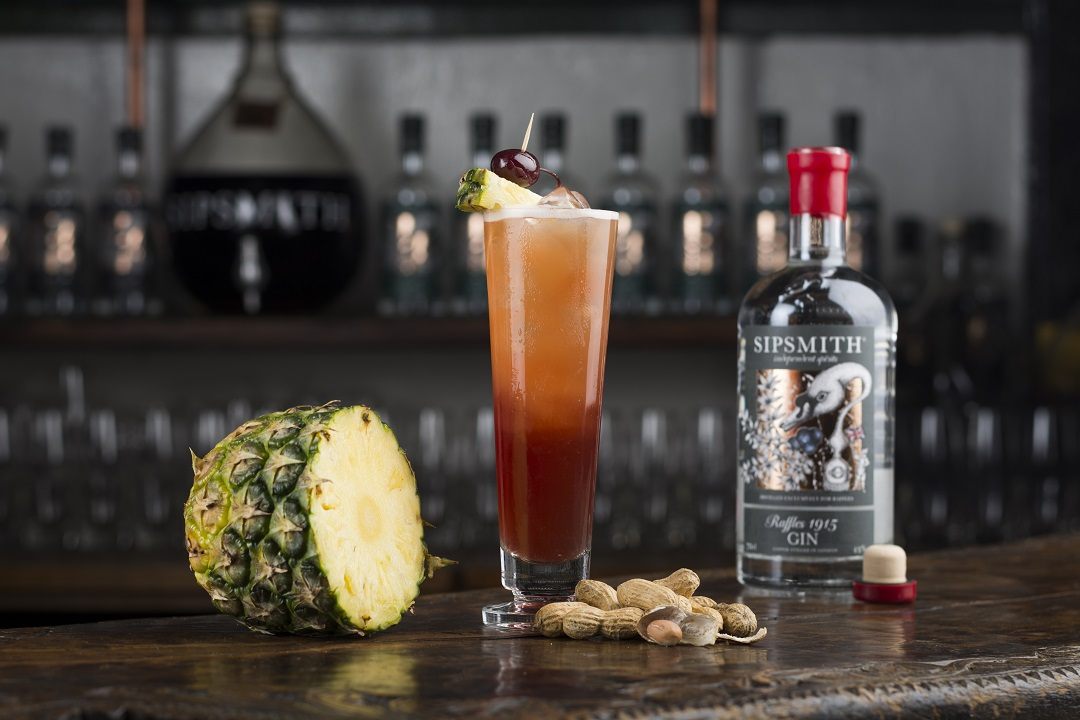 The Singapore Sling was made for warm-weather sipping.
When it comes to exotic fruit cocktails, few drinks are as classic as the Singapore Sling. Though our limited-edition Raffles 1915 Gin was tailor-made for this tropical serve, our classic London Dry Gin works very nicely, too.
40ml Sipsmith London Dry Gin
20ml Cherry Heering
10ml dark rum
5ml Grand Marnier
5ml Benedictine
80ml pineapple juice
25ml fresh lemon juice
3 dashes Angostura bitters
Combine all ingredients, save for the Angostura bitters, in an ice-filled shaker and shake well. Strain into an ice-filled hurricane or highball glass. Top with Angostura bitters, and garnish with a wedge of pineapple and a Luxardo cherry.
Lychee Martini Revisited 
The 1990s and 2000s were not a high point in the life of the Martini. Pretty much anything combined with vodka and served up was given the "-tini" suffix. However, this simple combination brings back the best of those decadent evenings — with a delightfully tropical twist.
50ml Sipsmith London Dry Gin
25ml lychee syrup
1 lychee
From a tin of lychees, measure out 25ml of syrup. Combine with the gin in an ice-filled cocktail shaker. Shake well. Strain into a chilled cocktail glass. Garnish with a single lychee.
Feature image © ShotShare/iStock