A dram of sloe gin is a sure-fire way to make the encroaching cold weather better. This year, do one better and make your own. Follow these tips on how to forage and you'll have a batch ready just in time for Christmas.
While many mourn the end of summertime, we're secretly rather pleased. Though we do enjoy mixing up sloe gin cocktails in the summertime, the arrival of autumn marks the undisputed return of sloe gin season. For those who are looking to craft their own sloe gin cocktails, we might recommend you peruse these recipes. But if you're really seeking an impressive new project, few things are more satisfying than making your own sloe gin.
If you've never tried your hand at it before, follow these instructions for how to make the perfect sloe gin. And for tips on how to forage, meanwhile, we spoke to Jack Adair Bevan—a drinks maker at The Ethicurean in Somerset, and the man behind the delectable Collector Vermouth. Read on for his advice on how to find the very best autumn fruits.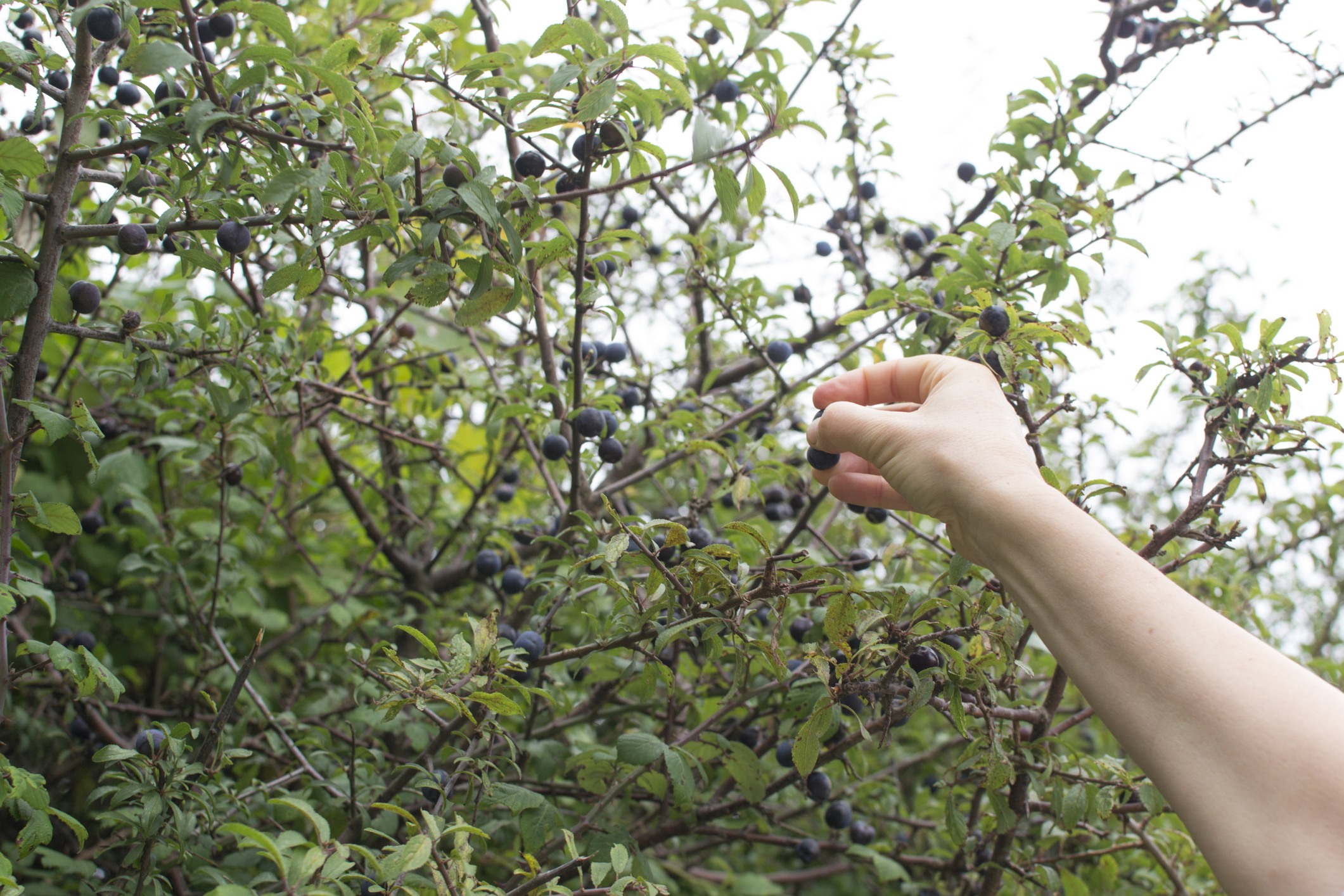 Always read up on the foraging rules in your local parks and green spaces before setting off.
First, a few general rules of foraging. Bevan cautions that you should always read up on the foraging rules in your local parks and green spaces before setting off. If you're foraging on farm or private property, be sure to get permission before you start picking. It's also best to avoid patches that are next to busy roads or have likely been sprayed with pesticides. And, once you've got your harvest, be sure that your fruit is properly identified before you consume it.
If you're looking for sloes, begin with hedgerows. Traditionally used in boundary hedging around the country, the hardy blackthorn tree and its sloe berry fruits are abundant. Just exert some caution: the trees are, as the name suggests, covered in sharp spines.
"You could use gardening gloves, or you could just be careful," Bevan laughs. No matter your method, bring along a lightweight basket lined with fabric to prevent staining. Good sturdy boots, a pair of kitchen shears, and long-sleeved shirts and long trousers will also protect from any errant thorns or nettles.
Hedgerows offer a wealth of foraging opportunities.
While wild-growing sloes are known as a hedgerow plant, "damsons were popularly cultivated, and grown in orchards," says Bevan. While popular demand for damsons eventually dropped, the trees are still plentiful. Keep an eye out: their fruit looks much like sloe berries, except slightly larger (and, mercifully, surrounded by fewer prickly thorns). Bullace plums are similar in appearance, and also delicious.
When it comes time to using your harvest, ignore the sloe gin myths: you may have heard that pricking each sloe with a silver needle is necessary, or that you should only forage after the first frost. Instead, Bevan recommends simply putting your fruits in the freezer for a few days. After that, they're ready to steep in gin. With damsons and bullaces, you can also make jam, or—as Bevan likes to do at The Ethicurean—even make a damson membrillo-style paste to accompany fine cheeses.
For more specifics on how to forage, he recommends picking up a copy of Food For Free by naturalist and journalist Richard Mabey, which has been considered a foraging bible for the last 30 years. And for those in the Big Smoke, John Rensten at Forage London has a number of resources to help you get started.
Feature images © sergio_kumer/iStock/Thinkstock; mypurgatoryyears/iStock