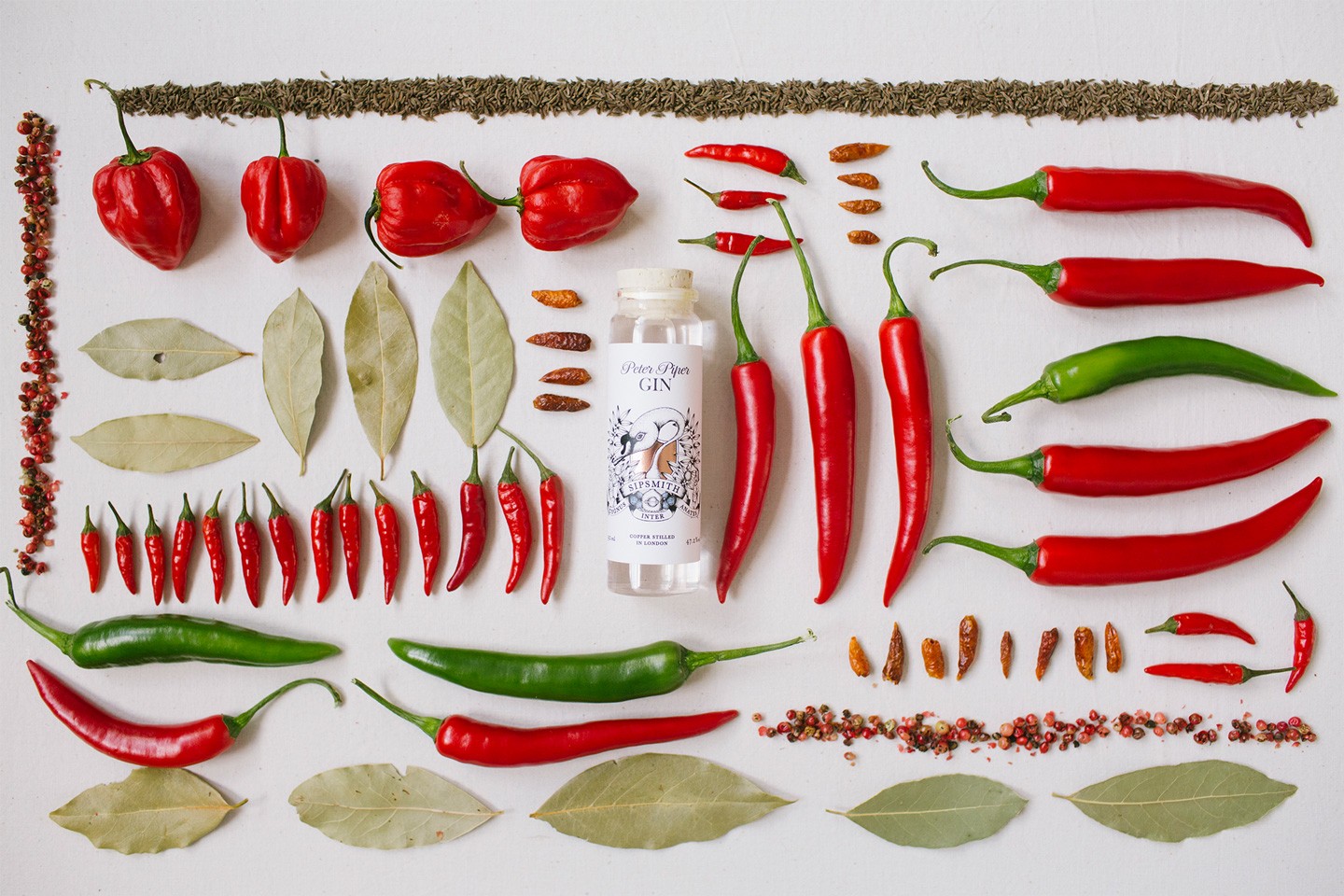 Peter Piper Gin
This spicy and peppery gin was born from a wonderfully rich combination of Scotch Bonnets, piri piri, pink peppercorns, paprika, bay leaves and caraway seeds.
The Nose
Gentle bay laurel balanced with a ripe, fruity plum to start.
The Palate
Spicy cracked peppercorn, smoky bell pepper with a spicy fruity tang pulling through.
The Finish
Bold peppery and savoury finish.
Piri Piri

'Piri Piri' in Swahili means 'pepper pepper' and is a common pseudonym for the African Bird-Eye chili. Fiery hot, this delicious chili was first brought to Europe by the Portugese from their colonies in Mozambique.

Bay Leaves

When dried, the fragrance of bay is herbal, slightly floral, and somewhat similar to oregano and thyme.

Caraway Seed

Sumptuously fragrant, Caraway is often know as 'Persian Cumin' and is used extensively in middle-eastern and Mediterranean cuisine. The plant itself is similar to a carrot.

Paprika

Smoky sweet without being too hot, paprika is made from air dried chili peppers. It's one of the world's most widely used spices, spanning from Asia and Africa to Hungary.

Scotch Bonnet

Infamously fiery but surprisingly sweet, the Scotch Bonnet is native to the Caribbean.

Pink Peppercorns

While labelled 'peppercorns' for their resemblance to the black variety and peppery taste, pink peppercorns are actually members of the cashew family.
We went through a phase at the distillery of being obsessed with red snappers, and really wanted to craft the ultimate red snapper gin that was versatile enough to work with other cocktails too. At first thought, one may think this sounds like an overly fiery combination, however, this gin really helps to showcase other subtle tastes that these well-known ingredients have. We used pink peppercorns as they have a fruitiness to them, where black peppercorns have a more menthol note. The undertones of a Scotch Bonnet are remarkably plummy (post distillation) and with paprika bringing a slight smokiness to the mix. Ollie had an 'interesting' time creating this gin; as a rule, he tastes each botanical before distilling with it, to understand its flavour, and word in the distillery has it that the myriad of pepper varieties he tasted had nothing on the famously punchy scotch bonnet, this gin's hero ingredient.
Reviews