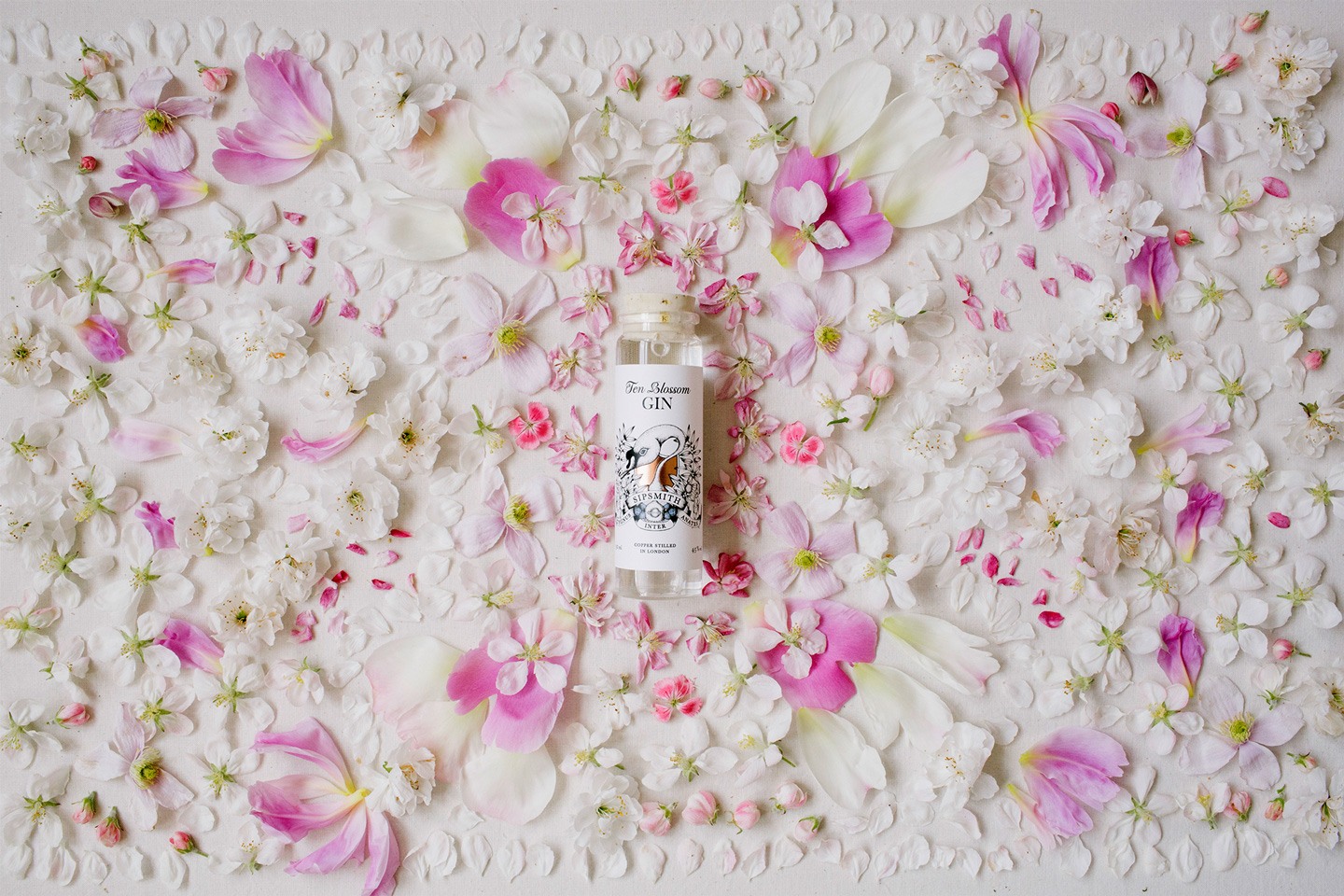 Ten Blossom Gin
Blossom was an obvious choice for Sipping Society box three, what with it bedecking the trees that line our home on Cranbrook Road, Chiswick. Our aim was to distil a gin using juniper and coriander as the backbone, with the rest of the flavour profile coming solely from an array of blossoms.
The Nose
Vanilla undertones turning to honeysuckle with a touch of allspice and liquorice.
The Palate
Bright floral followed by subtle shortbread and carefully blended hoppy notes.
The Finish
Complex citrus leading into a big juniper finish.
Cherry Blossom

Speculated to have originated in the Himalayas, these blossoms are used extensively in asian cookery. Light, peachy and fragrant.

Rosemary Blossom

While Rosemary is commonplace in cookery worldwide, the flowers provide their own unique richness and taste.

Jasmine

Native to Asia, this flower has been cultivated for centuries for its unmistakable fragrance.

Asian Pear Blossom

Historically these pears tend to be served to guests, given as gifts, or eaten together in a family setting. The blossom provides a delicate sweetness.

Plum Blossom

Well known for their succulent fruit, the blossom of the classic plum is just as delicious.

Greengage Blossom

Related to the plum family, "Green Gages" were imported into England from France in 1724 by Sir William Gage, 7th Baronet, from whom they get their name.

Damson Blossom

Damsons are not new to spirits, making a delicious infusion but the blossom adds a delicious, unique note.

Hibiscus Blossom

A flower native to Haiti, this blossom gives a light citrus tang.

Orange Blossom

A citrus scent used for centuries in perfume making. It is traditionally associated with good fortune.

Rose Blossom

Delicate and fragrant, rose blossom provides a beautiful perfume.
More Product Information
Using clove (a fermented flower) to give this gin a slight spice, we had no need to use our normal botanicals: cinnamon and cassia bark. When experimenting with this gin, Ollie and Jared looked at using saffron but the distilled flavour that came over was too biscuity and didn't compliment the other floral notes, so saffron got left out of the final version that reached you. The rose blossom provides a bright citrus with hibiscus blossom bringing a dryer orange citrus undertone to the gin. We also used locally picked blossoms from damson, greengage, plumb, Asian pear and cherry trees, which help to complete this wonderfully bright and floral gin.
Shop our gins
Sensationally sippable for every occasion.