WHAT IS A CERTIFIED B CORPORATION™?
B Corps meet the highest standards of social and environmental performance. We're part of a global movement made up of almost 4,000 companies in 74 countries that span over 150 different industries, all setting out to reduce our impact on communities, people and the planet and use business as a force for good.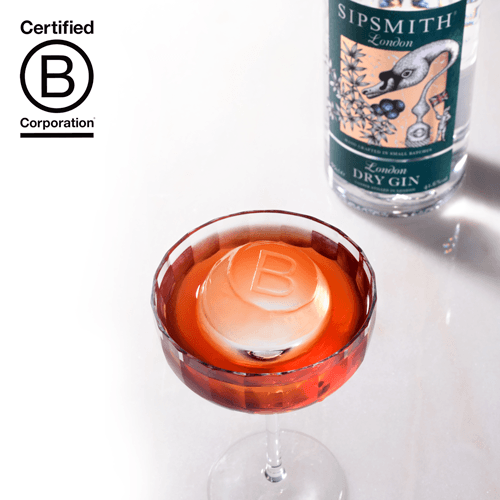 ---
A note from Sam, Sipsmith Co-Founder
At Sipsmith, we have always been positively fueled by purpose. Initially, we were driven to bring gin back to the city where it earned its name, crafting our London Dry Gin with uncompromising quality and innovation. March 2009 will be forever etched in my mind as the month that saw the birth of craft gin and the first distillery to open in London for just shy of 200 years. And now too, May 2021; the month we secured B Corporation™ certification and committed to our sustainability strategy, formally setting in motion our sense of purpose beyond profit; our why.
It has always been our mission to champion a better way of crafting gin and pioneer positive changes within our industry. Today sees us laying out even more ambitious plans for every single one of us to be part of crafting a better future.  
Our sustainability strategy 'Crafting a Better Future' focuses on five missions with which we strive to be better for planet, people and to be champions of progress. Meaningful change requires a great deal of hard paddling under the surface; it demands rigour and determination. Our priority goals will ask everyone within the Sipsmith eco-system, from suppliers to our wider community, to come with us on the journey to become the active force for good we seek to be. Being part of a wider community of businesses that strive for better will give us support and encouragement to keep up momentum.  
It has been an inspiring journey so far, though we are just at the beginning. With our no-half-measures approach to challenges and desire to leave a legacy, together we will be fueled forward.  
Sam
What does being a B Corp mean for Sipsmith?
B Corps are measured based on five key pillars: Governance, Workers, Community, Environment and Customers. Find out more below:
Governance evaluates our overall mission, social/environmental impact, ethics, and transparency
Workers evaluates our contributions to our swans' financial security, health & safety, wellness, career development, and engagement & satisfaction.
Community evaluates our engagement with and impact on the communities in which we operate, hire from, and source from.
Environment evaluates our overall environmental practices as well as our impact on the air, climate, water, land, and biodiversity
Customers evaluates our stewardship of our sippers through our products, ethical marketing, data privacy and security, and feedback channels.
OUR 2021 IMPACT REPORT
We're proud to share our Impact Report, which you can view or download by clicking here. The report covers areas such as our environmental policy, energy use, community efforts, diversity and inclusion and company values, plus our plans for the future. Have any more questions? You might find the answer on our FAQ page, or you can contact us.
Crafting A Better Future: our sustainability roadmap to 2030
We are committed to doing better than net zero by 2030. Read below how we're going to get there.