Home to Sipsmith and the birthplace of gin, discover the best places to enjoy a Sipsmith cocktail in London in some of the World's Best Bars for an extra-special sip.
THE CONNAUGHT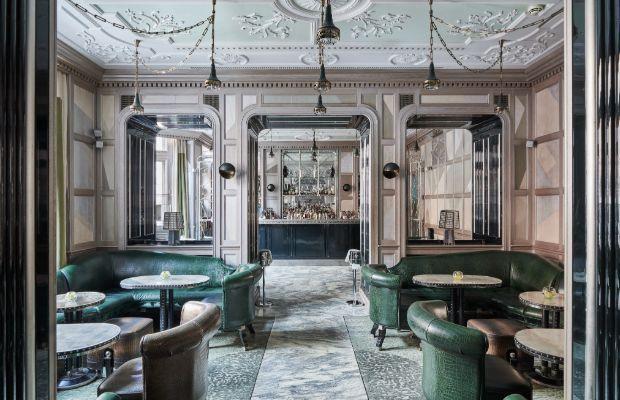 Awarded the World's Best Bar two years in a row, The Connaught Bar is situated in Mayfair, Central London. It's perfect for a date night or special occasion, or if you simply find yourself nearby and want to treat yourself. Not drinking? Order a
What to order?
You simply can't beat a Sipsmith Martini from their iconic Martini Trolley as they craft your sip exactly to your taste, complete with homemade bitters and garnish. Or opt for a V.J.O.P. Gin & Tonic if you're after a extra junipery hit.
If you're sober sipping, order a Sipsmith Wayfarer, crafted with our non-alcoholic spirit, FreeGlider, which is a sensational creation from The Connaught's mixologists, crafted with clarified berry yoghurt. They were sipped at our FreeGlider launch party in 2021 and we haven't stopped thinking about them since.
Find their menu here. The Connaught operates a no-booking policy, so simply turn up.
SWIFT
With two locations in Soho and Shoreditch, it's the perfect destination for a lively cocktail in the heart of Central London. Their Soho bar has an upstairs or downstairs. We'd recommend upstairs for an apertivo or Martini, and downstairs for more intimate, serious cocktails.
What to order?
Choose a Kew Garden crafted with our London Dry Gin, basil and cucumber for an incredibly refreshing serve. Not your thing? They've an extensive specialty cocktail menu and Apertivo Hour until 7pm every weeknight, so simply take your pick and prepare to be delighted!
View their menu and book here.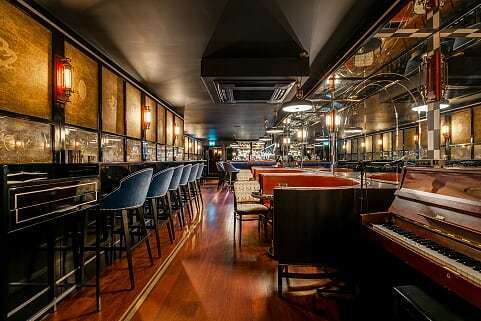 THE AMERICAN BAR IN THE SAVOY
The American Bar is the longest surviving cocktail bar in London and one of the most renowned in the world, as a former winner of World's Best Bar. They serve classics with a twist, new and vintage creations – the American Bar is an icon in cocktail history and has played host to legendary bartenders – historic figures such as Harry Craddock, author of The Savoy Cocktail Book, and Ada 'Coley' Coleman.
Situated in The Strand, a short distance from Charing Cross Station and a stone's throw from the River Thames. Head for a pre-theatre drink, or enjoy a stroll down the river on a summer's evening.
What to order?
Order a Sipsmith White Lady or Martini, then simply sit back and watch the show of craftsmanship as they make your tipple.
Find their menu here. The American Bar operates on a walk-in basis only with the exception of in-house guests.
EVE BAR
Eve Bar is situated just beneath The Frog restaurant, prestigious chef, Adam Handling's flagship restaurant. Situated across the street from The Savoy Hotel, Eve Bar is nestled in the heart of TheatreLand, Covent Garden. Ideal for a pre or post-theatre sip.
What to order?
Order a sensationally wicked Red Flags and some Michelin starred snacks from the restaurant upstairs.
Book your table here.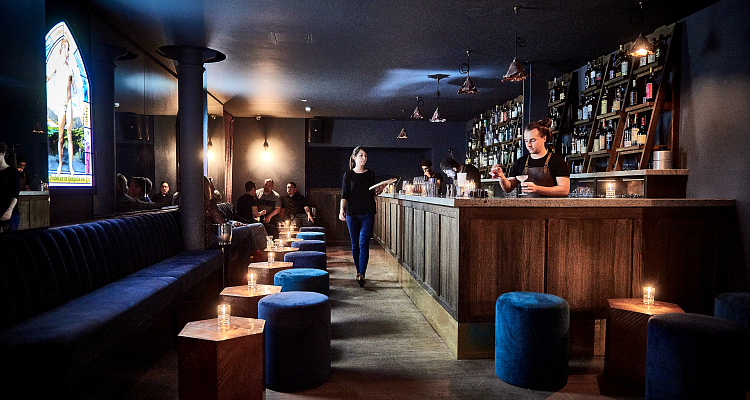 PUBLIQ
"People. Produce. Positive." Publiq pride themselves on sourcing sustainable produce and making a positive impact on community, Publiq. is a modern public house serving seasonal cocktails and small plates designed to be shared. Located in South Kensington, it's perfect for a refined yet relaxed drink with friends or family after a trip to Hyde Park or nearby museum.
What to order?
With each offering championing sustainable, small batch ingredients, they're a perfect example of our B Corp values. Choose a Sipsmith Olive Oil Martini and accompany with a few small plates to share for the perfect pre-meal sip!
Find their menu and book here.