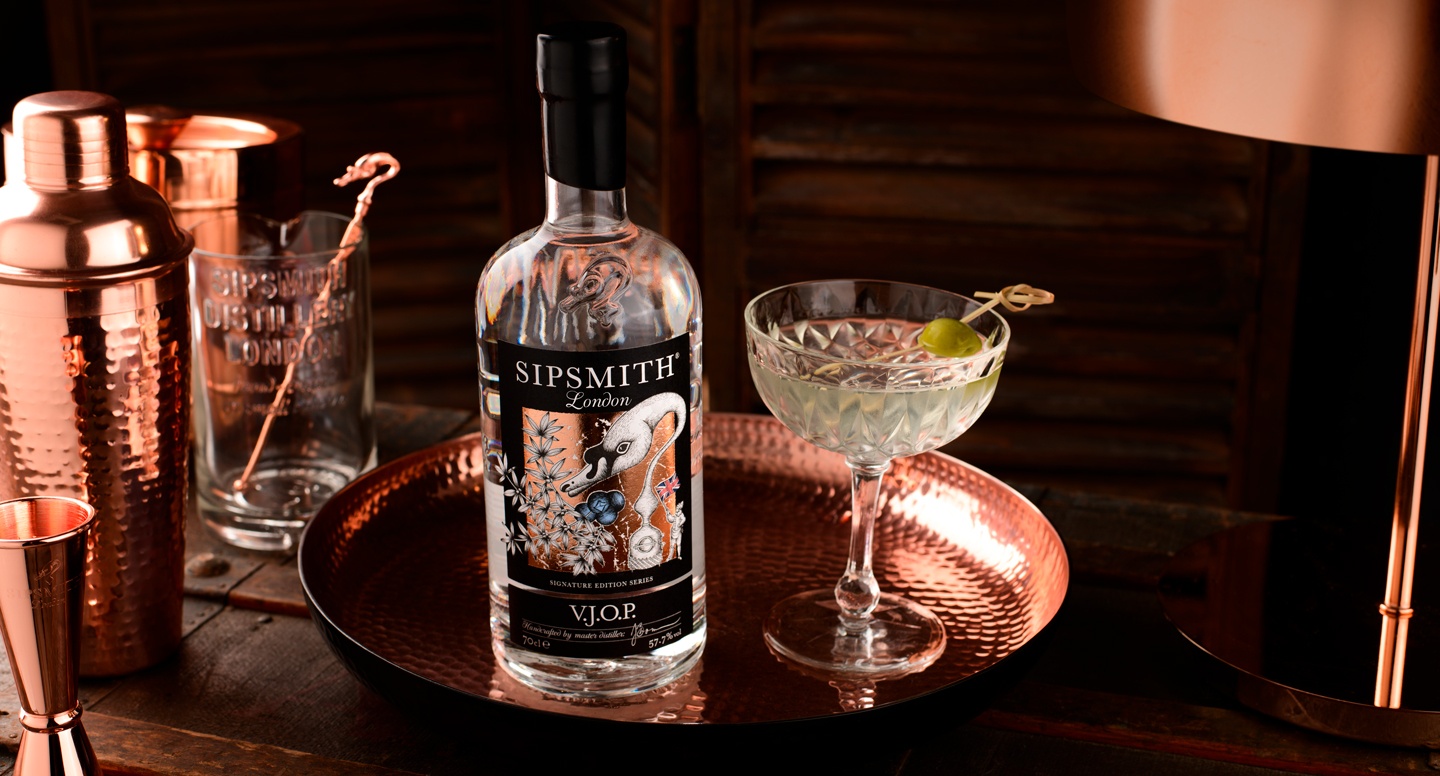 V.J.O.P. Gin
Imagine the botanicals as components in an orchestra, here we have taken the lead instrument, juniper, and amplified its presence in the ensemble, then raised the decibels by increasing the proof alcohol. The result is our very own symphony in 'J' major.
£40.00 – £216.00
The Nose
Junipery pine and cedarwood dominate with hints of zesty orange.
The Palate
Big juniper upfront with rich spice and notes of dark chocolate.
The Finish
Long and dry with a lovely balance, letting the juniper shine through.
Juniper Berries

The fundamental ingredient that makes Sipsmith Gin taste, well, like gin! It's the oils that we want so we macerate the berries in warm spirit overnight to burst the skins and release the essences.

Bulgarian Coriander Seed

A mellow spiciness and a long finish with hints of citrus and a hint of peppery ginger, is derived from the addition of coriander seed to the Sipsmith botanical mix.

Spanish Ground Almond

Spanish ground almond is used to bring delicate spiciness and marzipan notes and adds depth and body to Sipsmith's London Dry Gin.

Chinese Cassia Bark

Hailing all the way from China, and from the same family as cinnamon, cassia bark adds a hints of sweet, warm spice to the Sipsmith recipe.

Madagascan Cinnamon Bark

Madagascan cinnamon bark adds a delicately sweet spiciness to the botanical mix, similar to (and from the same family as) cassia, it is an essential component of the rounded Sipsmith recipe.

Belgian Angelica Root

Similar to the orris root, angelica acts as a binding agent to promote the harmony of the other botanicals. It also adds its own dry characteristic and helps to provide the wonderfully long, dry Sipsmith finish.

Spanish Liquorice Root

Liquorice root adds an attractive bittersweet undertone, and equally importantly neutralises any bitterness from other botanicals to allow their properties to shine through in Sipsmith London Dry Gin.

Italian Orris Root

Orris root is the root of the iris flower, and delivers a delicate floral, fragrant note to our London Dry Gin whilst serving to bind the other botanicals together to deliver a harmonious flavour profile.

Lemon Peel

Lemon peel adds a subtle brightness to the citrus notes, showing on the palate as a hint of lemon tart.

Seville Orange Peel

Grown along the streets of Seville and also known as 'bitter orange', this fruit has a wonderful tartness that delivers a zesty citrus note on the palate with marmalade overtones.
Our ultimate juniper-led gin.
A desire to create the ultimate gin for juniper lovers took us on a mission to distil a 'Very Junipery Over Proof Gin'. When increasing the flavour profile in a gin, it is essential to match it with a rise in ABV. At 57.7% ABV this juniper-forward navy strength gin uses double the amount of juniper berries to our London Dry Gin.
Product Information:
70cl
57.7% ABV
It's big, it's bold and it's as unashamedly junipery as running naked in a pine forest. I just love it!

Sipsmith Jared
In a word, superb. In a few more words, this is indeed a gin for juniper-fanatics, and I count myself as one.

Victoria Moore
A new gin designed to have an XXXL juniper hit - takes me straight back to Umbria.

Sunday Times Magazine
...this is big and bold, the equivalent of cask-strength malt and just too good for parties. Sip it, savour it and share it with a discerning drinker.

Observer Food Monthly
Reviews
Find out what was happening in the distillery the day your batch was crafted