Refreshing, berry-bright, and quick to make, the Bramble is one of our favourite cocktails to enjoy while the weather is toasty. Here's everything you need to know to master the serve.
Considered a modern classic, the Bramble is a cocktail of beautiful simplicity. Invented by bartender Dick Bradsell—who's often credited with single-handedly reviving London's cocktail scene—in 1984, the drink is a summery, berry-led twist on a gin sour. While it's relatively straightforward to make, there are a few tips every home bartender should know before giving the recipe a go.
The Truth is in the Ice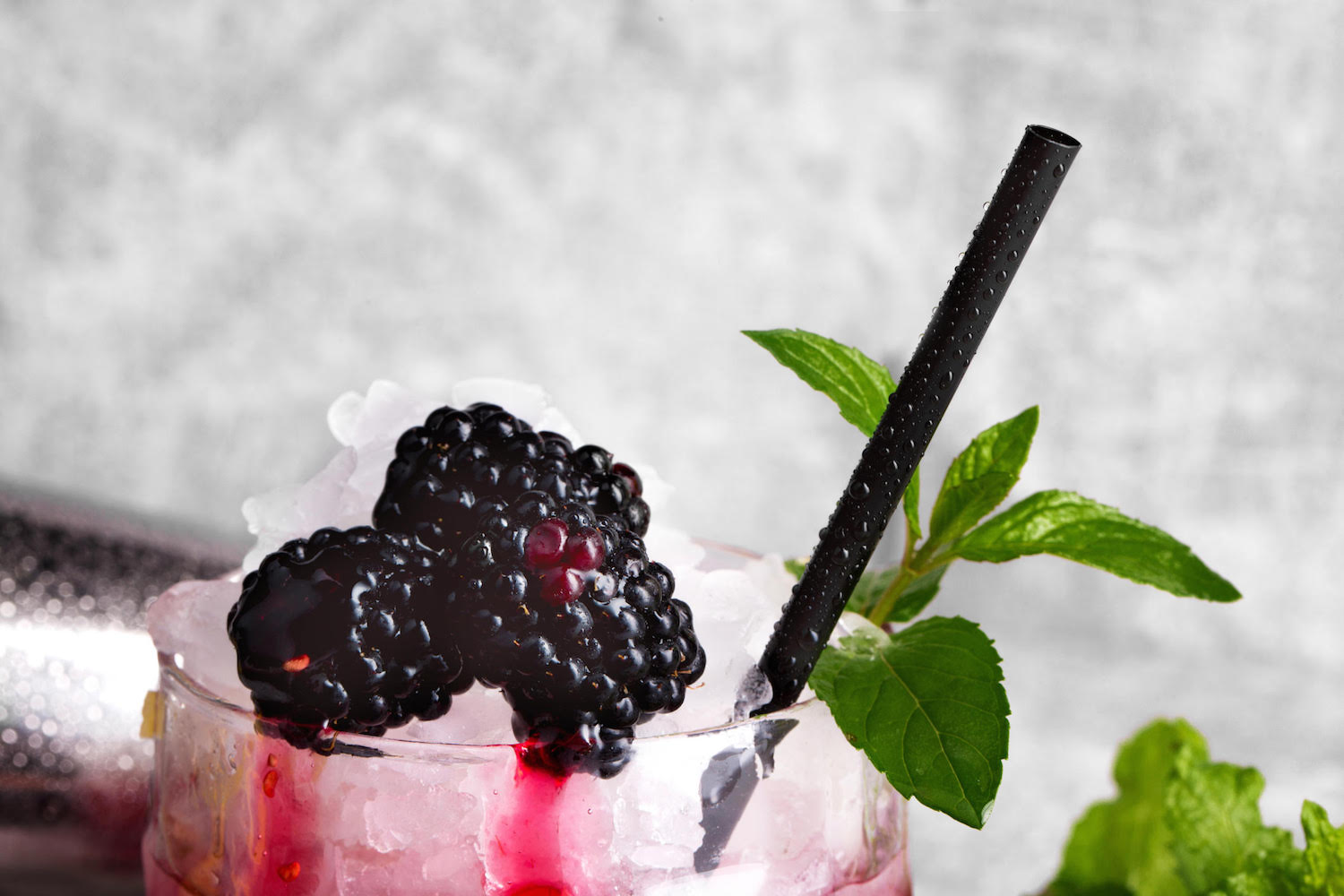 Using the right ice is essential if you want to make the perfect Bramble.
Part of what makes the Bramble such an ideal warm-weather serve is its proportion of ice: typically served in a chilled rocks glass, the cocktail, when made properly, features a whole mound of crushed ice that's kissed with purple-hued crème de mûre (that's blackberry liqueur, for the uninitiated).
The easiest way to ruin a good Bramble, then, is to use the wrong kind, or the wrong quantity, of ice: a few stray ice cubes popped from that tray in your freezer just won't do. Instead, crushed ice—more than you think you'd need—is essential when making a perfect Bramble.
Luckily, crushed ice isn't as difficult to procure as you might think—and you certainly don't need a special machine to make it. Simply place freezer-cold ice cubes in a clean kitchen towel or canvas bag, secure it, and gently crush with a wooden mallet or other blunt kitchen utensil. Just be sure to perform this operation right before you need the ice: in this hot weather, you don't want it melting before it even reaches the glass. 
Fresh is Best 
One piece of bartending practice that obsessed Dick Bradsell—and which he passed onto ensuing generations of London bartenders? The importance of using freshly squeezed citrus juice in cocktails.
Because the Bramble features a large proportion of lemon juice, it's essential to buy fresh fruit rather than pre-bottled juice. Not only is the pre-batched stuff typically loaded with additives, but it lacks the fragrance and delicacy of the real thing. Citrus juice begins to degrade and lose its complex flavor only a short amount of time after squeezing, so it's best to do so just prior to mixing your drink. You may wish to use a Mexican elbow-style juicer for added convenience. 
Consider Creative Alternatives
Get creative with your Bramble—why not trade crème de mûre for Sipsmith Sloe Gin?
True, Bradsell's inspiration for this modern classic came from his childhood on the Isle of Wight, and the fresh blackberries he remembered picking there in the summer. But for an extra ginful twist on the Bramble, you can't go wrong by swapping out the crème de mûre for our sloe gin. 
The Perfect Bramble
25ml freshly squeezed lemon juice
12.5ml sugar syrup
15ml crème de mûre (or Sipsmith Sloe Gin)
Lemon twist and a blackberry, to garnish
Add the lemon juice, sugar syrup, and gin to a rocks glass, and stir briefly to combine. Fill the glass all the way up to the top with crushed ice. Gently pour the crème de mûre or sloe gin over the top, and garnish with a lemon twist and a blackberry.
Alternatively, watch our step-by-step video to learn how to make the perfect Bramble.
Feature images © RistoArnaudov/iStock; Alfa Studio/iStock