From Mince Pie Gin to Christmas Tree Gin, the holiday season's sipping is made even more extraordinary with our Christmas gins. In these limited-edition releases, our team of talented distillers have taken the scents and tastes of Christmas and translated them into our range of carefully crafted Christmas gins.
Our beautifully crafted and customisable Build Your Own Gin Stocking is the perfect present for gin lovers. So, whether you are hand-picking the perfect present for a loved one or you've been given this gincredible gift, here's our recommendations for a seasonal tipple with your Christmas gins.
MULLED GIN
Made by infusing our London Dry Gin base with red grapes, rich red wine, orange peel and mulling spices – such as cinnamon, cloves and nutmeg – this ginny twist on the traditional mulled wine works wonderfully in a New York Sour.
Simply combine 50ml Mulled Gin, 20ml lemon juice, 10ml sugar syrup and 1 egg white in a shaker without ice. Shake to combine, then add ice and shake again. Strain into a chilled rocks glass over ice, and float 10ml port just under the egg white foam – pouring it down the inside of the glass can help here. Finally, if desired, add some grated nutmeg as a garnish, and serve this creamy yet refreshing tipple as an after-dinner treat.
MINCE PIE GIN
Conjuring up the fragrance of a batch of fresh-from-the-oven mince pies, we distil this Christmas gin over delicately spiced dried fruit, including sultanas, raisins and prunes. We think one of the best ways to let this gin's rich and fruity undertones really shine is in a Mince Pie Martini. Stir 45ml Mince Pie Gin and 25ml white vermouth over ice, then strain into a chilled Martini glass and garnish with a delicate orange twist.
CHRISTMAS PUDDING GIN
Christmas Puddings are traditionally made with 13 ingredients, to signify Jesus and his 12 disciples. And so, as advocates of tradition, we distil this Christmas gin with 13 festive botanicals including clove, cinnamon, cassia bark, orange and cherry. And while cooks would once have stirred a penny into each and every pudding, our copper stills ensure the end result is a sensationally smooth gin.
For a post-dinner pick-me-up, mix a Christmas Pudding Side-sleigh by pouring 40ml Sipsmith Christmas Pudding Gin, 10ml brandy, 20ml lemon juice and 10ml sugar syrup over an ice-filled stirring glass. Stir well and strain into the coupe before garnishing with a lemon twist. Add a wintry frosting to your glass by running a wedge of lemon around the rim and placing the coupe upside down in shallow bowl of sugar.
GINGERBREAD GIN
Take a sip of this delightfully fiery gin and be transported back in time to London's Frost Fairs, when intrepid locals would go ice-skating on the frozen River Thames before munching on gingerbread and sipping hot gin.
Pay tribute to this chilly tradition with a Christmas gin that's bursting with savoury spice and, if you want to add a refreshing edge, mix up a zesty Gingerbread Fizz. Pour 25ml London Dry Gin, 45ml Gingerbread Gin, 15ml lemon juice, a dash of orange bitters and 1 egg white into a cocktail shaker and dry shake – that is, shake without ice. Then add a handful of ice and wet shake. Strain into a rocks glass and garnish with a slice of fresh ginger.
CHRISTMAS TREE GIN
Pull on your knitwear and take a walk through a snow-covered pine forest, because that's the wintry inspiration that lies behind our Christmas Tree Gin. The fresh, grassy notes of Douglas fir combine with the turbo pine of Spruce to deliver the perfect accompaniment for the sweet orange notes of Concolor fir. Complemented by the addition of allspice in the pot, we like to enjoy it in a perfect Pine Negroni. Fill a rocks glass with ice, and add 25ml Christmas Tree Gin, 25ml Campari and 25ml sweet vermouth. Stir for 20 or so seconds and garnish with a deliciously scented sprig of pine.
SLOE GIN
Our Sloe Gin might be available all year round, but there's nothing like a Hot Mulled Sloe cocktail at this time of year. This winter warmer pairs perfectly with early evenings and crackling fireplaces:
Assorted spices – we use cinnamon sticks, star anise, cloves and cardamon pods
250ml cloudy apple juice
50ml Sipsmith Sloe Gin
Vanilla pod (cut down the middle)
Cinnamon stick, to garnish
Half an orange slice, to garnish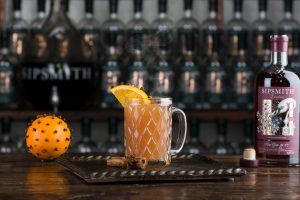 Add the spices and vanilla pod to a pan and top with the apple juice. Simmer for between 5-10 minutes until just before boiling. Ladle into a mug, tea cup or Irish coffee mug and add the sloe gin. Garnish with a half orange slice and a cinnamon stick.
SUGAR PLUM GIN LIQUEUR
The crimson fruits of a bountiful summer harvest are put to good use in this Christmas gin liqueur that's made by resting our London Dry Gin over a layer of perfectly ripe plums for a full month.
Sip it served over ice for a delicious digestif or make an elegant Sugar Plum Royale to serve alongside a festive brunch or lunch. Pour around 100ml Champagne or Prosecco into a chilled flute and top with 50ml Sugar Plum Gin Liqueur.
SMOKED CHESTNUT GIN
From a Mince Pie Martini to a Pine Negroni, we have given another classic cocktail a seasonal twist with our Smoked Chestnut Old-Fashioned. Add 30ml Smoked Chestnut Gin, 20ml PX sherry and 10ml peach liqueur into a stirring glass that's filled with ice and stir down. Then strain over ice into a rocks glass and garnish with an orange twist. Enjoy this seasonal sip by the fire and let the gin's roasted chestnut, chocolate, caramel, biscuit and orange notes add to the warming scene.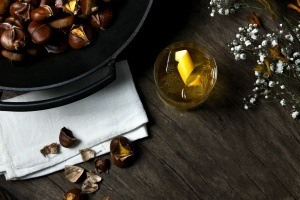 Take a photo of your Christmas gin creations and tag us @sipsmith so we can see your seasonal sips on social media. Looking for more ginspiration? Click below to explore.