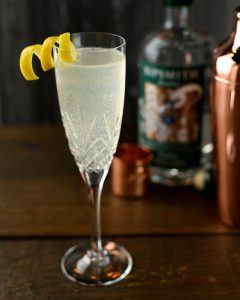 Champagne can be a smashing mixer, as the French 75 goes to show. From New Year's Eve parties to Christmas celebrations – or simply to infuse your day with a little luxury – the following tips will help you make the perfect French 75.
The French 75 is one of those timeless serves that – even a century on – has lost none of its poise and elegance. Perfect for holidays and festive occasions, this gin and Champagne cocktail perfectly encapsulates everyday decadence. Even better: despite its air of refinement, the French 75 is also simple and straightforward to make. Just brush up on the following tips and tricks and you'll soon be a master of the serve.
CHOOSE YOUR BUBBLY WITH CARE
The most important step that's required to make a perfect French 75? When it comes to the bubbly, go for the good stuff. Prosecco abounds on the shelves, and sparkling wine is easy to come by, but it's worth investing in something special for a drink of this calibre.
While many sippers assume that good Champagne would be 'wasted' in a cocktail, in fact the opposite is true. In the French 75, Champagne is the largest ingredient by volume – choose a good one and you're almost guaranteed a delicious drink.
So which Champagne do you go for? In Jim Meehan's Bartender's Manual, sommelier Jordan Salcito recommends a 100% Pinot Noir (Blanc de Noirs) Champagne for a French 75, as it has the requisite body and robustness to stand up to the citrus.
QUALITY INGREDIENTS (AND GLASSWARE)
Of course, Champagne isn't the only component you should select with care. To make a perfect French 75, you'll need freshly squeezed lemon juice – none of the pre-bottled stuff, please. Homemade sugar syrup is also an essential element, and it couldn't be simpler to craft at home. And don't forget about the glassware: the perfect French 75 calls for your finest flutes. If you remember to chill them in the freezer before serving, all the better.
UNUSUAL ALTERNATIVES
In New Orleans, you might still find your French 75 is made with Cognac instead of gin. Past recipes have also used brandy, calvados and other spirits. Credit for those innovations goes to the drink's supposedly French origins, but for our part, we think this drink simply sings with gin.
London Dry Gin is the classic choice, though should you want to infuse your drink with even more citrusy pep, consider swapping in our Lemon Drizzle Gin. Infused with three different additions of lemon, the gin is perfumed and aromatic, and mingles wonderfully with all the fizz and froth of a French 75. Find our Lemon Drizzle 75 recipe here.