We all know that gin is made with juniper—but what about the other spices and aromatic ingredients that give the spirit its ineffable character? We're breaking down the 10 classic gin botanicals that we use to make Sipsmith London Dry Gin—read on for an essential primer.
To make Sipsmith London Dry Gin, we load our copper-pot stills with pure, English wheat spirit, as well as a traditional formula of gin botanicals. It took a long period of trial and experimentation to reach the perfect recipe, and the 10 classic gin botanicals that we've settled on each contribute a different nuance and character to our spirit. They're also wonderfully traditional: nothing in our London Dry Gin would surprise an 18th– or 19th-century gin distiller (except the vastly purer base spirit, that is).
Read on to learn more about why we use our botanicals—from juniper and citrus peels to spices and beyond.
1. JUNIPER
As our illustrious master distiller Jared Brown notes, "juniper is where gin begins, and where it gets its distinctive flavour and its name." To officially be classed as a gin, a spirit must taste predominantly of juniper: expect notes of soft pine, sweet citrus, earthiness, warm spice, and other complex, aromatic qualities. According to JB, "Juniperus communis hails from the north Mediterranean. It was recognized as far back as 1250AD, when the Genoese merchants began exporting it to the rest of Europe." The rest, as they say, is history.
2. ORANGE PEEL
Seville orange peels are the first botanical it's possible to detect during the distilling process.
"Harvested in areas of Spain such as Seville, orange peels are hung against the south faces of old stone houses to dry to perfection in the sun," says JB. But orange peels don't just lend our gin a bright, citric quality: they also play a key role during distillation. That burst of sweet orange is the first botanical aroma that comes through the still. As JB explains, "this is the aroma we use as our indicator to begin collecting the heart cut of the distillate."
3. LEMON PEEL
Lemon is a classic gin botanical that plays a key role in our London Dry Gin. "Like our orange peels, our lemon peels are hand-harvested and sun-dried in Spain," says JB. "The lemon is subtler than the orange, bringing dry freshness and a hint of bitterness." Like the orange aromas, the "lemon emerges first in the nose and in the foretaste, dissipating before the sip is finished."
4. RUSSIAN CORIANDER
It took us a number of attempts to find the right coriander for our gin—we tested nine or ten different strains before settling on Russian coriander, which has a citrusy flavour, a bit like lemongrass mingled with a hint of black pepper. As JB notes, the ingredient is most distinct on the finish. "By using citrus peel and coriander, we have a citrus undertone backing the soft pine of the juniper for the entire sip," he says.
5. ORRIS ROOT
Orris root—the root of the Florentine iris flower—hails from Italy and looks like ginger root, except for its chalk-white inside. "Orris brings floral notes into the mix, and is often described as tasting like violets," says JB. That means we use it sparingly in each distillation, so as not to overwhelm the other flavours.
6. LIQUORICE ROOT
"Liquorice is a fascinating botanical to distil," according to JB. Despite what you'd assume, "It gives no liquorice flavour at all. What it brings to the gin is the perception of sweetness on the palate. We could chuck 10 kilos of sugar into the still and the resulting spirit would taste no sweeter. However, even a tablespoon of liquorice would make an easily perceived difference in a 300-litre batch. It is used sparingly, as we want it to subtly support the sweet notes of the juniper."
7. ANGELICA ROOT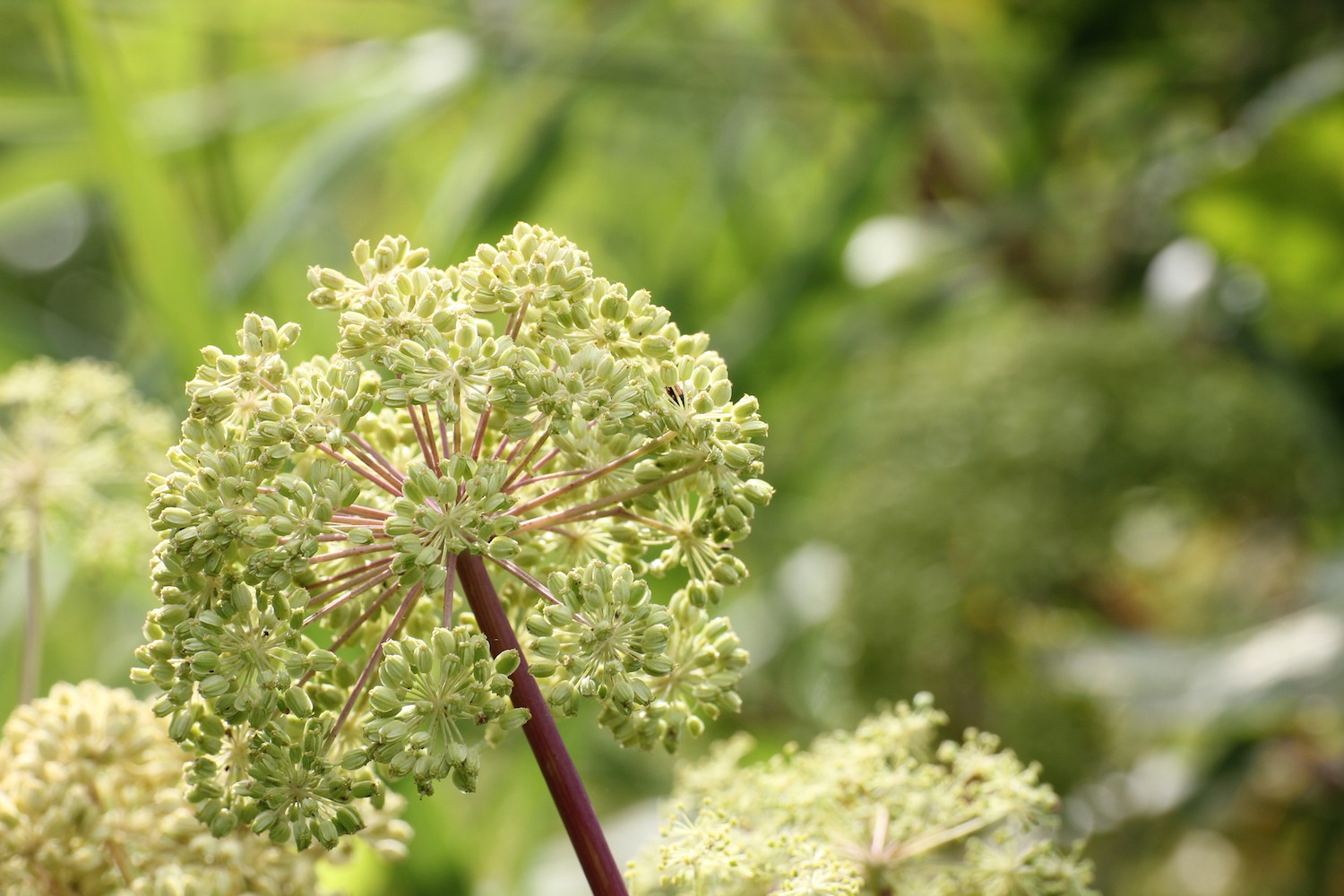 Angelica root is beautifully complex in flavor—and its flowers are also found in many ornamental gardens.
It may sound obscure, but angelica root is a classic gin botanical that's worth getting acquainted with. It helps that the ingredient is a powerhouse: "Like juniper, angelica has a remarkably complex flavour. The roots have earthy notes, yet they are also herbaceous, sweet, bitter and a little warming," says JB. The plant grows well in Britain—with its oversized leaves, sturdy stalk and globes of flowers, it's also frequently found in formal gardens (though we prefer it in drinkable form).
8. CINNAMON BARK
Cinnamon is the classic gin botanical that needs no introduction, and we love it for the warm, spicy notes it imparts to our gin. One unusual factoid, courtesy of JB: cinnamon is a member of the laurel family (which is why you might detect somewhat cinnamony flavours in bay leaves). It was imported to Egypt 4,000 years ago and has been a key ingredient in the spice trade ever since.
9. CASSIA BARK
Cassia is similar to cinnamon, but serves its own purpose: it is hotter, spicier, and more impactful in distillation (it is this extra boldness that means cassia is often mislabelled as cinnamon in grocery stores). However, cassia lacks cinnamon's more complex flavours, which is why it's valuable to use the two botanicals in tandem.
10. ALMONDS
"Though it is said that almonds bring a bit of marzipan flavour to gin, their function here is predominantly for the mouthfeel," JB explains. Almonds lend a delectable creaminess to our gin (and, thankfully, nut proteins typically remain behind in distillation, so a distillate of almonds normally contains no allergens).
Intrigued? See if you can sense each of our enticing botanicals when you sip our London Dry Gin.