You've been foraging for hedgerow fruit – or perhaps you want to make use of leftover gin-soaked sloe berries – here are five delicious ideas for handmade Christmas gifts.

It's one of autumn's most decadent traditions, but making your own sloe gin isn't the only solution for the seasonal harvest of hedgerow fruits. From jam to chocolates, cordial to 'slider' – yes, that's cider infused with sloe berries – here are five delicious ways to put your sloes (whether freshly foraged or retrieved from your finished sloe gin) to good use.
1. SLOE JAM
A jar of sloe jam isn't just a gorgeous seasonal treat, it's also an ideal stocking filler and is simple to make, too. Hugh Fearnley-Whittingstall's recipe for Hedgerow Jelly is a traditional favourite in which sloe berries are combined with other hand-foraged picks, including rosehips, crab apples and rowanberries. While other recipes put the focus squarely on dark, plummy sloe berries. It's entirely up to you.
2. SLOE CHOCOLATES
Don't throw away gin-soaked sloe berries once your gin has finished infusing. Instead, turn leftover sloes into moreish chocolates. Remove any remaining pips from your berries, lay them in a single layer on a lined baking sheet and dust with cinnamon and orange zest. Melt good-quality chocolate and pour over the berries until they are well coated. Then leave to chill in the freezer until they're set.
3. SLOE BRANDY (OR SHERRY)
Happily, leftover berries from making sloe gin can also be used to re-macerate in other spirits. Brandy is a Christmassy choice: leave yours to steep with 500g of leftover sloe gin berries, red wine and a sprinkle of sugar. In a month or two, you'll have another burgundy-hued treat to toast friends and family with. Gin-soaked berries can also be added – with a pinch of sugar – to a bottle of good-quality sherry.
4. SLOE CORDIAL
Fancy a sloe tipple without the alcohol? For a break in the festive sipping, a dose of sloe cordial supplies a moment of moderation that's still bursting with rich, wintertime flavour.
Boil your sloes with water, sugar and lemon juice, before cooling and straining into prepared bottles. Of course, you can also use sloe cordial as a gin cocktail ingredient.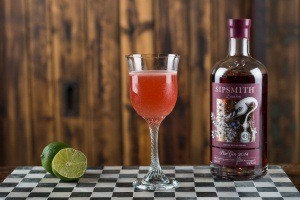 5. SLOE CIDER
It might not be the most elegant of names, but a well-made 'slider' or sloe cider can be a real treat. The pros make 'slider' in large glass demijohns, infusing cider with gin-soaked sloe berries for roughly six weeks or until the resulting mixture is light pink and tastes of dark fruit and almonds (the latter is imparted by the pips).
Any gift-giving session should be accompanied by a delicious serve, and we suggest our Winter G&T. To make yours, gather together the following ingredients per person.
Fill a highball glass with ice and add the London Dry Gin and Sloe Gin.
Top with chilled Indian tonic water, then lift from the bottom of the glass with a barspoon or stirrer to gently combine the liquids.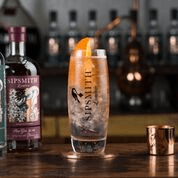 Sloe gin is synonymous with winter for a reason. So craft a Winter G&T for a sensational sip on a chilly evening and share your creation on social media. Remember to tag us @sipsmith – we love seeing what you are serving.