What is a Martini? It seems everyone – from master bartenders to amateur mixologists – think they've got the magic formula deciphered. Read on, as we explore what makes Martinis so marvellous.

Shaken, stirred, dirty, dry: there are many ways to make the perfect Martini, and just as many opinions about which method is the best. For example, do you like yours wet, dry, dirty or shaken? Find all the terminology you need to know in our essential Martini guide.
THE STORY BEHIND THE CLASSIC DRINK
There are several different myths surrounding the birth of the classic Martini recipe. Some claim it was invented in Martinez, California during the 19th-century gold rush. Others favour the theory that New York judiciary member Randolph Martine gave the drink its name. Ultimately, though, the origins remain ambiguous.
We know the Martini first appeared on the scene around the 1870s. But at that time, it was a different creature entirely with 1:2 or even 1:1 parts gin and sweet vermouth. In addition, ingredients such as simple syrup or bitters made for a much sweeter, less bracing beverage.
By the turn of the century, the ratio started to lean more heavily towards the gin until it reached its mid-century apex, when gin was barely kissed with a hint of vermouth.
GETTING THE BALANCE RIGHT
The persistent attraction of the Martini, aside from the unforgettable silhouette of its glass and the cocktail's iconic place in pop culture, is that the simple recipe is so tricky to perfect. With just three ingredients, it's deceptively complex to mix, and bars like Duke's in Mayfair, London, have built their reputation on crafting the ideal version of the Martini.
However you prefer yours, here are a few things to keep in mind. Always make sure the glass is chilled – ideally – straight from the freezer. It's also essential to use high-quality ingredients because, since the drink is so simple, you'll taste a lower-quality ingredient instantly.

When it comes to selecting vermouth for a Martini, we prefer Noilly Prat or Martini Extra Dry. For the gin, we think Sipsmith is the perfect Martini base. It's clean, dry and full of juniper, and so does better than gins that tend towards the sweeter or more floral end of the scale. We'll also pick sides and opt for stirred Martinis, as they promote less dilution of the ice.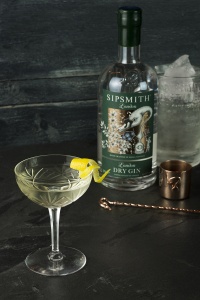 MASTER DISTILLER JARED BROWN'S PERFECT MARTINI RECIPE
50ml Sipsmith London Dry Gin
10-15ml dry vermouth
1 lemon twist
Fill a cocktail shaker with ice and add the vermouth. Stir for a few seconds. Strain into a chilled Martini glass. Some prefer to keep the vermouth in, though it can also be used as a wash and then discarded.
Add the gin to the ice-filled cocktail shaker and stir briskly for about 50 turns. Strain into the glass. Twist the lemon over the drink, so it's perfumed with the citric oils, and then throw over your shoulder. Serve immediately.

For a classic Martini, it's hard to top this recipe. But as award-winning mixologist Ryan Chetiyawardana says: "It's not a drink you can just whack together, and a Martini should be tailored according to what the drinker needs. When you've had a really tough day and need something a little stiffer, that's where the drier Martini works. For a more relaxing experience, I like a wetter Martini with an olive and a twist. But either way, the person who makes your perfect Martini is like your blood brother." We couldn't agree more.
DISCOVER MORE MARTINI VARIATIONS
Take your hat off to another Martini master. The legendary bartender Dick Bradsell, who created the Espresso Martini in 1993 at Damien Hirst's renowned Pharmacy bar, started the trend of topping each creamy creation with a few roasted coffee beans.

For more glorious garnishes, add olives and a dash of brine to stir up a slightly salty Dirty Martini, or swap the olives for pickled onions and enjoy a Gibson Martini.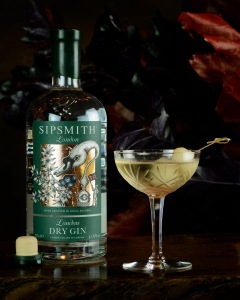 Don't forget to tag us in your Martini cocktail creations on social media @sipsmith. Looking for more ginspiration? Click below to explore.