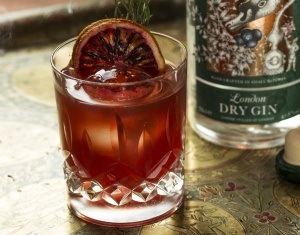 We've decided to give the New Year an added health kick. Welcome to Ginuary! We don't think a 'new year, new me' health regime means having to compromise on enjoying expertly crafted gin. And because we've always known about the wellness-boosting properties of juniper berries (they are packed with antioxidants), we decided to turn our attention to a few other ingredients.
Head to the drinks trolley and mix yourself one of our superfood cocktails – you are in for a delicious start to the year!
ONE OF YOUR 5 A DAY: BLACKBERRIES
The richest, deepest and most wintery of berries, the blackberry is packed with Vitamins C and K, and is high in fibre, manganese and antioxidants. Not only do they apparently help combat heart disease and strengthen the immune system, but they also make a deliciously tangy cocktail.
The Bramble is as simple as it is tasty. Just fill a glass with ice cubes and pour over 50ml Sipsmith London Dry Gin, 10ml sugar syrup, 20ml fresh lemon juice. Top with a little crushed ice and drizzle with Crème de Mûre.
Then garnish with a slice of lemon and a blackberry (which you must not forget to eat, of course).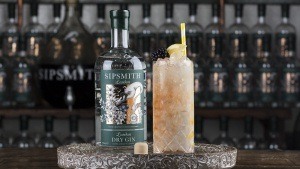 KEEP IT GREEN: MATCHA
Like blackberries, matcha (concentrated green tea) is high in antioxidants, which can help support the cardiovascular system and brain function. Refreshing and restorative, the Gin Tea Cocktail is made in two steps. Firstly, make a tea syrup with our simple recipe here. Add in the green tea and then leave to cool. Then, combine 50ml Sipsmith London Dry Gin with 25ml of your homemade syrup and 25ml fresh lemon juice in an ice-filled cocktail shaker. Shake and strain into a cocktail glass.
KICK THE COLD: GINGER
A staple of traditional Chinese medicine, ginger is well-known for being good for the heart and possessing anti-inflammatory properties. Above all, it's perfect for our New Year cleanse with a kick. To make a Gingerbread Sour, which can help ward off winter sniffles, you'll need to first craft some delicious gingerbread syrup. You can find our recipe for this here. Simply add 50ml Sipsmith London Dry Gin, 25ml lemon juice, 25ml gingerbread syrup, one egg white and a dash of bitters into a cocktail shaker and dry shake (without ice). Add ice and shake again, and then strain into a chilled glass and garnish with a deliciously fiery sliver of ginger.
FILLED WITH CRUNCHY GOODNESS: APPLE
With more antioxidants than you can shake a stick at, apples contain immune-boosting Vitamin C and are low in calories. Perfect for a cold January day, take a bottle of your leftover Mulled Gin (if any made it past your Christmas sipping) and carefully craft this sensationally warming serve.
Simmer some apple juice with cinnamon, cloves, star anise and cardamom for about 10 minutes. Then pour into a glass or mug and add 35ml of Sipsmith Mulled Gin and garnish with a slice of zesty fresh lemon.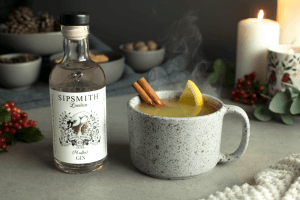 BIG AND BOLD: BLOOD ORANGE
Filled with a rich Sicilian passion, blood oranges are high in antioxidants, Vitamin C and potassium. A true winter's cocktail, the Blood Orange Negroni is one of our Ginuary favourites. Fill a mixing glass with ice and add 30ml Sipsmith London Dry Gin, 25ml Campari, 20ml Picon and 25ml of fresh blood orange juice; and stir gently with our drinks stirrer. Then strain into a glass and garnish with a slice of blood orange and a sprig of rosemary.
GET DOWN AND DIRTY: OLIVES
Last, but not least, the humble olive, mainstay of the Martini and the Mediterranean diet. We were delighted to find that they are good for the heart and high in Vitamin E. A twist on the Dirty Martini, the Mud Men Martini is filled with rich olivey goodness. Add 50ml Sipsmith London Dry Gin, 20ml Noilly Prat Extra Dry vermouth and 15ml olive brine into a mixing glass and stir for 21 seconds. Strain into a cocktail glass and garnish with a whisky-marinated olive.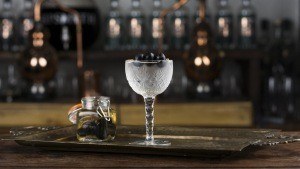 Be sure to tag us in your wonderful Ginuary cocktail creations on social media @sipsmith – we can't wait to see what you've crafted.